Creamy  Cheesy Mac & Cheese with Chilled apple cider & tater tots! Now that's one meal you should be enjoying with your loved ones!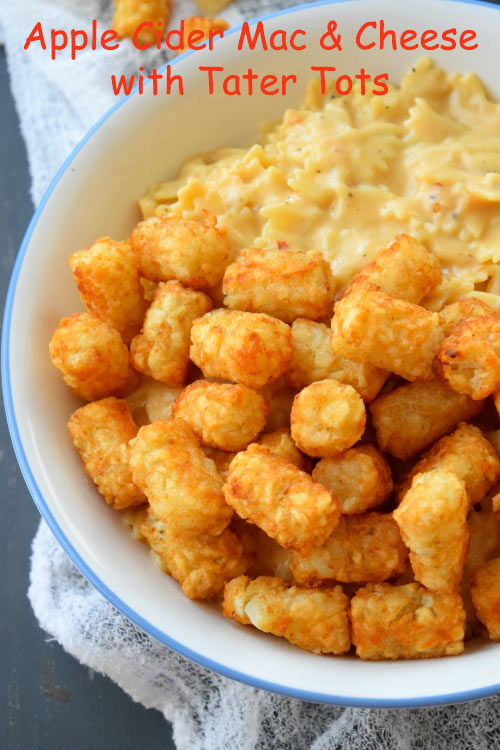 Well I got another cheesy pasta recipe for you all and that too with crispy tater tots! Remember the last time we did pasta with tater tots?! Yeah I was so in love with the idea that I decided to recreate it with a unique cheesy mac & cheese this time sans vegetables but lot more cheese and yes tater tots! This time keeping things much simpler as it's summer and none of us really wants to spend ton of time in the kitchen when we could be out and enjoying and chilling.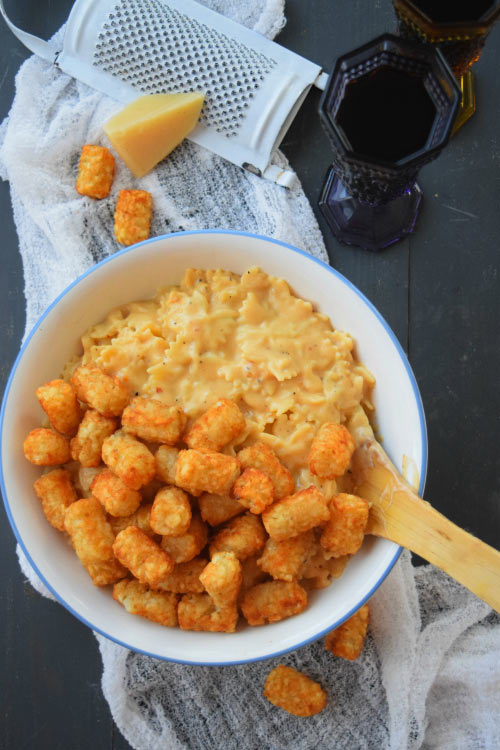 So this pasta is all done in a pot on the stove top and the only time  you will need  to turn on your oven is for heating up frozen tater tots. I would totally tell you to go ahead and make tater tots from scratch if that's what you are going for but seriously that's hell lot of a work and even though I am all about from-scratch-cooking, I usually prefer buying tater tots either frozen or you can buy fresh from your favorite store.
Now coming to our main star of this dish – Sparkling APPLE CIDER!! Let me tell you that this pasta will have subtle notes of apple cider and very very slight sweetness to it. So if you are totally against any sort of sweetness in your mac & cheese, may be it's not your cup of tea but I mean I would totally suggest you to give it a try. Even Jerry loved it. For spicy eaters, good sprinkle of black pepper and red chili flakes comes handy!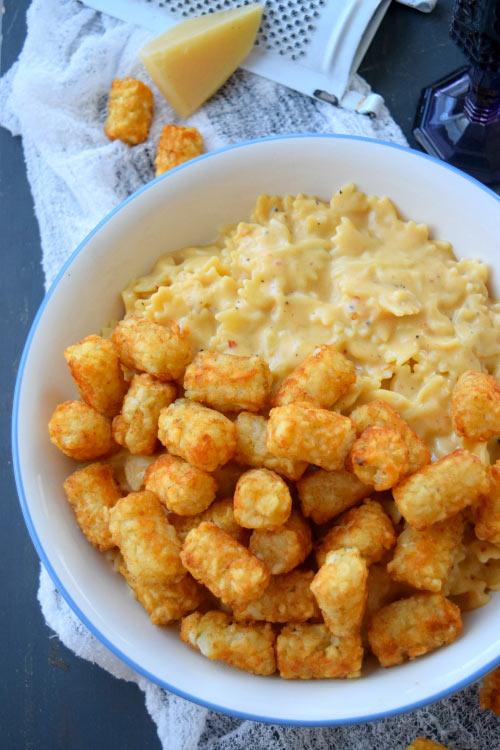 Perfect weekend or just anytime meal idea when you want things to be on the indulgent side!
Help in spreading the word!
Follow along for lot more delicious treats and life happenings on INSTAGRAM || FACEBOOK || PINTEREST 

Apple Cider Mac & Cheese With Tater Tots
Ingredients
½ tbsp unsalted butter
2 tsp olive oil
4 garlic cloves, chopped
4 tbsp all purpose flour
2 cups milk ( I used 2%)
1 cup sparkling apple cider
Salt to taste
Black pepper to taste
1 tsp hot paprika
1 tsp red chili flakes
½ tsp rosemary
2 tsp garlic powder
1.5 cups shredded colby jack cheese
½ cup shredded parmesan cheese
8 ounces mini farfalle pasta
Instructions
Bring water to a boil in a deep pot and cook pasta as per package directions. Once cooked, strain and add few drops of olive oil to the cooked pasta so it doesn't stick to each other. Keep aside.
In a deep skillet, warm olive oil & butter. Add garlic and saute. Add flour and once it's almost cooked and the raw flavor is gone, add milk and using a stirrer, keep stirring. To it add, apple cider, salt, black pepper, rosemary, garlic powder, paprika and chili flakes. Keep stirring until it starts to thicken. Add shredded cheese and stir until all the cheese gets melted and sauce is thick to your likeness. Taste and adjust seasoning. If the sauce feels too thick, you can thin it out by adding little more milk or water and if still on the thin side, add more cheese. I kept it on the medium basically saucy side so the pasta gets coated evenly and by the time we got to eating, it was a perfect consistency.
While you are making the sauce, heat your frozen tater tots if using frozen one.
Serve hot cheesy pasta with tater tots on top.
Looking for more pasta recipes?