Super moist and spongy sweet potato waffles served with warm strawberry-vodka syrup! I am sure you will be making these again and again!
I am one of those people who enjoys their breakfast. When in school , I remember never being much of a breakfast person. But after college things were different. I would find myself craving breakfast first thing in the morning and after getting married and changing my career, I literally think of what I  am going to be eating next morning for breakfast almost every night. Is it too weird? I don't think so. And if you are like me who starts planning for breakfast 12 hours ahead, then these waffles can easily make to your breakfast table during weekdays but if you don't believe in thinking about breakfast way in advance , don't worry. You can still enjoy these delicious moist & spongy waffles for a weekend brunch or if you have good 1 hour to kill before getting ready in the morning, then these have your name written all over them!
Lets for a moment talk about this sauce. This sauce is one of the best sauces I have eaten lately. No kidding. I had no idea that strawberry+vodka = best sauce ever! I wanted to keep the strawberries intact after cooking but I realised that they turned kind of mushy. So once the sauce was done, I blended everything and served over waffles with freshly chopped strawberries. This sauce takes these waffles to another height, as in moves them from good diner place waffles to delicious high end brunch place waffles. You get the idea, right?!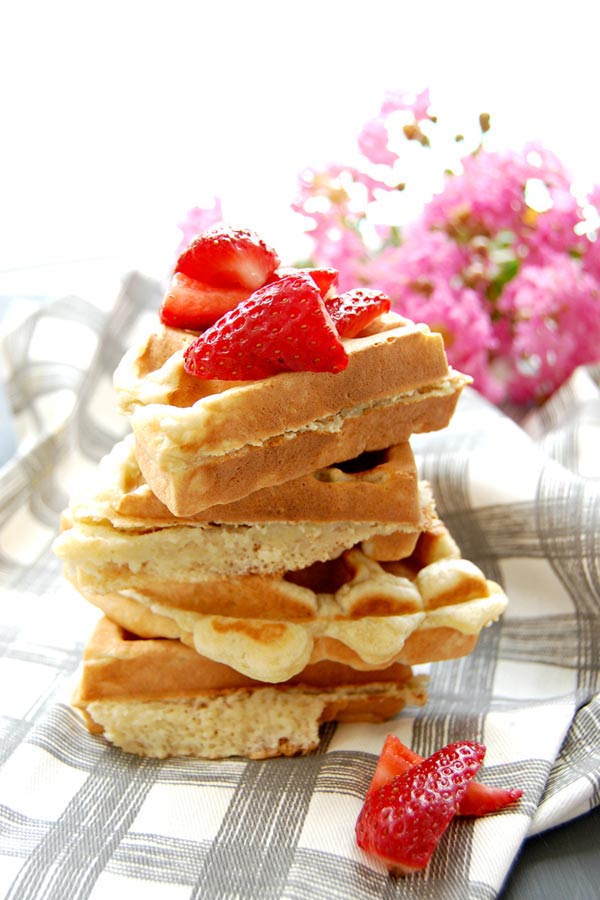 Though I do admit that these waffles tasted pretty darn good by themselves with some simple maple syrup and powdered sugar. That was how Jerry's plate looked as he has a huge dislike for fruit based sauces lol! On another note, lately I have been travelling a lot, not really for fun but for attending family events, helping out family with work and health issues. I am hoping among all this hustle bustle, I can devote good deal of time to my work as well.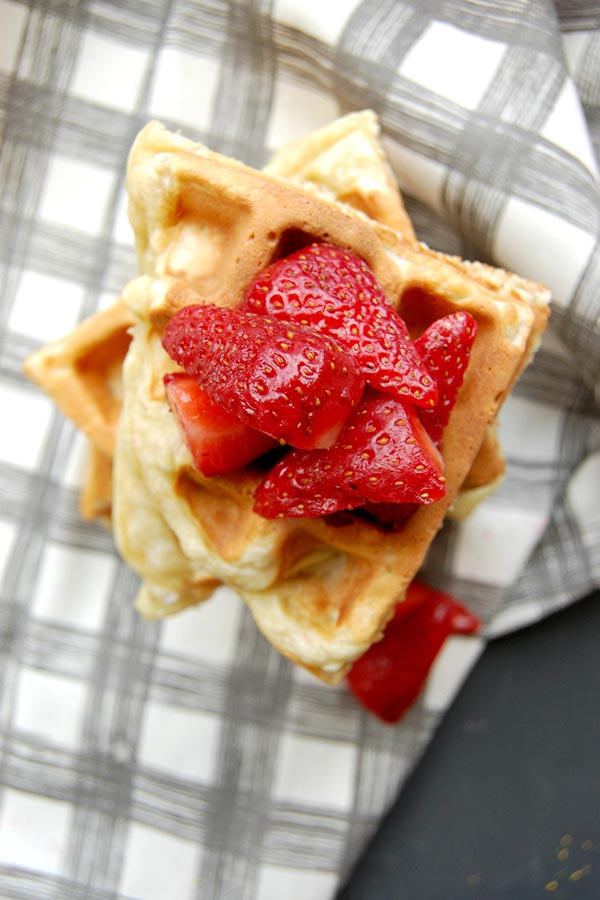 On to these waffles, I think I already said enough. You need to make these to know how good these are.
Sweet Potato Waffles with Strawberry-Vodka Sauce
Super moist and spongy sweet potato waffles served with warm fresh strawberry-vodka sauce.
Ingredients
Waffles
½ cup sweet potatoes, boiled and mashed
1 cup 2% milk
3 Tbsp sugar
4 Tbsp unsalted butter, melted
2 cups unbleached all purpose flour
1 Tbsp baking powder
½ tsp salt
6 egg whites, whipped to stiff white peaks
Sauce
10 strawberries, chopped plus additional for serving on top
2 Tbsp vodka
3 Tbsp brown sugar
2 Tbsp water
1 tsp lime juice
Instructions
Waffle batter
In a bowl, add mashed sweet potatoes, milk,sugar and butter. Stir until smooth. In a separate bowl, stir together flour, baking powder and salt and add it to the wet mix.Stir until it comes together avoiding OVER-MIXING. Batter will be dry and thick. Using a hand blender whip egg whites until stiff peaks form. Fold egg whites into the batter. Batter will have lumps.
In a preheated waffles iron, add around ¾ cup batter or according to your waffle maker specifications. Cook as directed. Serve with fresh strawberries topped with sauce and whipping cream (optional).
Sauce
In a pot, add strawberries, vodka, sugar, water and lime juice. Let it cook for good 12-15 minutes until strawberries break down and it starts to thicken a bit. Blend until you get a smooth sauce.
Notes
Sweet potato waffle recipe adapted from Alton Brown's "the middle years" Via Serious Eats.
If you would like a Savory Waffle Recipe Try this one: