Apple Cider Mac & Cheese With Tater Tots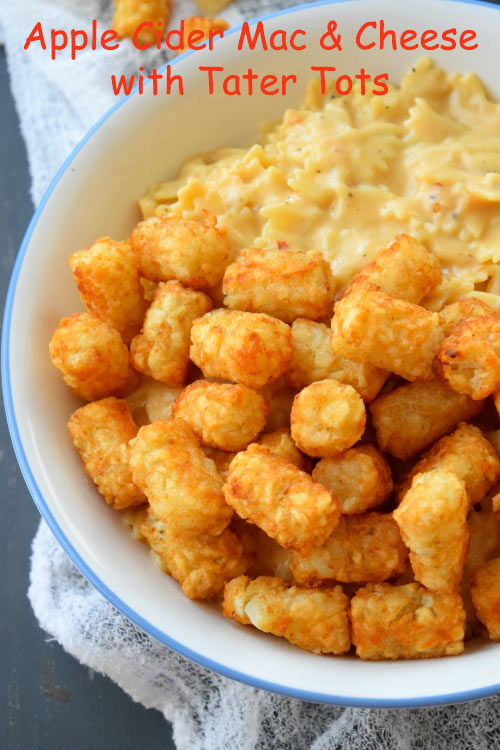 ½ tbsp unsalted butter
2 tsp olive oil
4 garlic cloves, chopped
4 tbsp all purpose flour
2 cups milk ( I used 2%)
1 cup sparkling apple cider
Salt to taste
Black pepper to taste
1 tsp hot paprika
1 tsp red chili flakes
½ tsp rosemary
2 tsp garlic powder
1.5 cups shredded colby jack cheese
½ cup shredded parmesan cheese
8 ounces mini farfalle pasta
Bring water to a boil in a deep pot and cook pasta as per package directions. Once cooked, strain and add few drops of olive oil to the cooked pasta so it doesn't stick to each other. Keep aside.
In a deep skillet, warm olive oil & butter. Add garlic and saute. Add flour and once it's almost cooked and the raw flavor is gone, add milk and using a stirrer, keep stirring. To it add, apple cider, salt, black pepper, rosemary, garlic powder, paprika and chili flakes. Keep stirring until it starts to thicken. Add shredded cheese and stir until all the cheese gets melted and sauce is thick to your likeness. Taste and adjust seasoning. If the sauce feels too thick, you can thin it out by adding little more milk or water and if still on the thin side, add more cheese. I kept it on the medium basically saucy side so the pasta gets coated evenly and by the time we got to eating, it was a perfect consistency.
While you are making the sauce, heat your frozen tater tots if using frozen one.
Serve hot cheesy pasta with tater tots on top.
Recipe by
Naive Cook Cooks
at https://www.naivecookcooks.com/apple-cider-mac-and-cheese-with-tater-tots/