Indian spiced puffed 15 mins Puffed rice snack mix with peanuts and crispy curry leaves! Perfect tea time snack!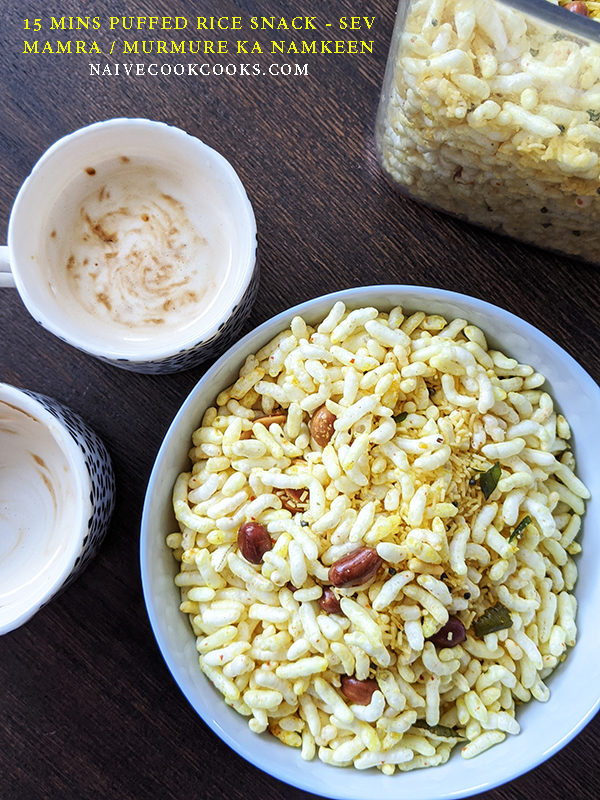 With cold weather my consumption of snacks increase at an alarming rate. While working, I keep drinking cup after cups of hot teas or coffee and there are times when I miss my lunch (Shh don't tell Ronak!). This is when snacks like these – super quick to make, easy, involving almost no work and high up in the deliciousness department happen!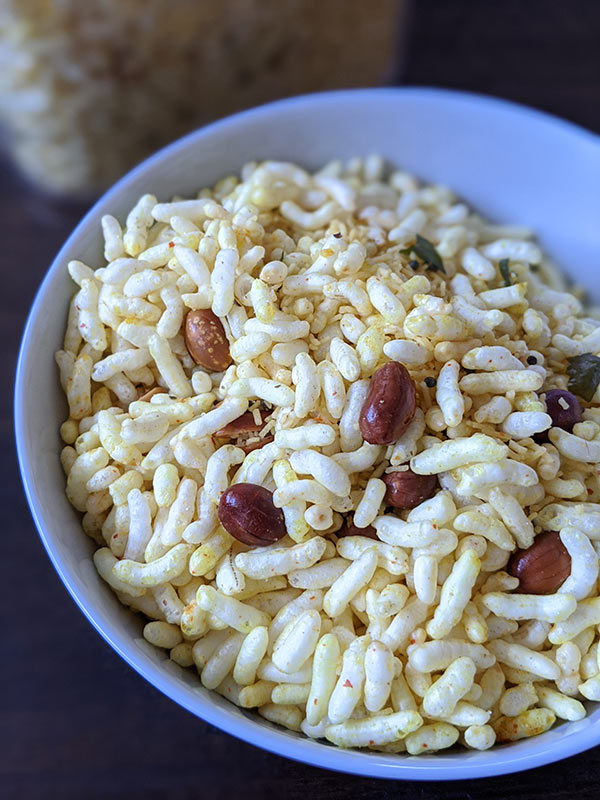 This puffed rice snack mix has been my favorite since almost forever. I grew up eating this and tons of varied variations my mother would make for us to nibble on. Compared to usual packets of potato chips, this is a much healthier option and it's so crunchy and crispy that it won't let you miss those fried snacks at all. The good part – it uses very very little fat in the making.
I quite forgot about this for some time and few days back while cleaning, I saw a big box of puffed rice which I haven't used for the last 2 years!! I knew that I needed to make a big batch immediately and in under 15 minutes I had a big delicious snack for myself.
With Diwali only a day away, I am getting a bit homesick and missing my mom's delicious treats. I am missing everything about being at my parent's place for Diwali. So I am planning on making some treats myself and if they turn out good, sharing with you guys too!
This snack! Seriously it will brighten up your days!
15 mins Puffed Rice Snack - Sev Mamra
Under 15 mins puffed rice mix with peanuts and crispy curry leaves! Perfect tea time snack!
Ingredients
6 cups puffed rice
½ cup unsalted raw peanuts
½ cup neutral flavor cooking oil for frying peanuts
1.5 tsp mustard seeds (rai)
Salt to taste
½ tsp red chilli powder
1-2 tsp turmeric powder
15-20 curry leaves
Instructions
Preheat oven to 350 F.
Place the puffed rice in a baking tray and pop it in the oven for 10 minutes. Take it out in 10 minutes and stir red chili powder to it. Keep it aside.
While puffed rice is in the oven, heat oil in a deep pot on medium-low heat. Add peanuts and saute them for 2-5 minutes until crispy by stirring them constantly.
Take out the peanuts in a plate lined with paper towel leaving the remaining oil in the pot only. Add the peanuts to the puffed rice.
From that leftover oil just keep around 2 tbsp oil and transfer the remaining oil in a jar for later use.Once oil is hot, add mustard seeds. Make sure the gas is on medium-low. Once mustard seeds start to pop. Add curry leaves and once they start to crackle, add salt, turmeric powder.Cook the spices for few seconds making sure they don't burn. Add this spice mix to puffed rice and keep stirring it until all the puffed rice gets coated with the spice mix.
Let it cool and then store in an airtight container. It stays good for up to a month.
Notes
If you are allergic to peanuts or you simply don't like them, you can use cashews or almonds.
You can play around with the seasoning too.
More Simple Snack Recipes: