A simple yet very flavorful Cabbage & Peanut Stir fry – great as is enjoyed with fresh hot chapatis or along with some lentils and rice.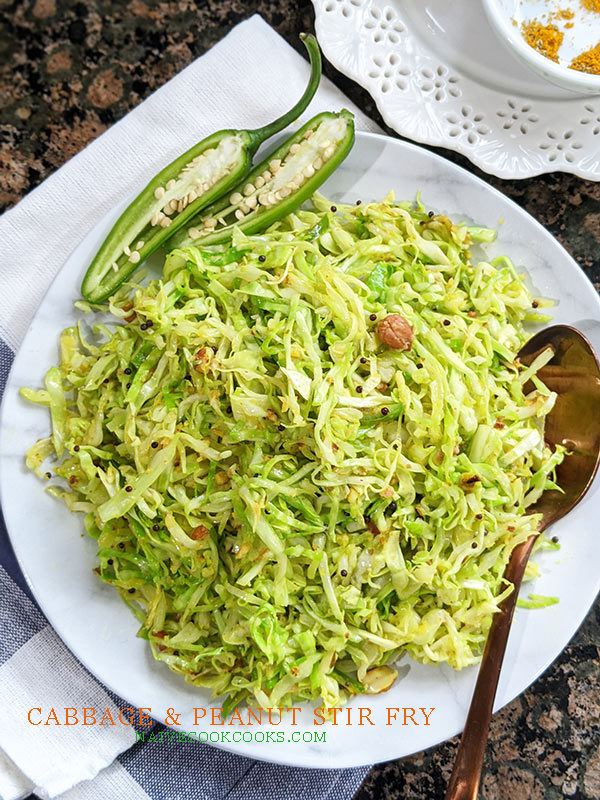 Growing up I have always enjoyed my greens. I think I give credit to my mom who introduced me to everything as to this day I still enjoy all sorts of greens. Also I have always been open to different cuisines and so when I got to try this way of cabbage Ronak's mom makes which was way different than the typical North Indian version I grew up eating, I absolutely loved it. Now most of the time this is the version I make as Ronak enjoys this too.
One of the first things I actually learnt how to cook. Ronak & I met when we were both working in India. That was probably the longest ever he had stayed in India before, i think about 6-8 months when we met. When we were dating, I had zero interest in cooking and he was the one doing all the cooking most of the time. After getting engaged he came back to US and I came along with him. During that time I left my job as I wasn't sure what I really wanted to do. I have a masters in Chemical Engineering from Indian Institute of Technology, Delhi and like any Indian father, my father was furious! lol He was worried that I am totally wasting my talent and degree but I felt I need to find something I enjoy. After we got married, I decided that it was high time I learn to cook some stuff as I was still lost and he was busy with work. So this was a way to keep me occupied & we also needed food to eat! But then I started getting passionate about cooking and this was one of the first recipes I learnt in Gujarati cuisine. Its all history now as I love love cooking now & through cooking found my passion.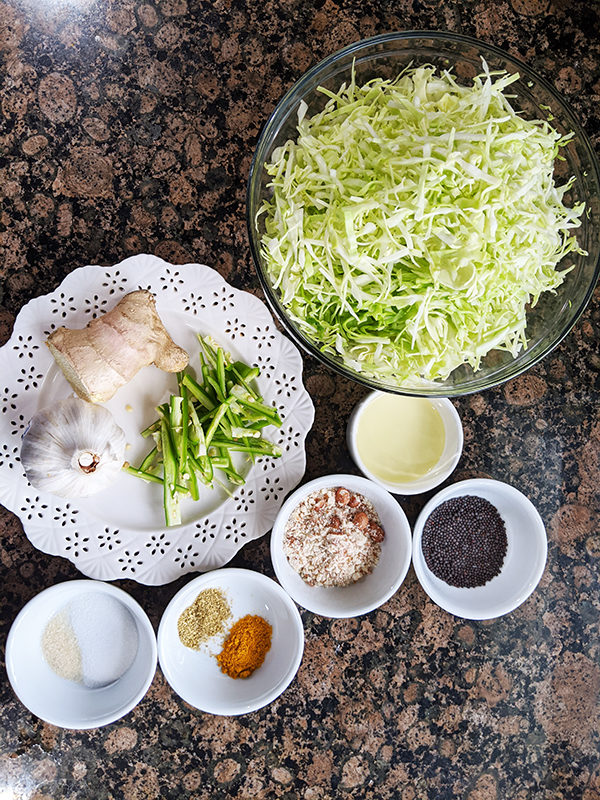 A very simple stir fry with lots of finely shredded or thinly sliced cabbage, garlic, ginger, serranos or jalapenos, basic pantry spices and peanuts. This comes together in no time – the only time consuming part here is shredding or thinly slicing the cabbage but after this the dish comes together in a matter of few minutes. Enjoy with steamed rice and yogurt or fresh bread such as Indian chapati & dal. Such a light comforting meal.
Here is a quick step by step ->>
Add oil in a hot pan.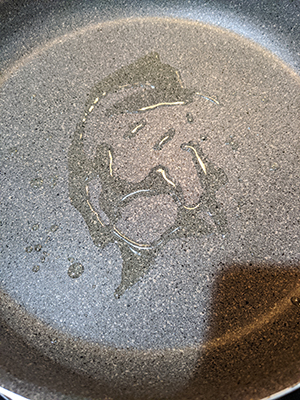 To it add crushed peanuts,garlic paste, ginger paste, sliced serranos/jalapeno or indian chillies if using, turmeric, coriander powder, pinch sugar, mustard seeds.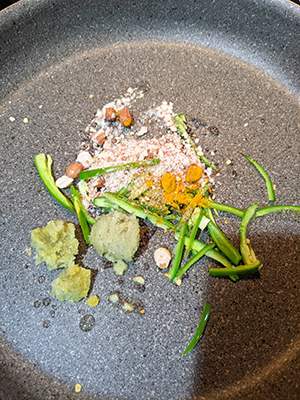 Cook it on medium high flame for a minute or two.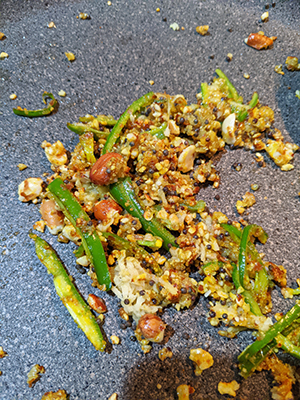 Once cooked add cabbage and mix gently so all the cabbage gets coated evenly with the spice mix. MAKE SURE TO KEEP GAS AT LOW HEAT AT THIS STAGE AS CABBAGE HAS TENDENCY TO WILT REALLY FAST. Mix it fast but gently. You want the cabbage to be cooked but still not totally wilted so it should take you 3-5 minutes max. Once done, switch the flame, do a quick taste test and add anything if you need more of. That's it!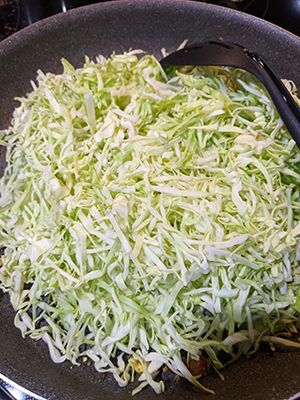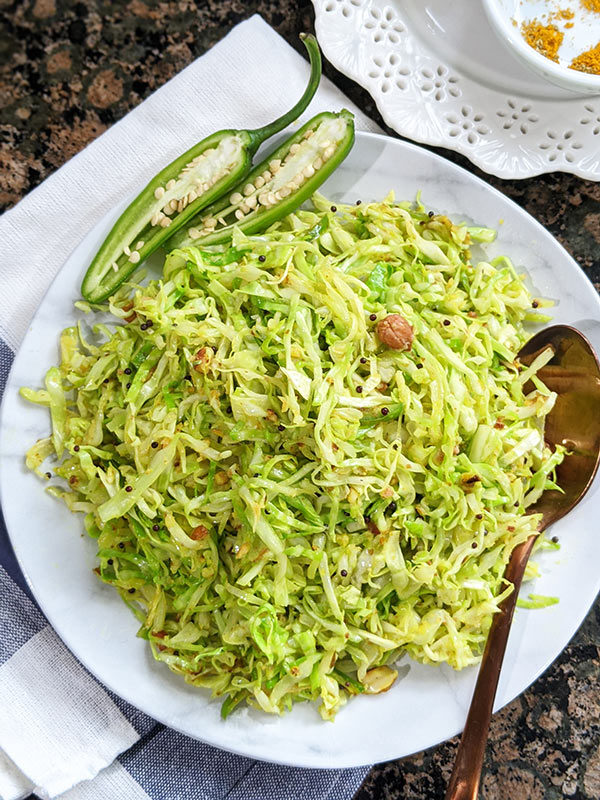 Cabbage & Peanut Stir Fry
Ingredients
I cabbage head ( We need about 4 cups sliced thin cabbage or thinly shredded cabbage) , about 12 oz / 340 gm
1.5 Tbsp oil ( Any good unflavored cooking oil)
1 tsp mustard seeds
Serrano 1, finely sliced ( You can add as many you want per your taste OR use jalapenos or Indian chillies)
2-4 Tbsp peanuts, roughly crushed ( I add only 2 Tbsp peanuts as are not too big of peanut lovers but you can add upto 4 Tbsp if u want to.)
¼ tsp Turmeric ( haldi powder)
½ tsp Coriander ( dhaniya powder)
1 tbsp garlic paste
1 tsp ginger paste
Salt to taste
Pinch sugar
Instructions
In a wide pan, heat 1.5 Tbsp oil.
Once hot add mustard seeds, serrano, salt, turmeric, coriander, peanuts, garlic paste, ginger paste and pinch of sugar. Cook it on medium high heat until raw smell goes away 3-4 minutes. Now add cabbage and turn down the heat to low. Start mixing it so every piece of cabbage is coated with the delicious masala. MAKE SURE TO KEEP FLAME LOW AS CABBAGE TENDS TO WILT VERY VERY FAST.
This should take somewhere 3-5 minutes to all mix together . Turn off the gas, taste and add any more spice if you wish at this stage. Give a quick mix again and that's it! Enjoy with fresh steamed rice ( my FAVORITE WAY TO EAT) or dal + rice or hot chapatis! Each combo is so so good!
SOME MORE EASY INDIAN RECIPES ->>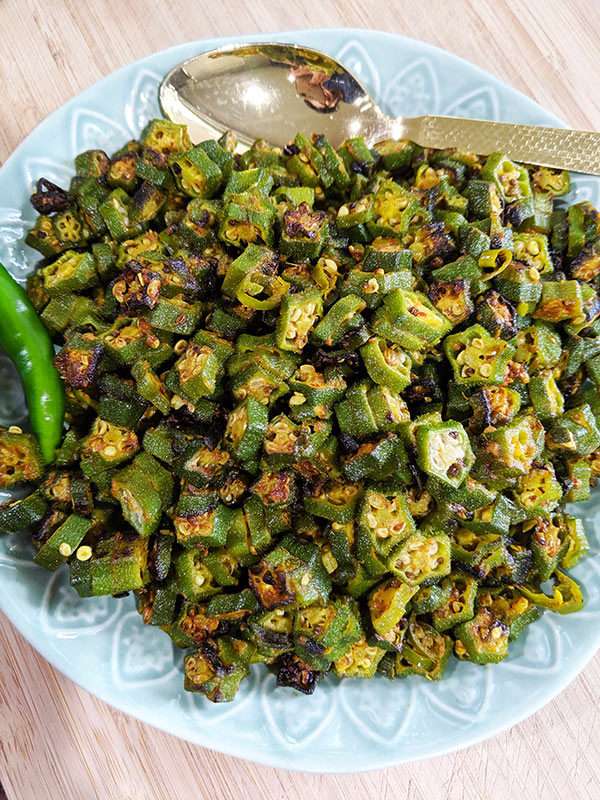 This AIR FRIED MALAI KOFTA in white gravy is Ronak's favorite! No Air Fryer ? No problem? Just fry the koftas.