Refreshing watermelon juice limeade with vodka and frozen watermelon juice cubes is the perfect summer drink! Make it without alcohol to make it kid friendly!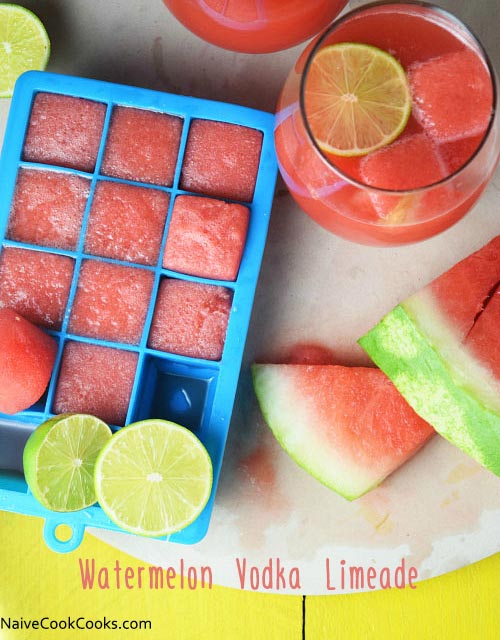 I have another favorite drink and yes I am drinking it ALL.THE.TIME.
This drink got created out of coincidence. I had a huge watermelon sitting on my kitchen counter top and with only two of us around, I knew it would take a long time to finish it up so well making a drink out of it with lots of booze seemed the most sensible adult thing to do! And it worked! We ended up finishing 3/4 of the giant watermelon because well watermelon+limeade+vodka = who can say no to that?!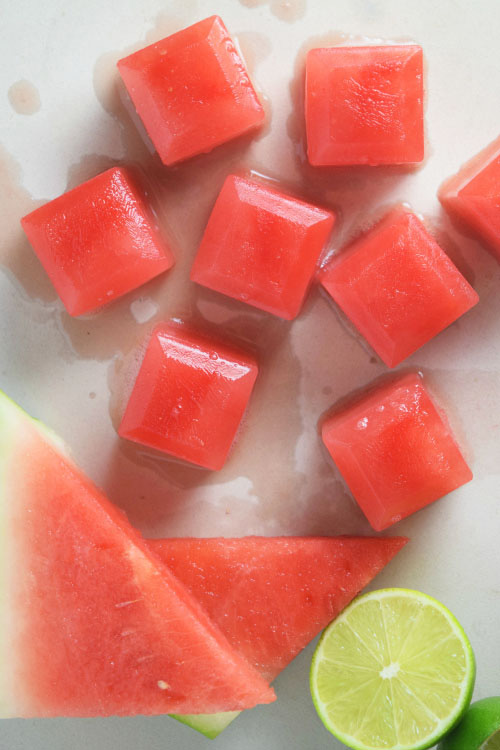 My summer bucket list is not even ready yet and I feel summer is already slipping away. How are we already in mid july?? Jerry keeps telling me how Christmas will be here soon and I must say I get panicky because I mean, this year just started! How can Christmas be here in like few months?!! I want summer to stay for few more months so I can cook with all the fresh produce. Last month has been so busy that it has been sort of really hard to cook and concentrate on work properly but I am keeping my fingers crossed and hoping to get stuff done.
These watermelon cubes are my new best friend. I mean I have been always in love with the idea of using fruit juices as ice cubes because well, let's admit, ice cubes waters down the drink so much that after few minutes it starts to feel you are having a water based drink. But not anymore! These cubes keeps the drink flavorful & chilled till the end. And you can even use them in your water, or simply enjoy them as small watermelon pops.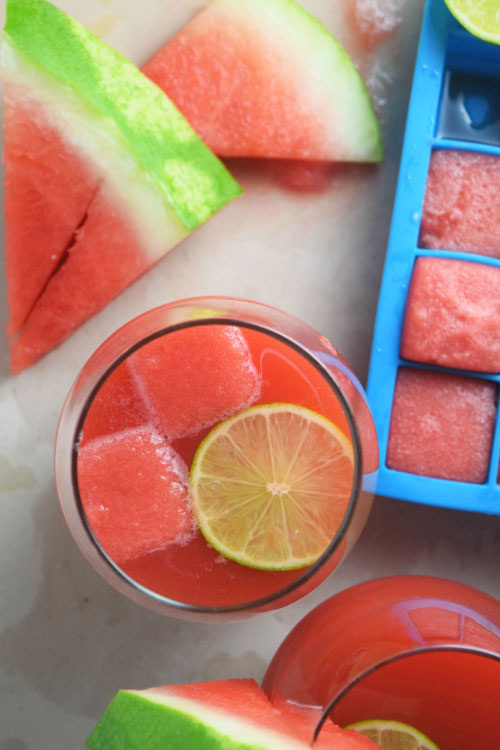 What are you all drinking this summer?? Any favorites? I have not been able to enjoy much of the summer until now and my top priority on my bucket list is to go for a picnic! Yes it might sound totally silly but I have been dying to lie down on fresh grass, eat picnic snacks out of basket (which I must mention I don't own!), gaze at the sky and read. It's been so long since I read a book!!
This drink + Book = my ideal summer!
Help in spreading the word!
Follow along for a lot more delicious treats and life happenings on INSTAGRAM || FACEBOOK || PINTEREST ||TWITTER ||GOOGLE+

Watermelon Vodka Limeade
Ingredients
Watermelon ice cubes
2 cups chopped wtaremelon
Watermelon vodka limeade
6 cups chopped watermelon
½ cup vodka
4 tbsp honey or sweetener of your choice
Juice of 2-3 limes
Instructions
In a blender blend 2 cups of watermelon and pour the juice into ice cube molds and freeze.
In the same blender, add 6 cups of watermelon and blend. Strain it to get smooth juice. To this juice mix vodka, lime juice and melted honey. (Simply warm up honey on super low flame for a minute until it starts to loosen) Stir this mix and taste and adjust sweetener or lime or vodka as per taste. Cover and chill until serving time.
For serving pop some frozen watermelon ice cubes in a glass and add the watermelon vodka limeade on top. Enjoy!
Some more recipe ideas: 
https://www.naivecookcooks.com/green-tea-punch/
https://www.naivecookcooks.com/peach-caramelised-onion-goat-cheese-flat-bread/