Mixed Vegetable balls in a sweet & spicy gravy. This Indo-Chinese Vegetable manchurian is sure to impress even the meat eaters!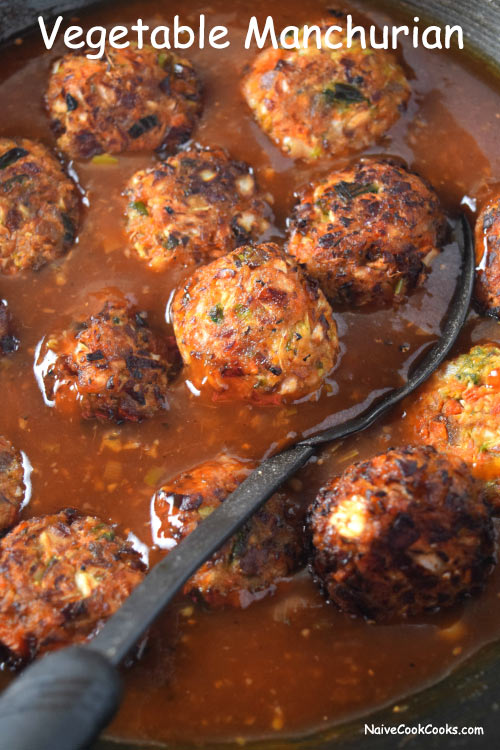 Growing up in India, Indo Chinese cuisine is one cuisine loved by almost all alike. With its sweet & spicy flavors and tons of delicious choices say fried rice, zesty noodles, manchurians both with gravy and without gravy made with mixed vegetables, with just cauliflower or meat based the choices are endless and it was a norm to eat it atleast once a week. In India unlike here at that time, food choices when it comes to eating out were not many. Now things have changed and you can find many more different cuisine choices but earlier it was only a selected few and among those Indo Chinese was one cuisine I was eager to eat any time.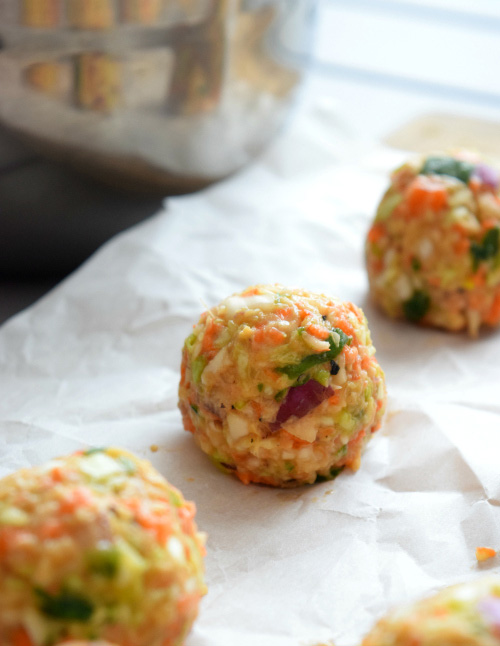 It 's surprising as I love this cuisine so much but I have never really put any effort into learning to make it. So few days back as the weather got seriously chilly, I started to crave some old familiar tastes and this was something that came to my mind. Well let me tell you that it wasn't that easy to get this right. After 3 ATTEMPTS over 2 DAYS, yes you heard me, I finally got it right and yes, it is absolutely lip smacking delicious.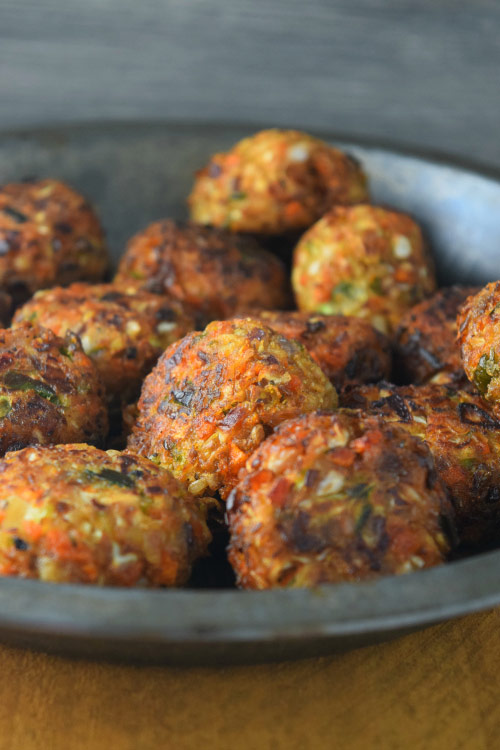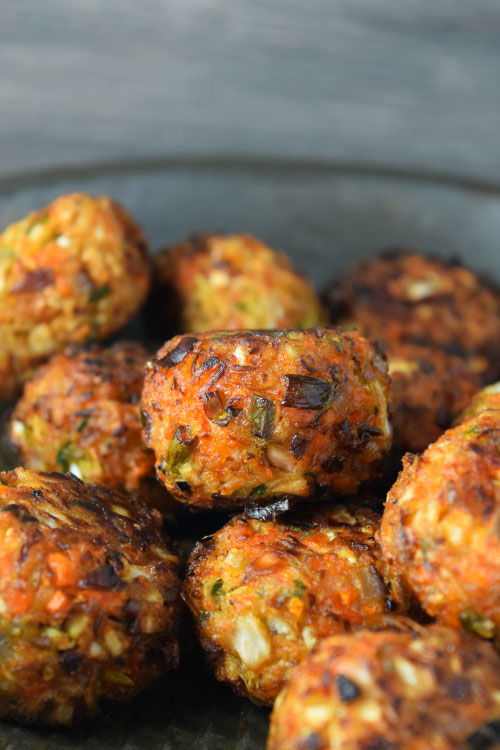 The vegetable balls are crisp on the outside and super soft when you cut into them. It is really easy to make once you have all your ingredients on hand. Just chop all the veggies really fine and throw all the ingredients for manchurian balls in a bowl. Mix and shape them into balls. Fry and once done make the sauce. Then once your sauce is ready just throw in the fried balls in this sauce and serve with steamed rice. Or you should serve with this super easy fried rice recipe I posted a while back.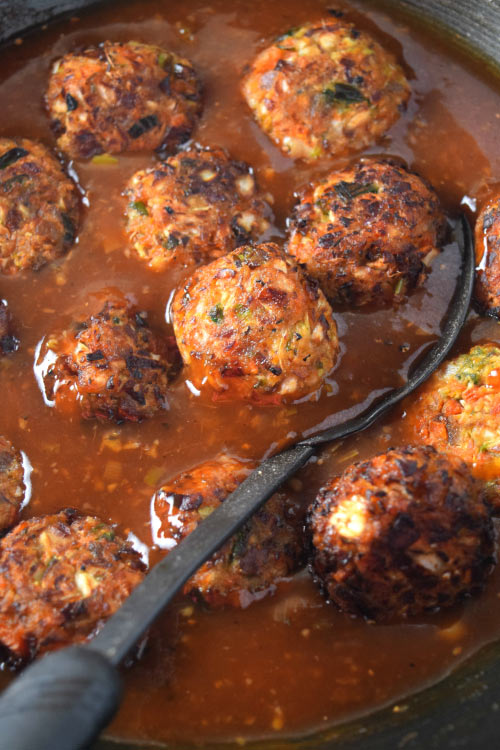 This will seriously make for a darn tasty weeknight dinner in this freezing cold weather!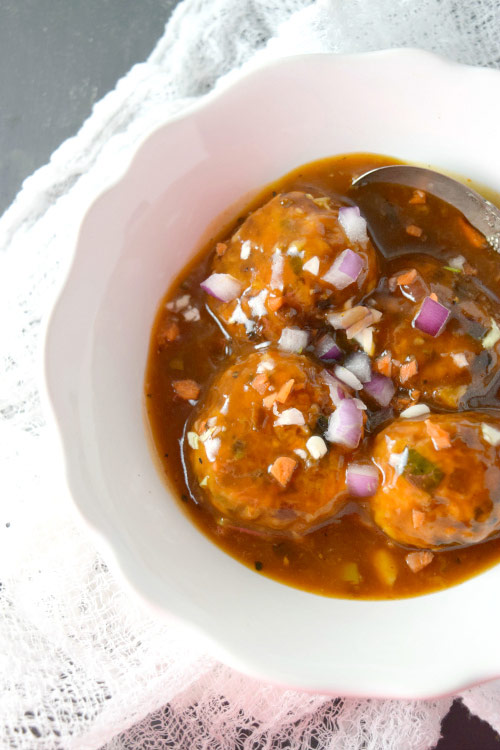 What are you waiting for?! Get chopping & making vegetable manchurian recipe!
Vegetable Manchurian
Mixed Vegetable balls in a sweet & spicy gravy. This Indo-Chinese Vegetable manchurian is sure to impress even the meat eaters!
Ingredients
Manchurian balls
2 cups cabbage, very finely chopped (almost ¼th of a cabbage)
½ cup carrots, very finely chopped (almost 1 large carrot or 5-6 small baby carrots)
½ cup red onion, very finely chopped (almost ½ a red onion)
¼ cup bell pepper or green onion, very finely chopped (1/2 bell pepper or 3-4 green onions)
1 tsp black pepper
Salt to taste
1 tbsp ginger paste
2 tsp garlic paste (around 4 garlic cloves)
2-2.5 tsp green chili paste (around 5 green chilies or adjust as per your taste)
2 tsp soy sauce (You can use any but recommended is Ching's soy sauce available at Indian grocery stores)
1 tbsp corn starch
2 tbsp rice flour
2 tbsp all purpose flour
Oil for frying
Sauce
1 tbsp olive oil
1 tbsp ginger paste
1 tsp green chili paste
Whites of 2 green onions, chopped
2-3 tbsp sugar or as per taste
1.5 cups water
½ cup water
2 tbsp corn starch
3 tbsp tomato paste or sweet & spicy maggi tomato sauce
1 tsp soy sauce (start with 1 tsp and add after tasting)
Salt to taste
Black pepper to taste
Instructions
Manchurian balls
Add all the ingredients for manchurian balls except oil in a bowl. Mix using hands until evenly mixed. Taste the mix and adjust if you feel any spice missing. Roll them into small balls. You will get around 14 small-medium size balls.
Heat oil for frying in a deep pot. Once hot, turn the gas to medium-low and add few balls at a time. Do not over crowd. Let them fry on one side on a medium slow flame so they cook from the inside too. Turn and cook them on the other side too until golden. Cooking on medium-slow flame helps in cooking the interior evenly.
Once fried, lay them on a paper towel to soak up the extra oil if any.
Making the sauce
In a pot, add oil. Once hot add ginger,green chili paste and chopped white parts of green onions. Saute it for few minutes. To it add, 1 tbsp tomato paste, sugar, salt, black pepper, soy sauce and water. Bring it to a boil. In a small bowl mix ½ cup water & 2 tbsp cornstarch and add this cornstarch paste to the boiling sauce. It will help thicken up the sauce. Keep cooking. It will start to thicken slowly. Add the remaining tomato paste. Taste and adjust the seasoning as per your taste. Thicken upto desired thickness. Add the balls and cook for few more minutes.
Serve hot with steamed rice or fried rice.
More Indian Inspired Recipes: