Another delicious week ahead of us so let's gear up with some delicious recipes!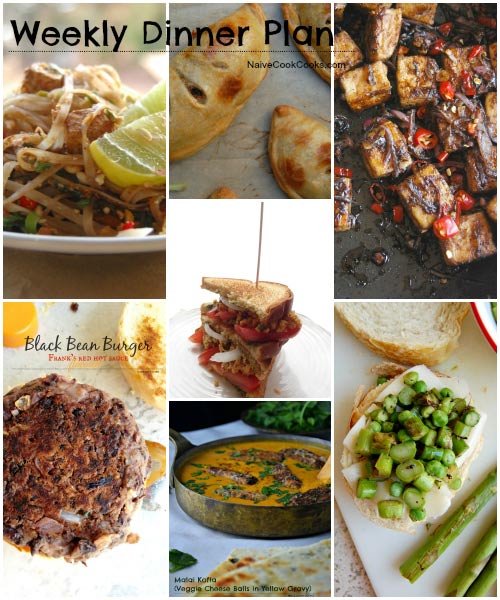 As days are getting longer and hotter, I figured we all need more easy, light and basically summery sort of meals. Here I have compiled 7 delicious dinner meal ideas for you with some seriously simple recipes such as asparagus salad grilled cheese, chutney sandwich, black pepper tofu with little extra time consuming meals like malai kofta, empanadas. You can pick your favorites and assign the desired days according to your convenience to these recipes!! Happy weekend and happy eating!
MONDAY :
You can easily make it non-vegetarian by substituting any sort of meat in place of tofu or you can keep it meatless. It uses NO fish sauce so it's great for hard core vegetarians! So delicious and quick!
TUESDAY :
https://www.naivecookcooks.com/black-bean-burgers-franks-hot-sauce-flavored/
These are our favorite. Delicious and super moist black bean burgers with frank's hot sauce and crushed tortilla chips inside the patties, these you should make a big batch and freeze the rest for eating later in the week or for quick lunch!
WEDNESDAY :
https://www.naivecookcooks.com/sweet-potato-black-bean-empanadas/
These empanadas are baked and packed with so much flavor. The tangy cilantro yogurt chutney makes them extra delicious, so don't skip that!
THURSDAY :
https://www.naivecookcooks.com/chutney-paneer-sandwich/
Really quick to assemble, delicious and healthy and a perfect light meal when you are running short of time but still craving something fresh and homemade!
FRIDAY :
Another of my favorite recipe. I was inspired while in NY when I had almost similar kind of grilled cheese! Try for yourself!
SATURDAY :
https://www.naivecookcooks.com/malai-kofta/
A classic yet so doable and delicious dish. You will stop getting malai kofta take outs!
SUNDAY :
This is my all time favorite dishes from Ottolenghi's book. I regret not making it too often but I suppose since I got all the ingredients, this will be my dinner tonight!
Help in spreading the word!
Follow along for lot more delicious treats and life happenings on INSTAGRAM || FACEBOOK || PINTEREST