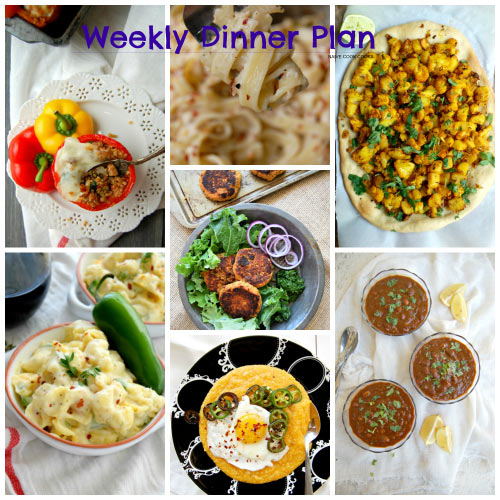 Hope you all had a great valentines day and are enjoying your extended weekend!!
We are done with valentines day and soon we will be back to the usual routine life. Getting back to normal routine life after weekend is always really hard for me. You might think I am a food blogger so our meals must be perfect, eating all 3 meals a day made from scratch and all delicious and healthy. But truth be told – that's not the case!
There are days I slag off and then first thing that hits me on a monday morning is what are we going to be eating today? Be it breakfast which is as simple as eggs & toast but there are days we get fed up with it and crave something new, then lunch which we usually try to eat homemade as it's way healthier than any restaurant food and anyways we do end up eating out a lot during the weekends and dinner is something I specially look forward to.  But planning all this in advance is really some sort of struggle for me as I am someone who is not good at sticking to plans! So you must have guessed that every morning it's one heck of a struggle for me to make sure I stick to my plans!
So here we are about to start a new week and I thought to share with you guys a weekly dinner plan which can save us all some time and lots of headache. I have decided on a mix of meatless and with meat meals for this coming week's dinner. I hope it inspires you to cook more at home and feed yourself and your family a healthy and nourishing meal not to mention delicious too!
MONDAY:
https://www.naivecookcooks.com/chicken-kebab-patties/
These are super easy to pull after a hectic work day or you can do is make the patties on the weekend and just leave the cooking part the night you are eating. Serve them with your favorite flatbread or steamed rice. Yumm.
 TUESDAY:
As easy as it sounds. Comes together in a pinch and so delicious and filling, that you might end up putting it in your regular dinner plan.
WEDNESDAY:
https://www.naivecookcooks.com/three-bean-ancho-chili/
This is Jerry's favorite. I usually make it in advance as it keeps getting better with time. Sometimes I even freeze the leftovers for later use. Serve with homemade or store bought corn bread.
THURSDAY:
This is a filling meal in itself but if you want to add some sides, you can may be add some steamed rice or soup.
FRIDAY:
It's the start of weekend so we all deserve some good cheesy indulgent food. This is so so delicious and creamy with a slight kick from fresh jalapenos!
SATURDAY:
https://www.naivecookcooks.com/aloo-gobhi-flatbread/
Indian style cauliflower potatoes baked over a flatbread. Filling vegetarian meal and leftovers taste great for next day breakfast!
SUNDAY:
https://www.naivecookcooks.com/chicken-fettucine-in-whiskey-gouda-sauce/
This is another of our favorite. And if you are wondering if you can serve it to kids, then answer is YES. Alcohol gets all burnt up while cooking!
Happy week ahead with lots of great food!
P.S I would totally love to know what kind of meals (more healthy ideas, more meat based, kid friendly or others) you will like to see here!
And to keep in touch with me and all the delicious food cooking , remember to FOLLOW me on PINTEREST, INSTAGRAM AND FACEBOOK