Collection of mouth watering recipes for last minute Labor Day recipe ideas!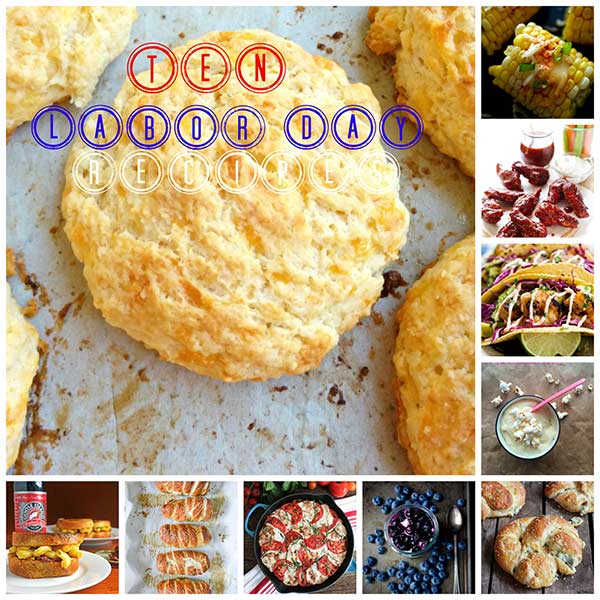 Last day of august! Can you believe it that summer is almost gone?! I still have so many undone summer tasks and my summer bucket list is not even halfway done. Well I am trying to soak in as much summer as possible in the last few days/weeks possible and hope you are doing the same! My trip to NY is almost coming to an end and I am kind of sad. I wish I could stay here forever! Today in Central Park it felt like autumn. Trees changing color and shedding leaves. If you are following me on instagram, you can see the pics!
I am sure you all must be excited and busy with labor day parties, getting together and not-to-forget shopping! I have compiled 10 of my current favorite labor day recipes from my recipes and from fellow food bloggers. Hope you enjoy these last minute ideas and get a fun, relaxing Labor day!
1. Jalapeno Pretzel Dogs by "howsweeteats"
2. BBQ Baked Chicken Wings by "Gimmesomeoven"
3. Caprese Quinoa Bake by "domesticate-me"
4.Buttery Corn by "elephants&thecoconuttrees"
5. Spinach-artichoke-bacon stuffed soft pretzels by "halfbakedharvest"
6. Grilled Mac Sliders by "hostthetoast"
7. Goat Cheese Mousse with Roasted Blueberries by "savorysimple"
8. Popcorn-Vanilla Pudding by "naivecookcooks"
9. Cheddar biscuits with jalapeno-tomato butter by "naivecookcooks"
10. Shrimp Tacos by "tartine&apronstrings"