Easy, delicious ribs cooked in oven from start to finish to produce the most delicious, juicy and flavorful ribs with meat that's tender to bite into!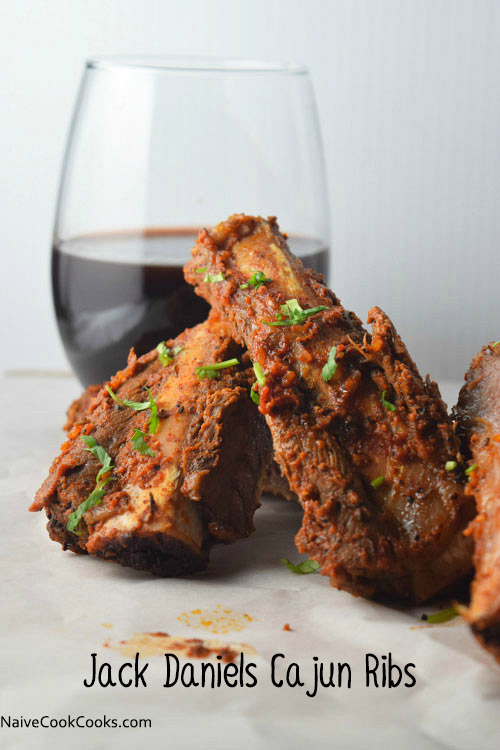 Friday finally and that always always calls for celebration!
One more week wrapped up successfully though our last two weeks were sort of crazy with Jerry's back getting into place slowly, doctor's visits and lots of running around! But with my mother being here from India helped me so much and I must say she in so many ways took all the burden on her shoulders! So thankful that she was here during this time.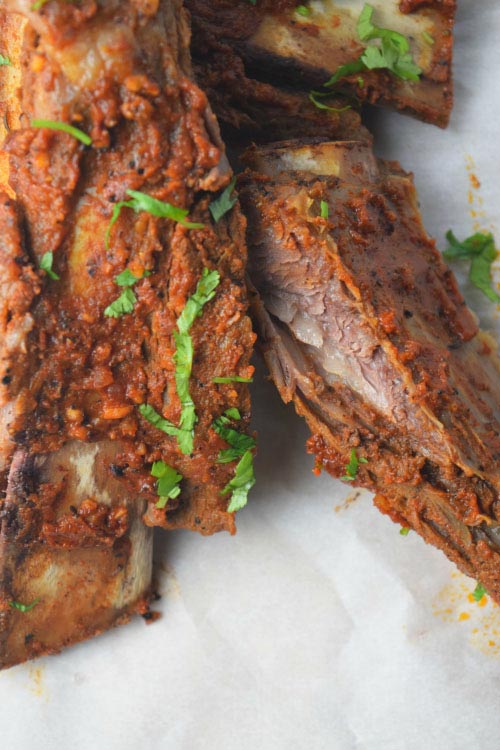 So finally I cooked ribs "first time ever" (insert dancing emojis)! Though this was from start to finish Jerry's recipe as he developed the marinade, taught me how to cook them in oven in under 2.5 hours and the SMELL! The marinade was the star of these ribs and while photographing, I kept on licking my fingers everytime I had to arrange them and then take photographs!! #foodbloggerproblems I tell you.
Best ribs ever! I am not into ribs but we prepared this for my brother and he loved them. The flavors, the texture and the best part is that they cook in the oven! Yes I know it's summer and all you want is NOT turn the oven and be outside, but I feel with summers this hot, there are days when I don't even want to go outside the house, let alone turn on the grill. So that's when you cook ribs in the oven!!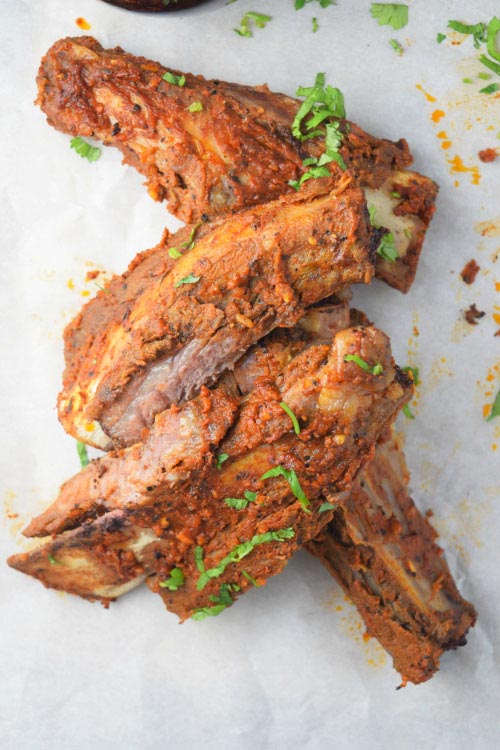 Since it's friday and you must have a lot of tv catching up to do ( hinting towards OITNB!), even though I could watch only 1 episode this entire week and not feel good about it. What is happening? Looks like my Orange is the new black craze is gone. Lately I have been watching episodes from Chef's table and I am in love with this netflix series! So. Much. INSPIRATION!
Ribs friday!
Help in spreading the word!
Follow along for a lot more delicious treats and life happenings on INSTAGRAM || FACEBOOK || PINTEREST || TWITTER

Jack Daniels Cajun Ribs
Ingredients
First rub
2 tsp paprika
1+1/4 tsp garlic powder
1+1/4 tsp black pepper
¾ tsp salt
2.5 tbsp cajun seasoning
¾ tsp ginger powder
¼ cup ketchup
¾ tsp red chili powder
2 tsp black truffle oil
Second rub
1.5 tsp paprika
1 tsp garlic powder
1 tsp black pepper
½ tsp salt
2 Tbsp cajun seasoning
½ tsp ginger powder
¼ cup ketchup
½ tsp red chili powder
5 tbsp jack daniels whisky
2 lbs beef ribs, good quality
Instructions
Make the first marinade by mixing all the ingredients together and rubbing it over the ribs and massaging with your fingers on both the sides.
Keep it in a pan and cover it with aluminium foil and keep it in refrigerator overnight or for atleast 6-8 hours.
Make the second marinade and after the first marination period, rub the second rub all over it.
Preheat oven to 225F. Fill the roasting pan with water upto ¼ height. Then place the grilling rack on top with the rib. Cover the whole pan with aluminium foil and place in the oevn. Cook for 2-2.5 hours until meat registers 165F and the meat is tender and cooked to your likeness.
Similar Recipes:
https://www.naivecookcooks.com/sweet-spicy-baked-chicken-wings/
https://www.naivecookcooks.com/baked-skinny-buffalo-chicken-wings