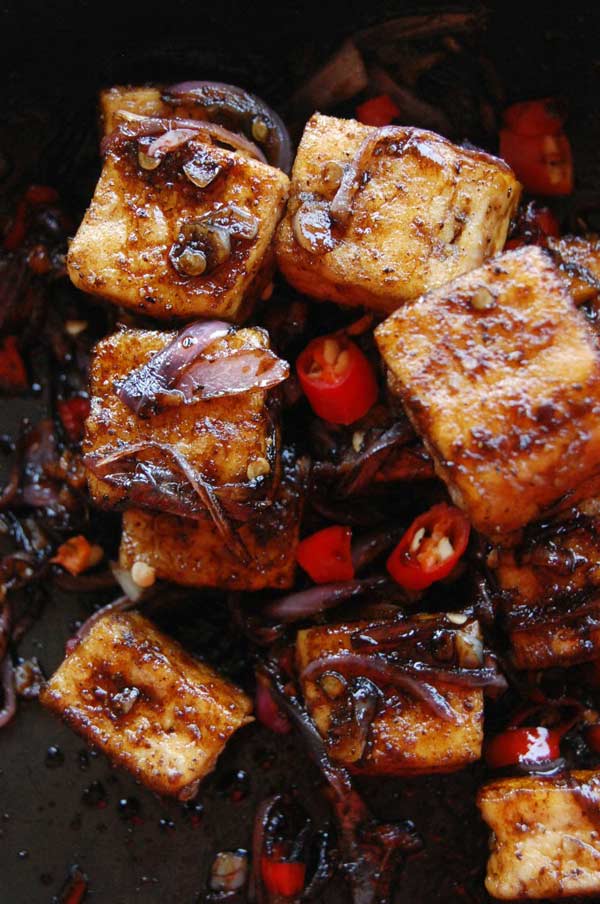 We are almost close to leaving this beautiful city and looking forward to new adventures. I have been trying to use up all the pantry stuff and some days we end up eating out. With depleting pantry ingredients, it has been getting little trickier to get creative with food. Meals have been getting kind of monotonous and we are yearning to be back home. I created this recipe a week ago and this week I already prepared it twice again. It is that good.
One of the best tofu recipes prepared by me in my kitchen ever! I am not lying when I say this is one of the best and simplest meals I had in looong time. I read this recipe in Yotam Ottolenghi's book "Plenty" when I first bought it and after that I went through it 3-4 times but always left it labeling it as a super simple and silly recipe in my mind. But wrong I was.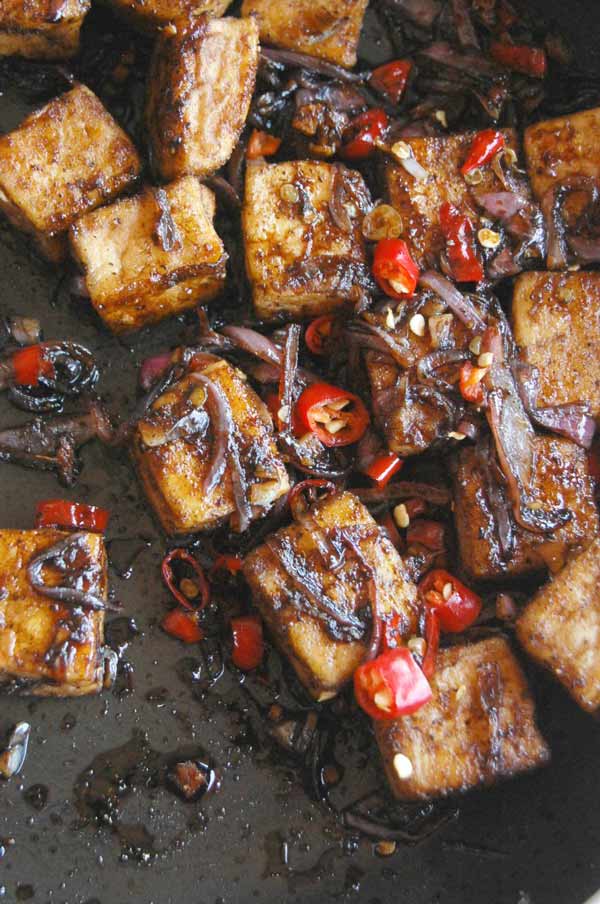 Sometimes simple recipes taste the BEST. My initial plan with tofu was to prepare lemongrass tofu rice but at the last moment  I realised that lemon grass had dried and I wasn't sure if it will serve the purpose I needed it for. Now I wanted to eat tofu but the recipe I wanted to make was gone out of the window. Suddenly I remembered Yotam's tofu recipe which I had bookmarked way back. Super quick and straight forward is what recipe promises to be and it sure delivers.
Perfect weeknight dinner recipe which comes together in under 30 minutes. In under 30 minutes, you are ready with hot & spicy black pepper tofu with steaming pot of rice. Best tasting and filling dinner ever. Enjoy it with chilled beer and you have an amazing quick fix dinner ready and that too from scratch. It does sounds great,right?!
Spicy Black Pepper Tofu
Ingredients
½ pounds firm tofu, chopped
2 Tbsp oil, olive oil or any cooking oil
Cornstarch for coating tofu
1 medium size red onion, cut in thin slices
3-4 bird's eye red chilies, cut in thin slices (adjust as per taste)
6 garlic cloves, crushed and chopped
1 tbsp fresh ginger, chopped
4-5 Tbsp soy sauce, low sodium preferred (adjust as per taste)
½ - 1 Tbsp sugar (adjust as per taste)
1 tbsp freshly crushed black pepper
Parsley for garnishing
⅓ cup white rice
Instructions
Pat tofu dry with a paper towel. Cut in bite size pieces. In a plate place some cornstarch and lightly coat tofu in cornstarch and dust the excess. Keep it aside.
In a pan, heat 1 Tbsp oil. Once hot, layer cornstarch coated tofu pieces and let them get crispy on med to med-high heat. Flip after 7-10 minutes and repeat on all sides. Keep the cooked tofu on a plate lined with paper towel. Keep it aside.
While tofu in cooking, take another pan and add rice. Clean rice with water. To it add 2 cups water and cook. Keep an eye, add more water if still hard. Once cooked, cover and keep aside.
While the tofu and rice are getting ready, chop the vegetables. Once tofu is cooked, use the same pan for making the sauce. Clean the pan using a paper towel and to it add remaining 1 tbsp oil. Once hot, add onion,chilies,garlic and ginger and cook it on low for 10-12 mins until soft and shiny. To it add soy sauce, sugar and black pepper. Add the cooked tofu and let it get warm. Taste and adjust if needed.
Serve steamed rice with black pepper tofu. Do not forget a chilled beer!
Notes
Some tips for weak souls though. If you can't handle too much heat, start with fewer red chilies and black pepper and adjust as per your taste buds.
This recipe is adapted from
Yotam Ottolenghi's PLENTY
.
More 30 Min Meal Recipes: