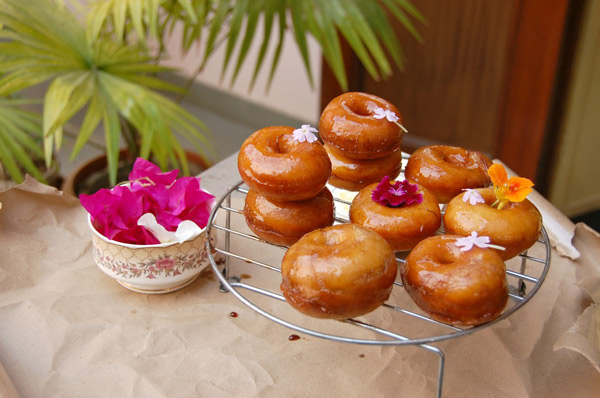 Doughnuts and homemade and that too super easy!!
I know what you are thinking! Where was this recipe all our lives and is there anyone on this planet who hates doughnuts!
Well for starters, I am at my parents place and currently everyone around me is obsessed with doughnuts. So when

I made my very  first batch of doughnuts and gave away some to our favorite people, they literally came begging for recipe. I had no idea that people liked doughnuts so much here. Well in a week I made a second batch and it was also gone before  I could even  lay my hands on a cup of black coffee for my like 5th serving of doughnuts in a day! I know, it is legal.
I am having a crazy obsession with doughnut making these days. I want to keep making these light, feathery goodness all the time and keep feeding these super light doughnuts to all friends and family members.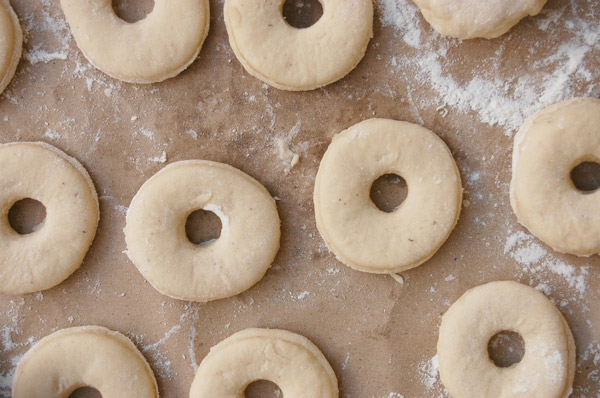 Best thing?! These come together in few hours and no overnight keeping of dough, no fancy equipment needed. Just a simple mixer or hands, they both work well. My first batch was amazing but Jerry pointed doughnuts being littttle less airy. So I made them again the next day and oh, boy I can make doughnuts!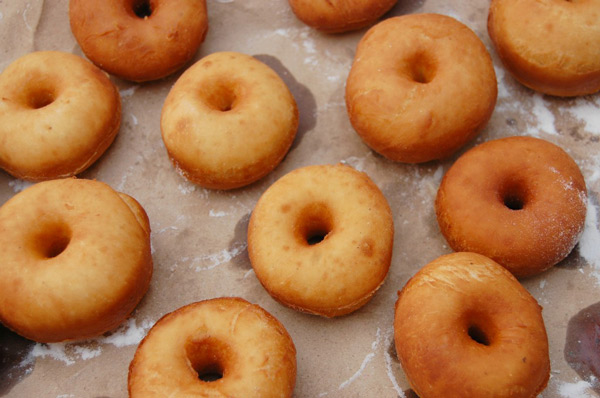 They taste like heaven and if you trust me, you will stop buying them anymore.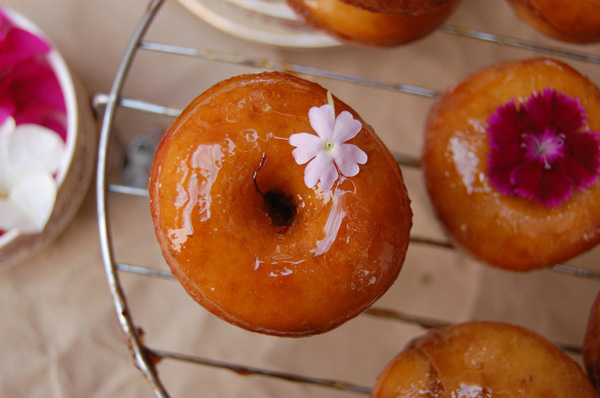 We made two versions and both are equally good! Tangy & super sweet Orange juice & saffron syrup dunked doughnuts and Thumbs Up Soda dunked doughnuts ( If you are wondering what thumbs up is : Thumbs up is a coca cola brand soda sold in India and it is my all time favorite. But you can easily sub any other black soda you fancy such a pepsi or coca cola or may be doctor pepper.)
How to Make Doughnuts
Ingredients
Doughnuts
9.5 Tbsp milk ( I used 2% or low fat)
2 Tbsp water
2 Tbsp unsalted butter
1 tsp honey
2 tsp active dry yeast
1 egg
2 Tbsp sugar ( I used granulated white)
Pinch of salt
¼ tsp nutmeg, grated
2 cups plus ½ cup all purpose flour or maida (UPDATE 8/7/14: I realized that dough was very wet so you will need to add ¼ to ½ cup more flour in addition to the 2 cups.
Oil for frying
Orange juice & saffron syrup
1 cup fresh orange juice
½ cup white granulated sugar ( I would suggest starting with 4 Tbsp and slowly making your way while tasting it so can adjust sweetness as per taste)
Pinch of good quality saffron
¼ tsp nutmeg
Pinch of salt
Thumbs Up Syrup
1 cup thumbs up or any other black soda you prefer
Pinch of salt
3 Tbsp sugar
Instructions
Doughnuts
Add milk and water in a pan and warm it up. In a bowl, take butter and to it add the milk-water mix. Stir it until butter melts. To it add honey and yeast and let it sit for 5-10 mins so the yeast becomes active and it looks foamy. Before adding yeast, make sure the milk mix is warm. If not, warm it up little more.
Now to the foamy milk mix add egg, sugar,salt,nutmeg and half of flour. Mix it using hands or using a stirrer or in a mixer. Once it is all mixed, add the remaining flour and keep mixing until the dough starts to pull away from the walls of the bowl around 5 mins. Place the dough in an oiled ball and cover. Let it sit for 1-2 hours until dough rises to double.
Place the dough on a floured surface and roll it to ½ - 1 " thickness. Using a cookie cutter or mouth of glass, cut rounds. To make holes in the center, I used a smallish bottle cap. Let the rounds sit for another 30 mins to an hour to rise.
Heat oil in a deep pot. Once hot, add a little piece of dough for checking. If it immediately comes up, it means oil is hot enough. If not than wait little more. Add 2-3 doughnuts at a time and fry them until golden brown.
Keep them aside and let them cool.
Once doughnuts are cool, dunk them in the syrups and let them for around 15 minutes. Enjoy with hot black coffee.
Orange juice & saffron syrup
Add all the ingredients in a small pot and keep it cooking until it becomes thick and luscious.
Thumbs Up Syrup
Add all the ingredients in a small pot and reduce it down until it becomes little thick.
Notes
Doughnut dough recipe by Alton Brown and adapted via "
howsweeteats
".
More How To Recipes: