Soft Chewy Ginger Cookies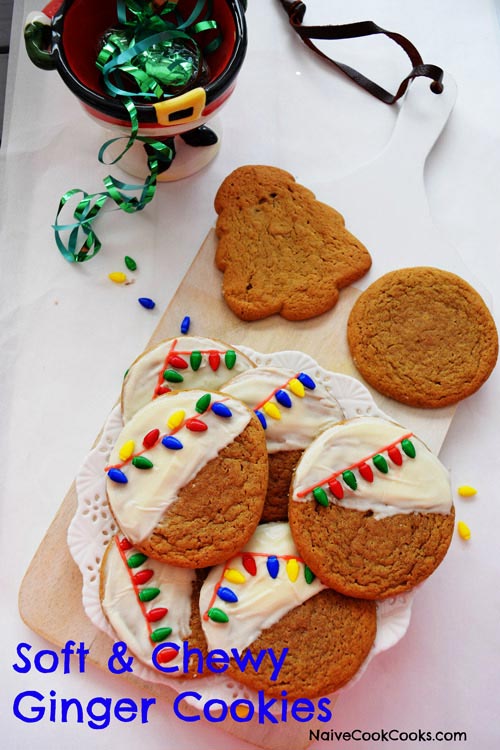 (1+1/8) cups all purpose flour
2 tsp ground ginger powder
½ tsp baking soda
½ tsp cinnamon
Pinch of ground nutmeg
⅛ tsp salt
6 Tbsp unsalted butter or (1/4 + ⅛) cups, soft at room temperature
¼ cup brown sugar
¼ cup white sugar
½ egg
½ tbsp water
2 tbsp molasses
1 tbsp white sugar
Some raw demerara sugar for rolling, optional
White Chocolate & Lime Icing :
¼ cup white powdered sugar
1.5 tsp lime juice
1 tsp water
Red colored icing optional
Light shape sprinkles optional
Preheat oven to 350F.
In a bowl, add flour, ginger powder, baking soda, cinnamon, nutmeg and salt and stir it all. Keep aside.
Now in another large bowl, cream butter and both sugars until light and fluffy. To it add egg, water, molasses and white sugar and mix until evenly mixed. To it add the dry mix and mix it all until evenly mixed.
Dough will be soft and sort of sticky. You can add a bit if flour just to make it less sticky. Break dough into small balls. I got around 10-12 balls. Roll into balls and flatten a bit. Roll them in demerara sugar and and place them on a parchment lined baking sheet with 2" or more gap in between each ball.
Bake for 8-9 minutes. Cool them on baking sheet for 5 mins and then carefully transfer to cooling rack and completely cool.
Meanwhile make icing. In a bowl melt white chocolate morsels in microwave until the chocolate is evenly melted. I do it in series of 25 secs, 25 secs and another 25 secs until it completely melted and smooth. To it add sugar, lime juice, water and mix until it's smooth.
Glaze half of the cookie with this icing and then decorate as you want. These cookies taste amazing even without icing.
Recipe by
Naive Cook Cooks
at https://www.naivecookcooks.com/soft-chewy-ginger-cookies/