Dreading being snowed and craving for something refreshing?! This oatmeal nutella smoothie is just that – filling and packed with all natural real ingredients, it is perfect for breakfast on the go or as an evening pick-me-up.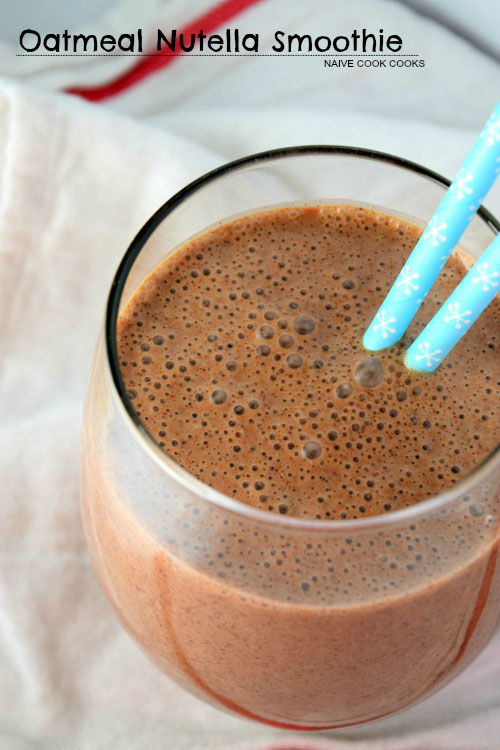 I love smoothies. Period.
Last weekend I started craving smoothie so bad that all I wanted was a green smoothie?! Does that sound too horrible? Well Jerry almost ignored me cause he never craves smoothies! For him smoothies are just a simple means to get your-greens-in-your-body. On the other hand, he is big on chocolate milk so I decided to shake up the smoothie game.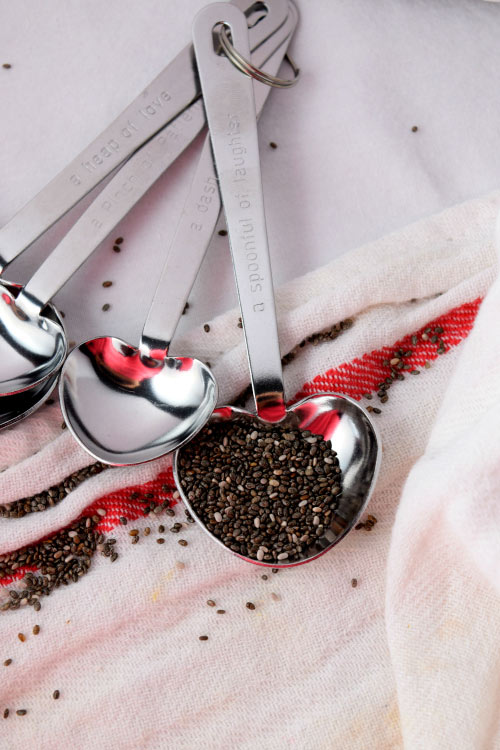 Even though I have tried making chocolate smoothies before but they never really turned out good enough that I craved them again and again. But finally I think I have a winner atleast in my book. I loved this smoothie so much that after making it for breakfast for us, I decided to make it again for dinner for myself. And now I am looking forward to having this again for breakfast tomorrow! Yohoo.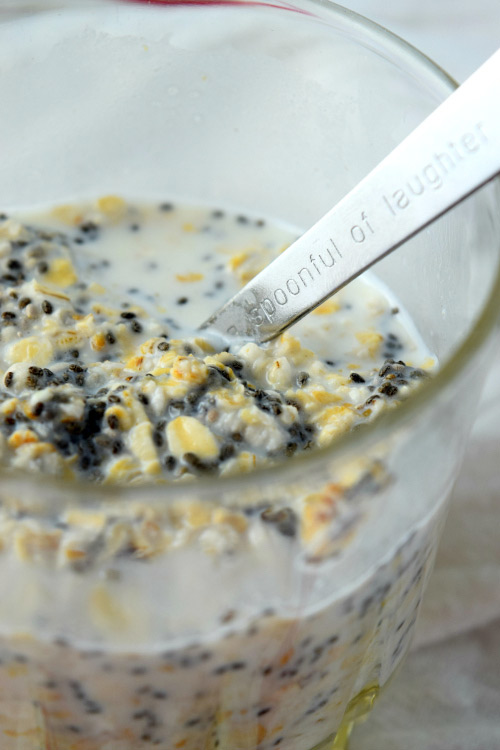 First things first, this is one heck of a healthy smoothie yet it tastes darn tasty. Not at all like those healthy "yukky" smoothies we sometimes find ourselves drinking just for the sake of getting our greens for the day. It's super simple as first in a bowl you add oatmeal, chia seeds and milk. Let them sit for few hours and then add everything in a blender along with the rest of the ingredients. There you have a super creamy and deliciously chocolatey smoothie!
I mean it's like SERIOUS CHOCOLATE lover's HEAVEN sort of thing going on in this smoothie!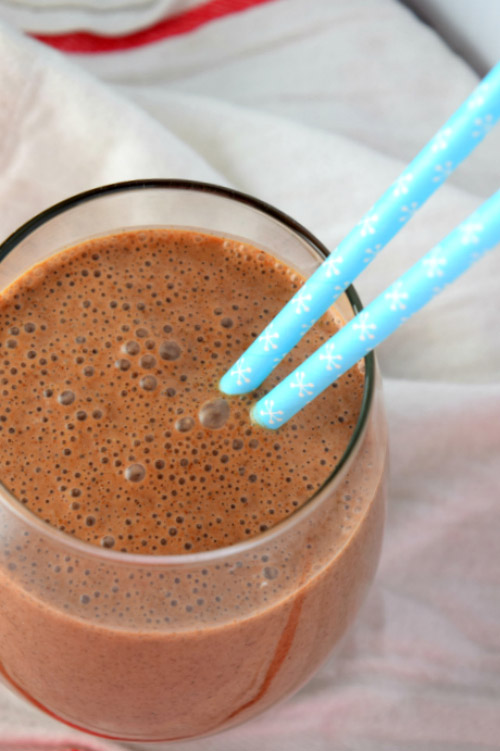 Needs a little bit of planning time to soak up the chia seed mix which usually I like doing first thing in the morning. Then once after you are all ready to leave, just blend up everything in your high speed blender and there you have a seriously delicious chocolate intense smoothie on the go! Can life get any better?!
Did I tell you that I had it as my late night snack too?!! Haha, serious chocolate smoothie obsession going on here!
Let me know what other kinds of smoothies are your go to smoothies?!!
Oatmeal Nutella Smoothie
This oatmeal nutella smoothie is filling and packed with all natural real ingredients, it is perfect for breakfast on the go or as an evening pick-me-up.
Ingredients
½ cup + ⅔ cup milk ( any kind works here: low fat, full fat, almond milk, cashew milk, dairy free milk)
½ cup oats (either kind : quick cooking or rolled oats)
1 tbsp chia seeds
2 tbsp nutella
2 dates
Pinch of salt
5-6 ice cubes
¼-1/2 tsp vanilla extract
2 tbsp bittersweet chocolate chips
Additional natural sweetener if desired
Instructions
In a bowl, soak ½ cup milk with chia seeds and oats. Stir and let it sit in refrigerator overnight for 1-2 hours.
Throw everything in blender and blend on high until smooth and creamy.
P.S If your dates are old and dry, then you can soak them in hot water for 15-30 minutes. Drain and add them in blender.
More Beverage Recipes:
https://www.naivecookcooks.com/bloody-mary-verde/