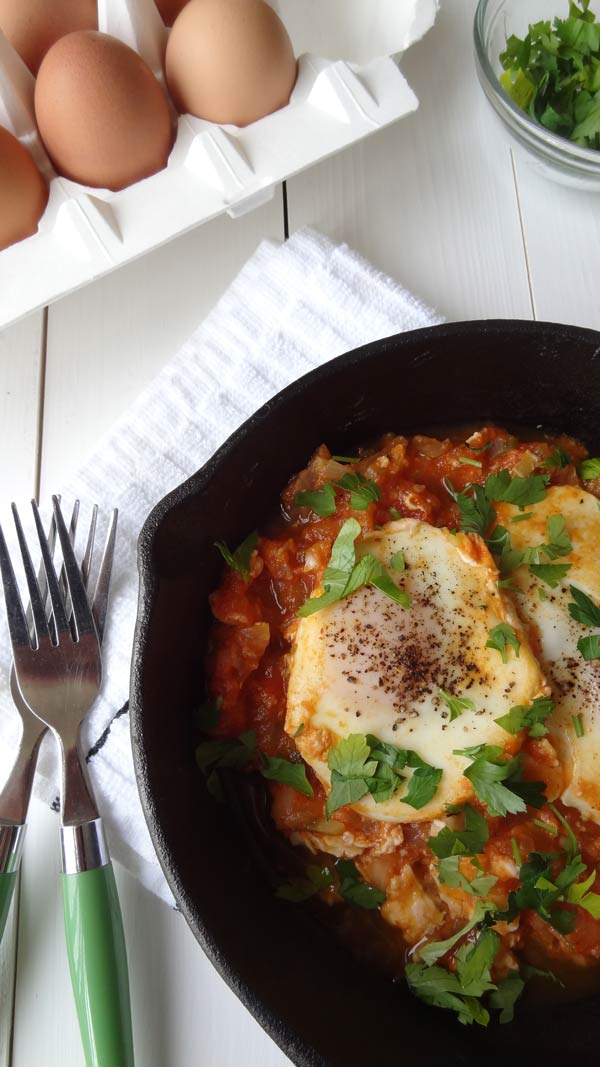 This is one of those recipes I have been eyeing for few months now. I have been wanting to make it for few reasons. It is a combination of all things I love. Eggs? Check. Tomato? Check. Garlic? Check. Poached eggs? Never tried but would love to try. Check.
I love the way eggs get cooked by the hot simmering sauce. As you break into the eggs, yellow fluid flows and mixes up with the sauce around it. Dip a pita or any kind of bread you desire and what you get is perfection.

Shakshuka - Israeli Breakfast Dish
Ingredients
2 tomatoes, boiled and skin removed
1 med yellow onion, chopped
1 jalapeno, chopped
3-4 tbsp flat leaf parsley, chopped
4-5 garlic cloves, chopped
Salt to taste
1 tbsp ground cumin
1 tsp red chili powder
1 tsp oil
4 cage free organic eggs
Black pepper, for garnishing
Instructions
In a skillet, add some oil and throw in jalapeno and onions. Stir and let them cook for 5-6 mins till onions brown a little. Add garlic, cumin and red chili powder. Cook for 2-3 mins more. Mush the tomatoes by hand and throw in the tomatoes along with their juices. Add ¼ cup of water and let it all cook for 10-15 mins till sauce thickens a bit. Into the sauce, break eggs one by one. Cover the skillet and let them cook till the white part cooks.
Garnish with parsley and black pepper. Serve.
More Breakfast Recipes: