These veggie burritos are flavor packed with taco seasoned vegetables, cilantro lime rice & homemade refried beans and topped with a zesty salsa verde sauce! So delicious, healthy & you can even freeze the burritos for later!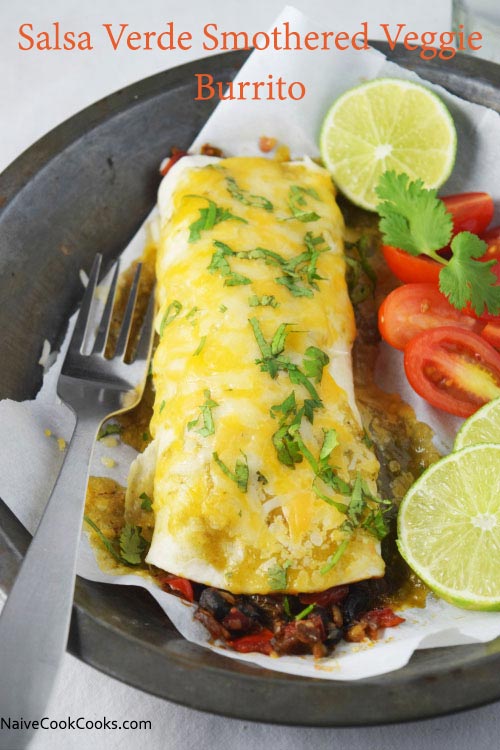 Missed your #meatlessmonday window? Well no problem because these veggie salsa verde smothered burritos will keep you full for long and help you stay on your meatless meals resolution too!
I say hump day should be especially tasty because by Wednesday we are all looking forward to that weekend and our motivation is almost down too! Beans keep these fibre rich & keep you full for longer too. If you want to make these totally healthy, use whole wheat tortillas and skip the cheese on top! Still darn tasty! Will keep it short & sweet today as lately it's been crazy around here with Jerry still healing and my mom visiting from India! I am trying to make the most of this time with her as I get to see her once a year so I know how important this time is with her and I get to learn tons of her healthy delicious food too! Bonus!
These are calling your name!
Help in spreading the word!
Follow along for a lot more delicious treats and life happenings on INSTAGRAM || FACEBOOK || PINTEREST || TWITTER

Salsa Verde Smothered Burritos (Freezer Friendly)
Ingredients
Refried Beans
2 cups dry pinto beans
3 cups water
salt to taste
1 tsp red chili powder
1 tsp cumin powder
1-2 tsp taco seasoning (optional)
1 tsp olive oil
Cilantro Lime Rice
1 cup basmati rice
2 cups water
Salt to taste
¼ cup finely chopped cilantro
Juice of 1 lime
Salsa Verde Sauce
~10 tomatillos small-medium size, chopped
½ cup red onion, chopped
4 garlic cloves, chopped
3 green chilies, chopped
Bunch of cilantro
1.5 cups water
Salt to taste
1-2 tsp oregano powder
1 tsp cumin powder
Veggies
1 green bell pepper, chopped
1 red bell pepper, chopped
1 red onion, chopped
8 oz mushrooms, chopped
4 garlic cloves, chopped
Salt to taste
1 tsp red chili powder
1 tsp cumin powder
1.5 tsp taco seasoning
1 tbsp olive oil
Flour tortillas, burrito size
Cheddar cheese, shredded
Instructions
Refried beans
If you have the time, soak the beans in water overnight. Boil the beans in pressure cooker (my favorite way to boil) or in a pot with some salt. You might need to add more water if the beans are still not cooked thoroughly and it starts to get dry. Once fully cooked, you can keep the beans just like that or using a hand held blender, blend to get a smoother consistency. Add spices & oil and mix. Taste & adjust seasoning.
Cilantro Lime Rice
Rinse the rice in a strainer under running water. Once water turns clear, transfer them to a pot and add water and salt. Bring to a boil and simmer until cooked through. Now add cilantro & lime juice and stir it around.
Salsa Verde Sauce
Add all the sauce ingredients in a pot and bring it to a boil. Simmer for 10-15 mins until soft. Transfer to a high speed blender and blend until smooth. Transfer back to the pot and simmer until it reaches the desired consistency.
Veggies
while the sauce is simmering, cook the veggies. Add oil and one warm, add garlic. Stir it around for a bit and add veggies to it. Add all the spices and stir it around and cook it on medium-low until vegetables are soft. Taste & adjust seasoning to your taste.
Assembly
For burritos, lay a tortilla on the working surface and spread 1-2 tbsp beans in the center. Spread veggies & rice on top and you can either close it tightly from all the four sides like a burrito or just roll it tightly.
If you are planning on freezing these, fold them tightly from all the sides like a burrito and place in an aluminium foil and wrap tightly.
For serving, take little oil on the skillet and crisp up both the sides of the burritos. To it add warm salsa verde sauce, cheese and onions. Enjoy and serve alongside more rice & beans!
Similar Recipes:
https://www.naivecookcooks.com/poblano-crepe-enchiladas/
https://www.naivecookcooks.com/chuys-enchilada-sauce/