Crunchy taco & beans salad is the ultimate salad that is filling and makes a perfect main course!Crispy crunchy tortillas, baked beans, fresh lettuce, tomato  & onion makes it a delicious meatless meal!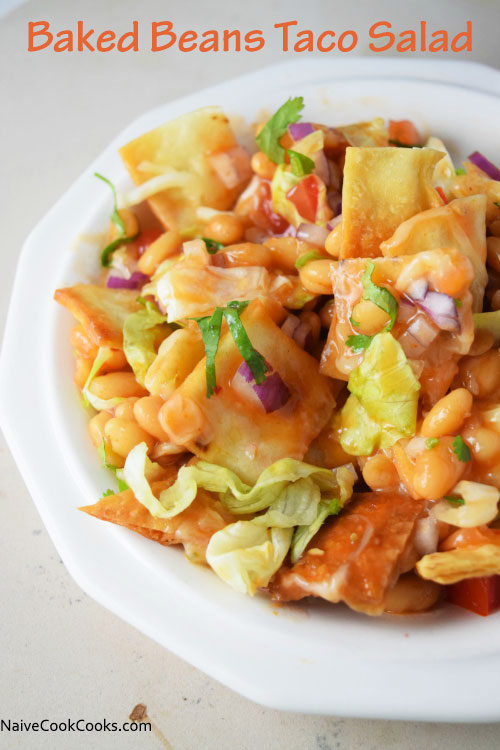 Happy F.R.I.D.A.Y!!
Friday + This Taco Salad = makes a VERY happy me! This was the first dish I learnt after I married Jerry as I was expecting guests one day and I had no idea what should be served to guests! When you grow up in India, most of the times you are blessed to be pampered by your parents so much that when suddenly all the responsibility comes on your shoulders, you find yourself calling your mom/dad every now & then for even the tiniest advice.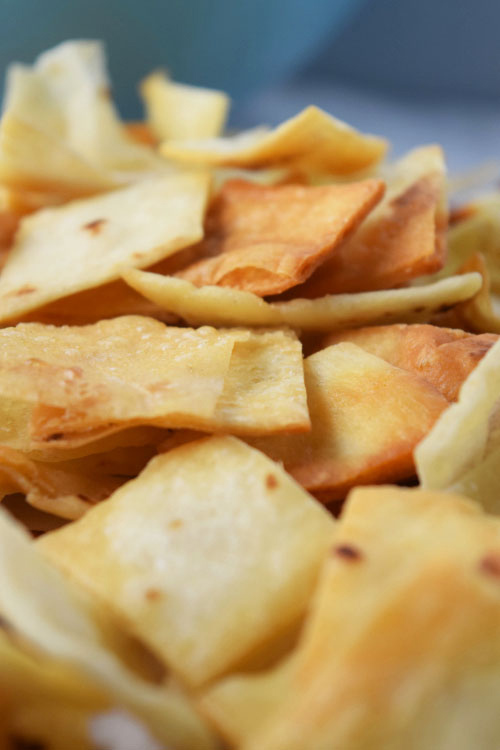 I clearly remember the first few months after I moved thousands of miles away from my parents! I missed them so much and at every instance, I couldn't control but have tears rolling down my eyes! I think I am going down the memory lane today as my mom will soon be leaving for India and how I wish that both my parents could stay here forever, may be somewhere close by so I can see them whenever I want to and not just once/twice a year!
On the other hand Jerry is lucky enough to have his parents live closer by so his mother was my cooking guide for lot of her recipes. Her recipes which I enjoyed most, I would try to learn and recreate them in my own way. This is one of her recipes too! Jerry grew up eating this but instead of using cans for baked beans, I like making my own and if you want to make your own & super easy baked beans, recipe is here!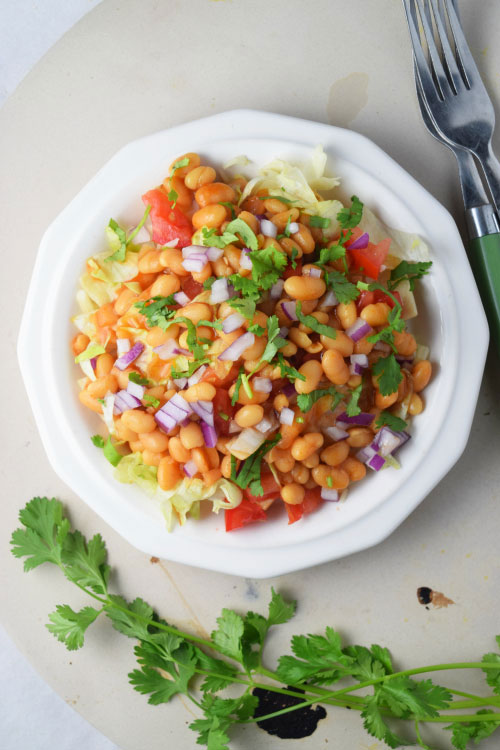 I love the sweet & spicy flavors of this salad. It starts with small pieces of fried tortillas/tacos as the base and then you top it off with bubbling hot baked beans, shredded cheese, lettuce, tomatoes & onion. So GOOD. This makes for a perfect little indulging friday night dinner if all you want tonight is to be a couch potato, eat plates of this and watch chef's table (Probably you might find me doing this!)
Give it a try!
Help in spreading the word!
Follow along for a lot more delicious treats and life happenings on INSTAGRAM || FACEBOOK || PINTEREST || TWITTER
P.S You can substitute baked beans with your favorite chili recipe!
Baked Beans RECIPE here.
Baked Beans Taco Salad
Ingredients
4 large soft flour tortillas (burrito size but if using taco size use 8-10)
½ cup Oil for frying
Baked Beans (Recipe for my homemade baked beans is ABOVE the recipe or use 1 14.5 oz can)
Salt to taste
½ tsp red chili powder
1 tsp brown sugar
1 lettuce head, chopped
1 tomato, chopped
½ red onion, chopped
Cheddar cheese, shredded ( as less/more as you want!)
Instructions
Cook the beans. If making homemade, follow the recipe down under or if using canned, transfer them to a pot on med-high flame. To it add ½ cup water, salt, red chili powder & brown sugar and stir. Taste and adjust seasonings to taste. Let it simmer for 5-10 mins and then turn off the gas.
Take oil in small pot . While oil is heating up, cut tortillas in small square shapes about 1"*1".
Fry them in batches and transfer to a paper towel lined plate.
Assembly
Lay bunch of cooled down crispy fried tortillas in a plate and add bubbling hot baked beans, cheese, lettuce, tomato & onions. Enjoy!
Notes
Baked beans can be made ahead of time and stored covered in refrigerator for good 2-3 days.
Similar Recipes:
https://www.naivecookcooks.com/black-beans-stuffed-peppers/