NO-BAKE Red Velvet Cheesecake in Sugar Cookie Cups and drizzled with chocolate makes for an Easy holiday dessert!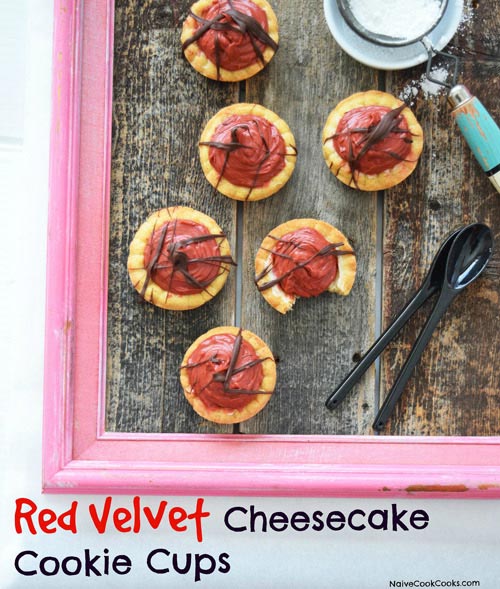 Christmas is almost here friends! Are you getting ready? Lots of baking, decorating, gift wrapping huh? Well seems like you were just not good but really good this year and that's way Santa is coming a little early and bringing 2 of you LUCKY people out there a Christmas gift!!? ? PLUS these insanely delicious RED VELVET CHEESECAKE COOKIE CUPS!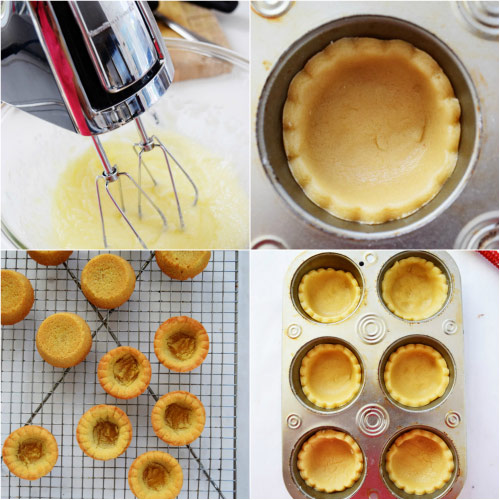 Yes you heard me right! Today I am not just sharing a delicious "Holiday Perfect" Dessert recipe because well you can never have enough desserts & &…..yes 2 WINNERS get to win my favorite Hamilton Beach Hand mixers!! Yay!! I hope you are just as excited to take part in this as I am because truth be told, for the last few years since I have been cooking & baking, I have always wanted one of these ?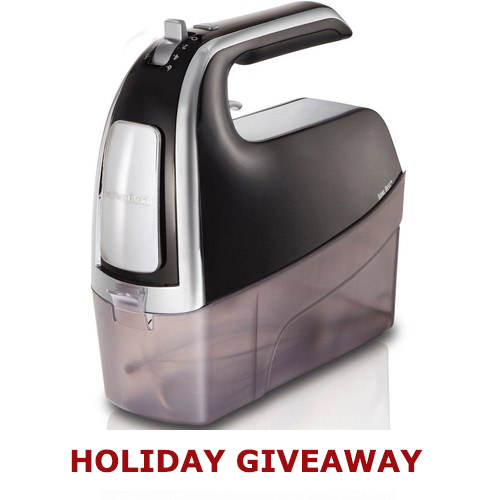 To be precise  a HAND MIXER because well let' be honest, not every single time you need to stir, you want to use your giant stand mixer and since I received mine some time ago, I have been loving all the cooking & baking!! It just makes it so much faster and I can use whatever bowl I want to rather than using the huge bowl that comes with my stand mixer and washing is so easy too! Always a big plus in my book as I absolutely HATE doing dishes!! How I wish they would make dishwashers that would rinse and load by themselves too! I know wishful thinking!!
So as I was saying I have partnered with HAMILTON BEACH  and this holiday season, we are bringing you all 2 gorgeous 6 Speed Hand Mixer with Pulse and Snap-On Case that allows you to pulse at slowest speed so no more FLOUR EVERYWHERE! and that cute little Snap on box carries all the parts, so it's really useful for someone like me who loses her stuff all the time!
Now I have been using this for sometime now and as I mentioned, I love it! Yesterday I made these Red Velvet Cheesecake Cookie Cups and it was so much fun! Since it's holidays and all I dream of is sugar cookies, I made SUGAR COOKIE CUPS and then filled them with creamy RED VELVET CHEESECAKE FILLING! The BEST ever!
 I used my favorite SUGAR COOKIE recipe for making these cups.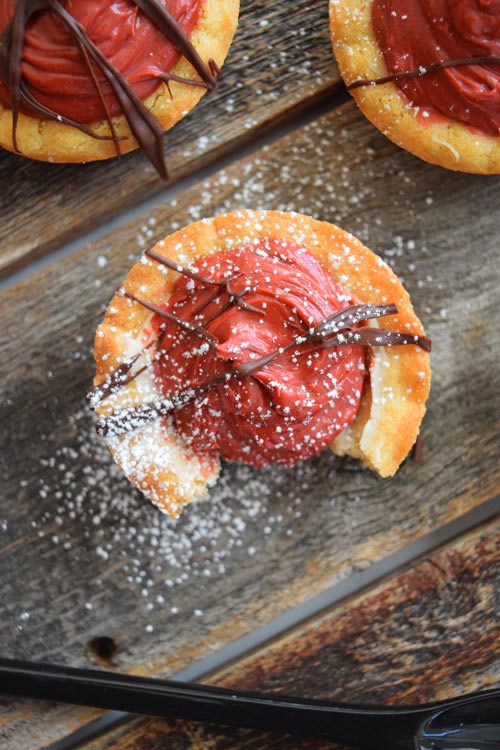 These are so adorable and the taste is just spot on! If you are running short on time, you can totally buy mini graham cracker crusts and use those but seriously if you make these, you will a ? STAR ? at your next gathering! So get baking and DO ENTER IN THE GIVEAWAY BELOW for a chance to win these Amazing HAMILTON BEACH HAND MIXERS!
****Giveaway ENDS at midnight of 20 DECEMBER 2015.
Red Velvet Cheesecake Cookie Cups
Ingredients
1&1/4 cups + 2 Tbsp unbleached all purpose flour
½ tsp baking soda
¼ tsp baking powder
1 stick unsalted butter, softened
¾ cups white granulated sugar
½ egg, stirred
½ tsp vanilla extract
1-2 Tbsp milk (any fat content)
Red Velvet Cheesecake :
1 (8oz) block of cream cheese (I used low fat but full fat will work too), room temperature
¾ cups powdered sugar
2 tbsp cocoa powder
2 tsp vanilla extract
Red food color as per desired color or skip it
Melted chocolate for drizzle
Instructions
Preheat oven to 375F.
In a small bowl, stir together flour, baking powder and baking soda. Keep it aside.
In a large bowl or bowl of stand mixer if using, cream butter & sugar until smooth. Beat in the stirred egg and vanilla using hand mixer or stand mixer. Slowly add the dry ingredients and keep stirring. Add enough milk to make the dough come together, just soft enough but not wet.
Gather the dough on a floured surface. If it feels too sticky, add few tsps of flour, starting by 1 tsp at a time and kneading very little. Divide the dough into 2 balls. Wrap it in plastic wrap and chill in refrigerator for upto an hour or so.
Roll out the dough to desired thickness. I like rolling the dough to a medium thickness (Not too thin and not too thick) to get a chewy soft cookie cups but it's totally about preference. I ended up getting total of 12- 14 cookie cups from the dough.
Using a circular cookie cutter, cut 6-7 medium thickness circles from the dough and place ach circle in the muffin pan. Bake cookie cups by rotating the tray halfway for about 7-9 minutes depending on your cookie thickness. I bake them first for 7 minutes and then rotate the tray and bake for another 2 minutes.
Cool them for few minutes and then gently flip them on wire rack to cool completely. Once you take them out of the oven, I like to use a spoon to gently push the uneven surfaces inside so it resembles a cookie cup. Don't wait for it to cool down to do that as you won't be able to do it when cookie cups are cold.
Now meanwhile make your cheesecake filling : In a bowl, add all the cheesecake ingredients and stir until smooth. Place few tbsp of this filling in each cookie cups. Then drizzle with melted chocolate and chill until ready to serve!
Some more HOLIDAY COOKIES :
https://www.naivecookcooks.com/from-scratch-sugar-cookies/