Red Velvet Cheesecake Cookie Cups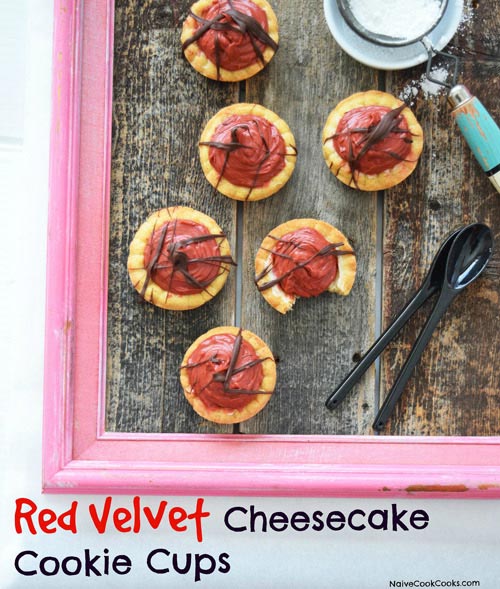 1&1/4 cups + 2 Tbsp unbleached all purpose flour
½ tsp baking soda
¼ tsp baking powder
1 stick unsalted butter, softened
¾ cups white granulated sugar
½ egg, stirred
½ tsp vanilla extract
1-2 Tbsp milk (any fat content)
1 (8oz) block of cream cheese (I used low fat but full fat will work too), room temperature
¾ cups powdered sugar
2 tbsp cocoa powder
2 tsp vanilla extract
Red food color as per desired color or skip it
Melted chocolate for drizzle
Preheat oven to 375F.
In a small bowl, stir together flour, baking powder and baking soda. Keep it aside.
In a large bowl or bowl of stand mixer if using, cream butter & sugar until smooth. Beat in the stirred egg and vanilla using hand mixer or stand mixer. Slowly add the dry ingredients and keep stirring. Add enough milk to make the dough come together, just soft enough but not wet.
Gather the dough on a floured surface. If it feels too sticky, add few tsps of flour, starting by 1 tsp at a time and kneading very little. Divide the dough into 2 balls. Wrap it in plastic wrap and chill in refrigerator for upto an hour or so.
Roll out the dough to desired thickness. I like rolling the dough to a medium thickness (Not too thin and not too thick) to get a chewy soft cookie cups but it's totally about preference. I ended up getting total of 12- 14 cookie cups from the dough.
Using a circular cookie cutter, cut 6-7 medium thickness circles from the dough and place ach circle in the muffin pan. Bake cookie cups by rotating the tray halfway for about 7-9 minutes depending on your cookie thickness. I bake them first for 7 minutes and then rotate the tray and bake for another 2 minutes.
Cool them for few minutes and then gently flip them on wire rack to cool completely. Once you take them out of the oven, I like to use a spoon to gently push the uneven surfaces inside so it resembles a cookie cup. Don't wait for it to cool down to do that as you won't be able to do it when cookie cups are cold.
Now meanwhile make your cheesecake filling : In a bowl, add all the cheesecake ingredients and stir until smooth. Place few tbsp of this filling in each cookie cups. Then drizzle with melted chocolate and chill until ready to serve!
Recipe by
Naive Cook Cooks
at https://www.naivecookcooks.com/red-velvet-cheesecake-cookie-cups/