Quinoa Heirloom Tomato Tart is filled with summer heirloom tomatoes packed in quinoa oat flour crust with arugula-goat cheese pesto! I like to call it "summer in a tart"!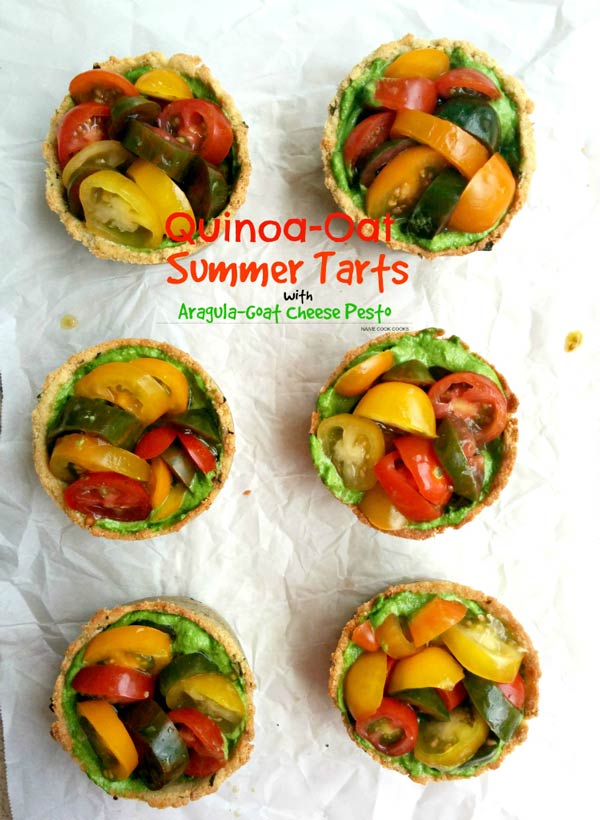 This tart or should I say tart muffins, as I baked them to golden perfection in a muffin tin, are the epitome of summer. Light, fresh, full of vibrant colors and summery. This tart wants you to go out and enjoy summer in full force, may be have a picnic with your friends or a perfect weekend dinner with some soup.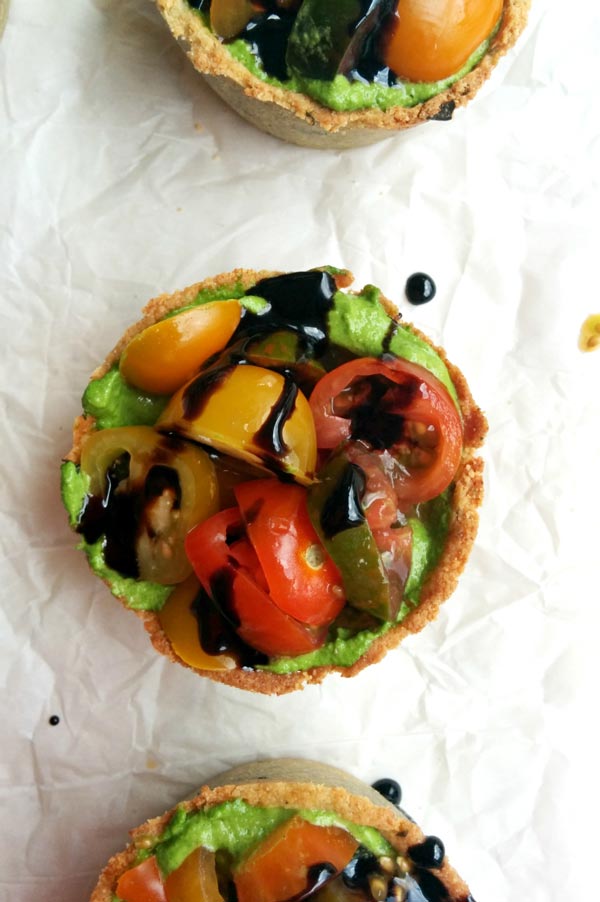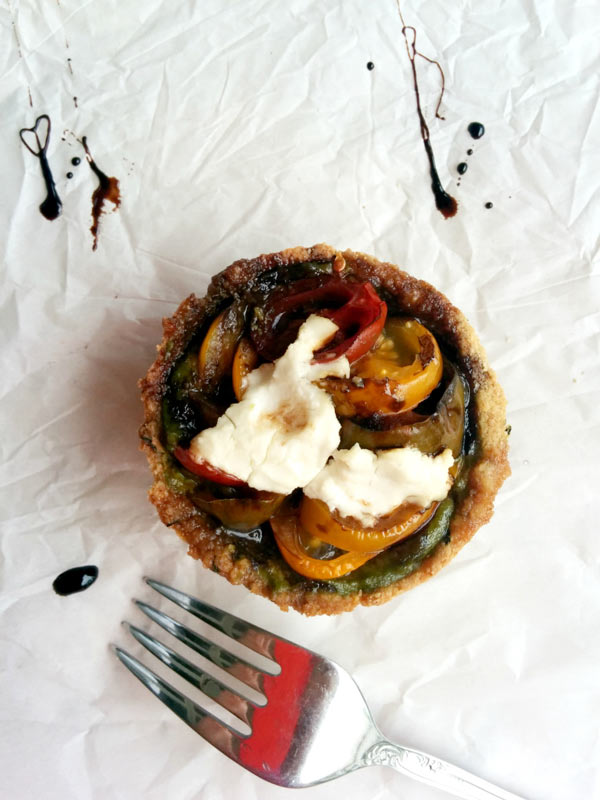 If you know me by now, you know how I have to stop myself from buying all the colorful summer produce but these tomatoes were destined to be in my shopping cart. I could just eat them by handful.
 This tart was purely coincidental. I had this arugula bunch which I wanted to turn into some kind of pesto but I could not come up with a creative way to use them. Then I had this quinoa crust concept in mind which I had been wanting to experiment for quite a few days. So I decided to marry both the recipes together.
 I won't lie that initially in the testing phase, I made only 1 of these tarts. I remember sitting on my desk with this tart and a cup of coffee. I was not sure if I will even like it. To my surprise, I literally inhaled it in mere 2 minutes max. I immediately went in the kitchen and I was at work making these for dinner! No doubt, everyone loved them.
 P.S I suggest serving them warm and drizzled with lots of balsamic glaze and some goat cheese!
Quinoa Heirloom Tomato Tart
Ingredients
For base:
1.5 Cup Quinoa Flour (You can grind your own by using 1 cup quinoa to yield about 1.5 cups quinoa flour)
¼ cup oat flour
½ tsp salt
½ tsp basil, dry
¼ tsp oregano, dry
¼ tsp parsley, dry
2 Tbsp olive oil
½ cup warm water
~ 2 tsp almond milk (optional) (You can use water instead)
For Arugula-Goat Cheese Pesto:
2 cups arugula, packed
3 garlic cloves
Salt to taste
3 Tbsp pine nuts
¼ cup olive oil
1 oz goat cheese
⅓ cup spinach
1 tsp brown sugar
Juice of ½ lime
Balsamic Reduction:
For filling:
1 pound Heirloom tomatoes
Instructions
For base:
In a bowl, add all the ingredients and knead to a smooth dough. Use more water or almond milk if dry. Pre heat oven to 375F.
Coat muffin tin with oil. Add dough into each muffin space one at a time and shape them. Dough is going to be somewhat crumbly so you need to shape it into the muffin space using your hands. Once baked it will take muffin cup shape.
Bake at 375F for around 14 mins until light golden.
Keep them on a cooling rack and let them cool.
For Arugula-Goat Cheese Pesto:
Add all the ingredients in a blender and blend until smooth.
Balsamic Reduction:
Recipe HERE.
For filling:
Cut Heirloom tomatoes into thin slices.
For Assembling:
Coat the inside of the tarts generously with pesto. Stuff them with thinly sliced heirloom tomatoes. Drizzle generous amount of balsamic reduction. Bake for another 15 mins in a pre heated 375F oven. Add goat cheese on top and serve.
Notes
P.S They are best eaten using your hands and mouth. Sorry, forks don't work here!
More Summer Recipes: