Homemade flatbread loaded with fresh summer peaches, caramelized onions and tangy goat cheese. Summer food can't get better!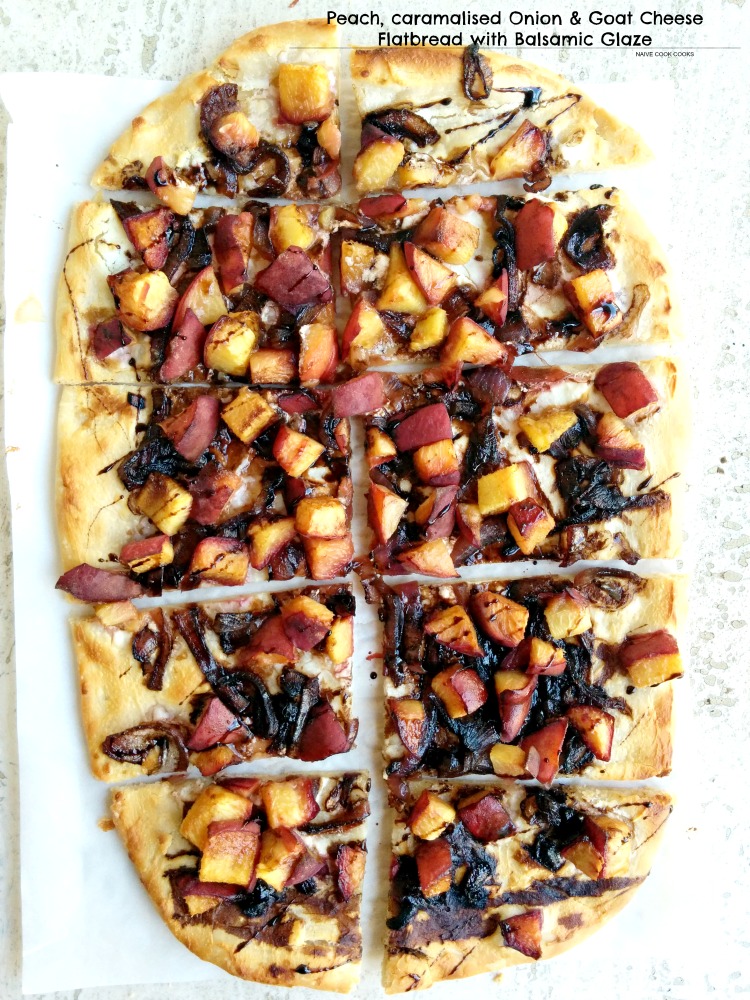 Peaches are one of my favorite summer fruits. But the only way I know how to enjoy this delicious juicy fruit is simply eating it plain. Just plain fruit, washed and eaten. I have been eating it this way all my life until this came along. This is my new favorite way to eat peaches.
Homemade thin crust flatbread loaded with goat cheese, peaches and caramelized onions. I can't think of a better summer food right now!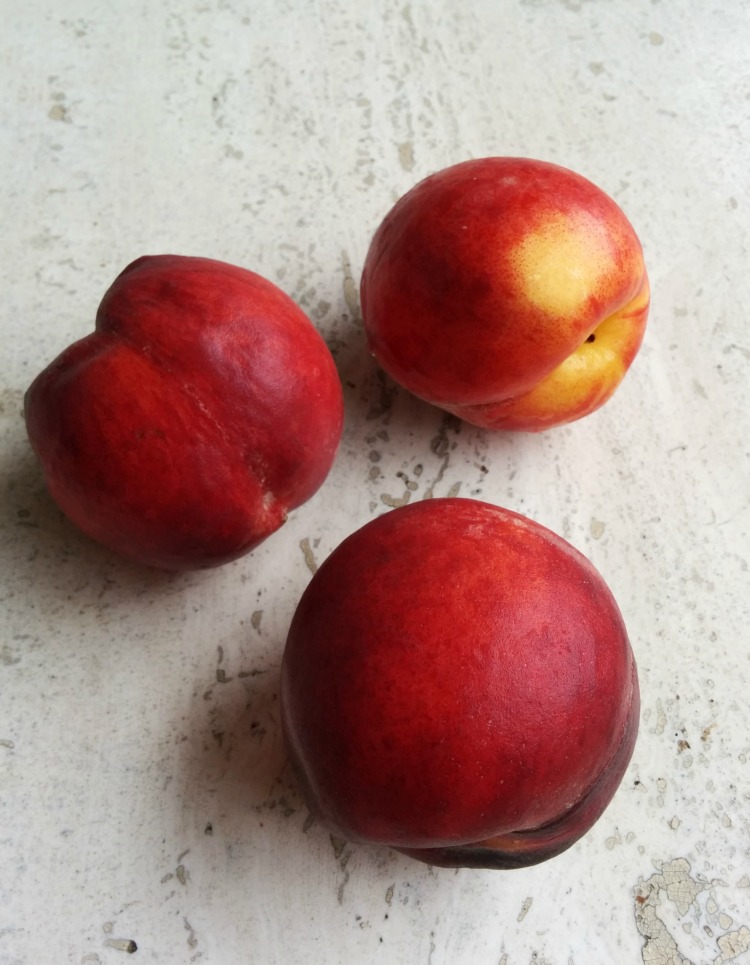 Summer cooking is fun in its own way as markets are loaded with fresh fruits and veggies of all sorts. Tons of ideas start circling my mind looking at those peaches, plums, pears, watermelon, pineapple, heirloom tomatoes and so many more. Summer cooking is fun and a challenge as I struggle to control myself from buying almost every produce at the grocery store.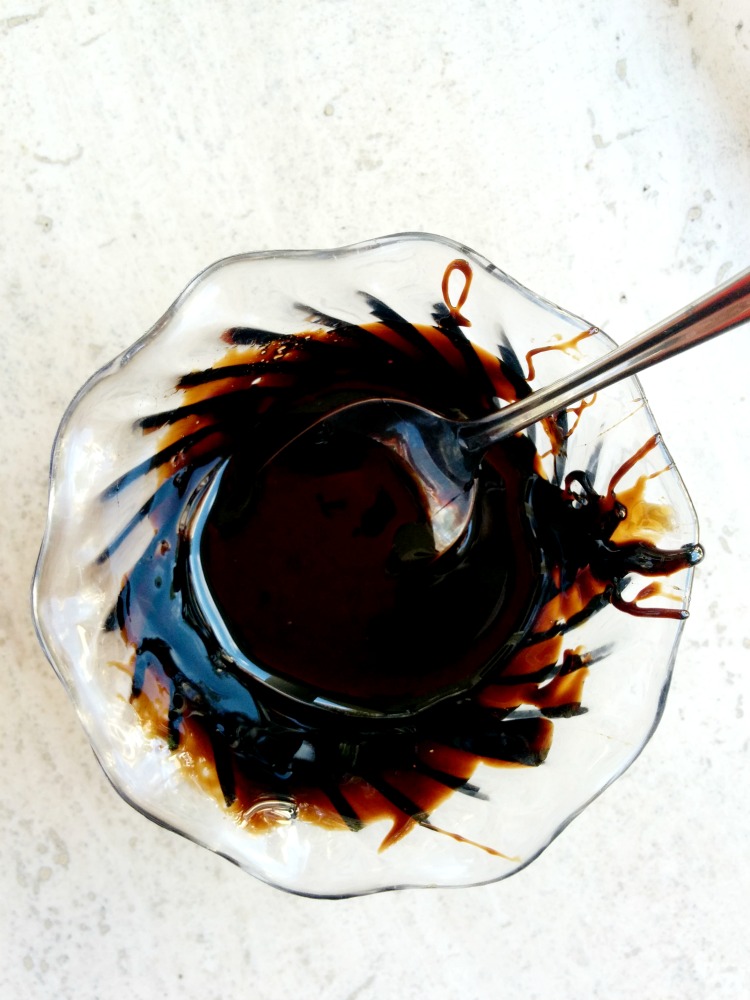 This recipe came to my mind just like that. I wanted to try my hand at making flatbread which I realize is just like pizza but thinner and I wanted to eat goat cheese which I bought in bulk from Sam's club. I know another addiction!
So I decided to mix and match the items I had on hand and voila, the best flat bread of all times was born. Juicy, tangy and creamy is what this flatbread represents.
Adding additional goat cheese on top is not optional but mandatory.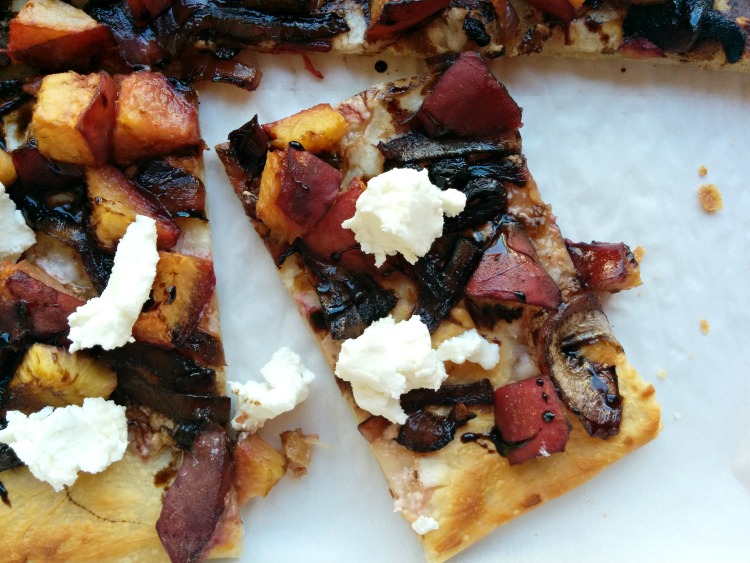 Peach, Caramelized Onion & Goat Cheese Flatbread
Ingredients
For Flatbread:
3 cups unbleached all purpose flour
1 cup warm water
1 tsp sugar
2.5 tsp active dry yeast
1 tsp salt
4 Tbsp olive oil
Filling:
4 fresh ripe peaches, cleaned and cut in chunks
2 red onions, chopped in half and cut in thick half moon shapes
12 oz goat cheese
Balsamic Glaze:
½ cup balsamic vinegar
3 Tbsp brown sugar
Instructions
For Flatbread:
In a bowl, add warm water. To it add sugar and yeast and stir slightly. Let it sit for around 10-15 mins until it starts bubbling. In another bowl, combine flour, salt and oil and mix. Add yeast water to the dry mix and knead into a smooth dough for around 3-5 mins. Keep it in a well oiled bowl, covered, for around an hour until doubled. Knead again and let it rise for another hour.
Pre heat oven to 420F.
Filling:
Chop peaches and keep aside.
Make caramelised onions. For making caramelised onions, read
here
Balsamic Glaze:
In a pot, add balsamic vinegar and sugar and let it melt on med-high heat. Stir and bring it to a boil. Lower the heat and simmer until it reduces to half. It will be thick and will coat the back of spoon.
Keep aside.
Assembling flat bread
Roll out the dough and transfer it to a parchment paper lined baking sheet. Take butter knife and coat the entire surface of rolled out flat bread with good amount of goat cheese. Add caramelised onions, peaches. Drizzle some balsamic glaze. If you find glaze to be too thick, warm it up for few seconds in microwave or warm it up on gas.
Bake at 420F for 15-20 mins until it gets golden and crispy. Add chunks of goat cheese on top. Drizzle with more glaze and serve.
More Flatbread Recipes: