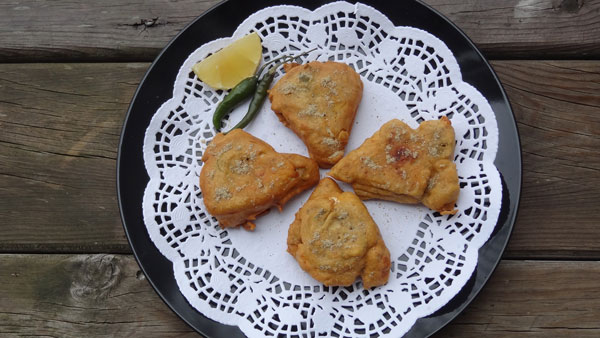 Recently we went on a short trip to Chicago downtown and I was happy as always.It holds a special place in my heart. It reminds me of that crazy time we had on St.Patricks day when everyone started getting tipsy in the wee hours of the morning. Michigan river was turned into a beautiful green color. The whole day bar hoping with friends and ending the night with a scrumptious Italian meal at  Buca di beppo. This time I thought of revisiting that place we went last time for dinner which blew my mind off. I must say they have one of the best pasta in town. Their servings are family size so usually even the small feeds a family of 3-4. We always enjoy eating the leftovers. It always tastes better the day after.
This time we decided to start our dinner with an appetizer of bruschetta along with a glass of sweet white wine. While we were enjoying our dinner, to the table next to us I saw an old handsome couple. The woman all elegant in a beige coloured blouse worn over a knee length red pencil skirt, with a perfect brown golden hair and  matching red lips. She showed every sign of elegance. The husband was no less. He in his crisp check shirt and a glass of red wine in his hands looked like capable of giving the younger actors a run for their money. They looked perfect together, enjoying their meal while talking with an aura I had never seen earlier.
After finishing our dinner, we decided to stroll down the lighted streets of chicago downtown. Late at night in the hotel, after spending countless hours watching movies we decided we were hungry again and it was time for those Paneer Pakoda – Cheese fritters I had made for the trip. Perfect for cold nights. The crunchy gram flour batter coating gives them a spicy tangy taste.
I usually like making homemade Indian cheese or paneer or you can buy it in super markets easily.

Paneer Pakoda - Indian Cheese Fritters
Ingredients
Indian cheese or paneer (Made out of ½ gallon 2% fat milk) (As I mentioned earlier, making Indian cheese is super easy and you can find videos all over the place)
1+1/2 cup gram flour
Salt to taste
1-2 tsp red chilli powder or cayenne pepper
1 tbsp carom seeds whole
1 tsp oil plus oil for frying
1 tsp Indian garam masala (easily available in Indian grocery stores)
2-3 tbsp Indian chaat masala plus more for sprinkling on top (easily available in Indian grocery stores)
3-4 fine chopped green chillies (optional)
Water to make batter
Instructions
Cut cheese in small 1" thick pieces in desirable shape. I like triangular shapes but it is totally optional. Keep them aside.
In a medium sized bowl, add gram flour, salt, red chilli powder, carom seeds, 1 tsp oil, garam masala, chaat masala and green chillies. Mix it all up and add water by few tbsps at a time and mix it. Keep adding water till you reach a desired kind of not to loose or too thick consistency. You want the batter to easily cover the cheese pieces but not to be too thick as you won't feel the taste of cheese.
Adjust the taste of batter before proceeding further.
Pour oil in a skillet and let it get really hot. Once it becomes nice hot, take the gas to medium-high so it doesn't smoke. Take a piece of cheese and sprinkle it with chaat masala making sure it covers one side evenly. Place another slice on top of it and then dip it in the batter. Drop it slowly in the hot oil. Let it get cooked on one side for few minutes and then flip to other side. Make sure the flame is not too high and the cheese fritters don't get too browned or burnt. You can do 3-4 at a time but don't overcrowd.
Serve hot with more chaat masala sprinkled on top with ketchup or green mint chutney or enjoy them by themselves.
Notes
They hold up pretty good for a day if kept in closed airtight jars. Warm them up in microwave or oven for few minutes to enjoy the fresh taste.
More Indian Inspired Recipes: