Make simple yet packed with tons of health & flavor – this 30 mins Palak Paneer Paratha – Indian Spinach Cheese Flatbread that is great eaten all by itself or as a side dish!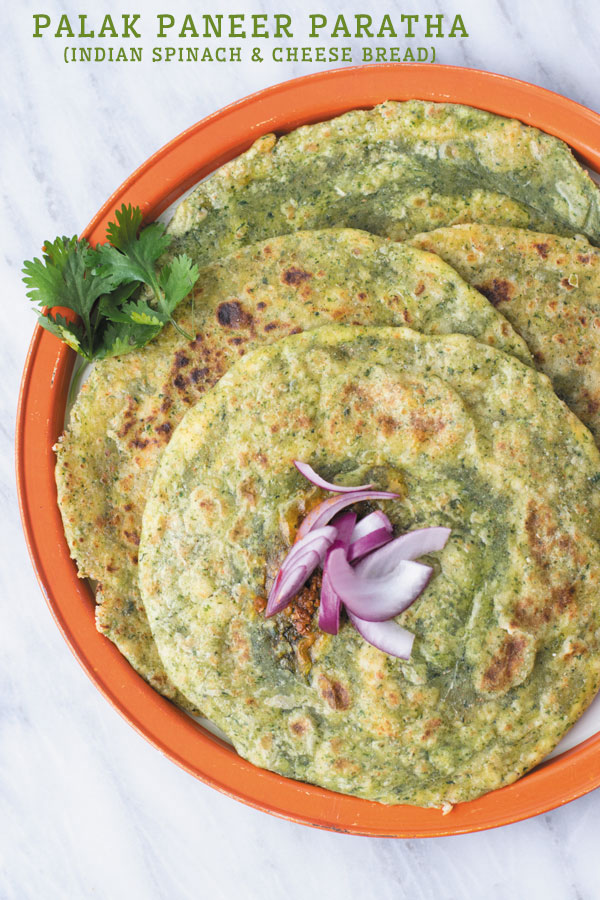 Let's do #meatlessmonday in style friends! Come weekends and I crave food that I grew up eating. Growing up from where I come, Parathas (Indian bread both plain or stuffed with meat/vegetables) are a big part of every meal. Lots of days we will have plain parathas for breakfast eaten with egg bhurji (scrambled eggs) or a delicious potato curry which is specifically made for breakfast to be served with hot parathas. I have tons of favorite when it comes to stuffed parathas – my mom in India makes these to die for egg stuffed parathas, seasoned raw cauliflower stuffed parathas, seasoned raw radish parathas (these are my top favorite!), potato stuffed parathas ,seasoned onion stuffed parathas and even lentil stuffed parathas. This list has many more different varities but these are which I crave all the time here! I can never make them taste the way her's does! Have you ever felt that, how good a cook you are, your mother's cooking has that something special?!
So this weekend as usual when I started craving parathas, I decided to try my hands at something healthier! Ronak loves paneer (Indian cheese) and I love my vegetables so these spinach cheese parathas were to both our liking.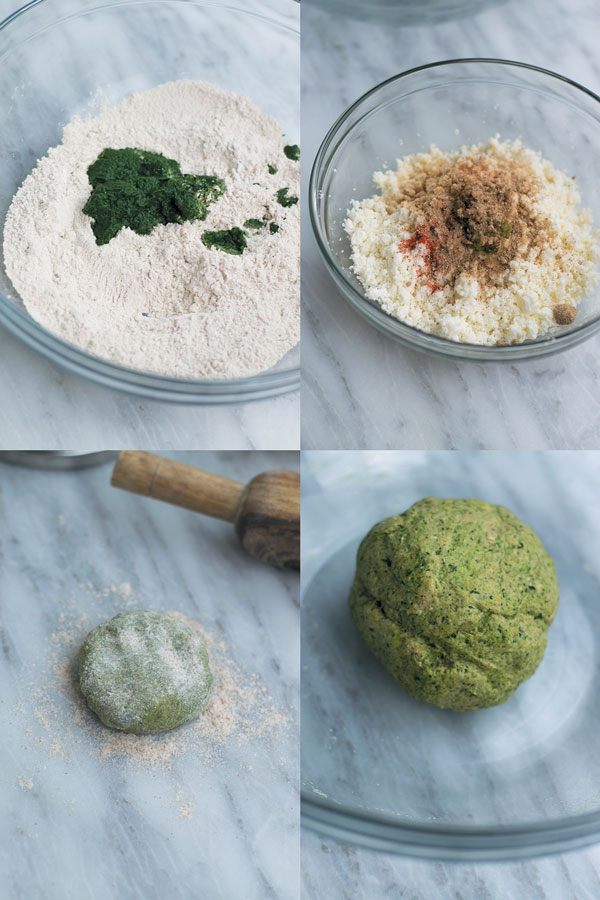 A simple dough is made with flour, salt, oil, spinach puree and water and kneaded into a soft ball of dough. Then in another bowl, crumbled paneer is mixed with seasonings.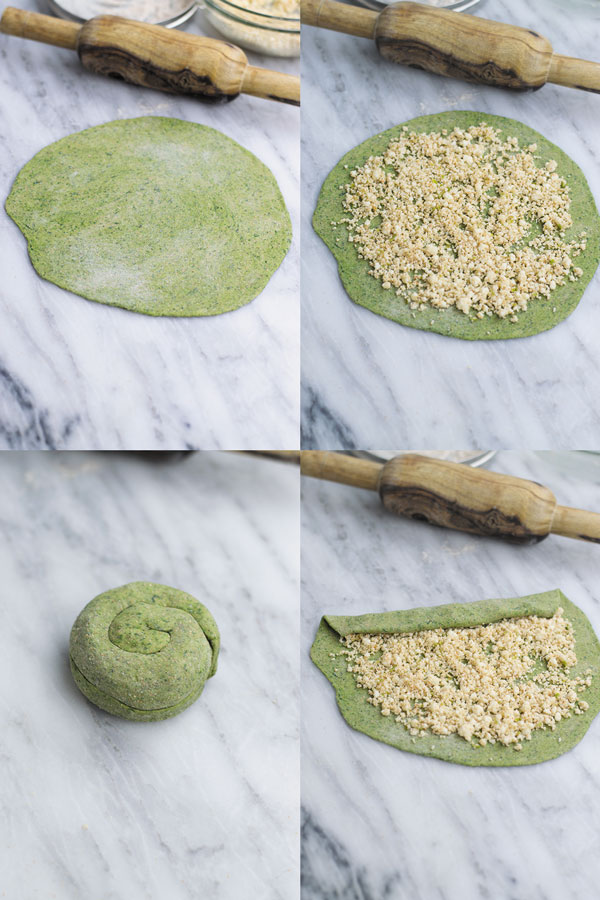 One ball is rolled at a time, dusted generously with flour and once it is rolled into a wide thin circle, seasoned paneer filling is spread all over it and it is rolled and made into a ball again.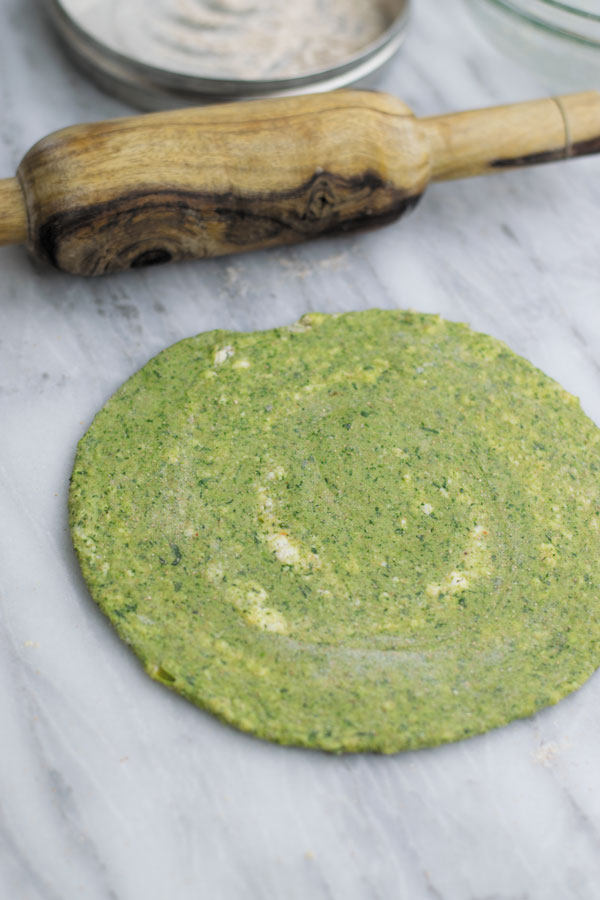 It's then rolled to a medium thickness circle and then cooked on a hot skillet with some oil or ghee. It tastes divine when served plain with some hot chai. I like to include some mango pickle and plain yogurt along with it!
If  you enjoyed this recipe, don't forget to FOLLOW me on  INSTAGRAM ||FACEBOOK||PINTEREST ||TWITTER ||GOOGLE+ || BLOGLOVIN || YouTube
Palak Paneer Paratha - Indian Spinach Cheese Flatbread
Ingredients
S!Spinach dough:
¾ cup whole wheat flour
½ cup all purpose flour
**If you want you can use all whole wheat or all all purpose flour as per preference.
¼ cup spinach puree
¼ cup water plus extra as needed
Salt to taste
1 tbsp oil
Paneer filling:
1 cup crumbled paneer ( use storebought or homemade)
Salt to taste
11-2 tsp green chili paste
½ tsp red chili powder
1 tsp mango powder (If you don't have this, then add a tiny bit of lime juice)
Oil for cooking
Instructions
Spinach dough:
Blanch about 1 cup tightly packed spinach. For blanching bring water to a boil in a pot. To it add fresh spinach leaves and let it simmer for a minute. Turn off the gas and strain the leaves under cold running water. Squeeze out the water and puree them.
In a bowl add four (s), salt, spinach puree, oil and water and knead into a soft dough that is not sticky.
Paneer filling:
In a bowl mix all the ingredients except oil together and taste. Adjust seasoning as per taste.
Cooking:
Heat a wide skillet.
Break the dough into 5 equal sized balls. Roll one ball at a time on a floured surface and flour the top as well. Roll into a thin circle as thin as you can get. Spread some seasoned paneer all over it and roll it towards you into a tight rope. Then roll this rope around into a ball as you can see in pictures. Sprinkle more flour and roll this stuffed ball of dough into a medium thick circle. Keep it aside on a well floured surface.
Repeat with the other balls too.
Now place one rolled paratha onto hot skillet at medium high heat. Flip it after a minute or two as you start to see very small and few bubbles on top. Spread some oil over the top surface and flip. Spread oil on the now top layer and cook by pressing slightly. Once cooled on both sides, transfer to a paper towel lined plate. Repeat.
Serve as a side to any curries, or plain as a snack.
My Favorite Picks
Some more Indian recipes ->>