This salad is the perfect salad for all your summer adventures! Juicy melon, fresh spinach, herbed ricotta, prosciutto chips (yes that's a thing!) & my favorite Blue Diamond lightly salted almonds!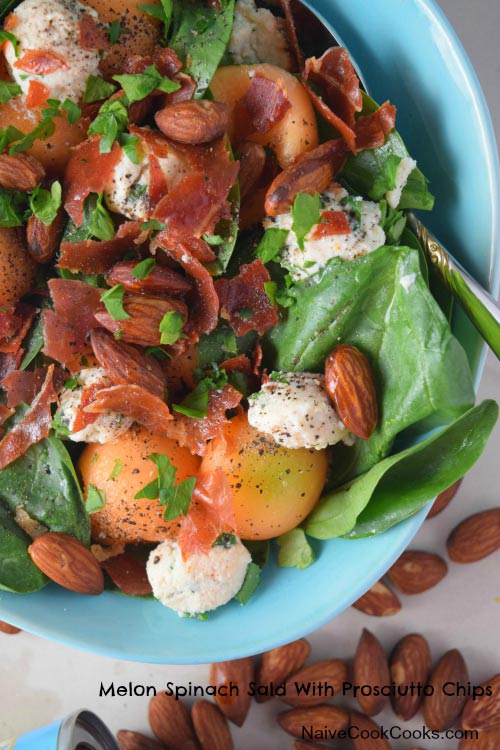 Happy salad days! Can you tell when was the last time I posted a good salad recipe here?! Ohh and don't even count potato salad as a salad! That's more of a potato based meal for me! I know I am weird like that lol. I know I can't remember too. It's been 3 months since I posted this salad recipe and here summer is almost halfway done and I realise that I need more of such salad days in my life!
Lately I have been snacking a lot on these blue diamond nut thins and these blue diamond almonds. I am not just saying this since this is an sponsored post but honestly the day we tasted their nut thins, we were all hooked. My mother who was visiting from India took like 9 packets of almost all the different nut thin flavors they had on shelves!! I know crazy but they are just so good and even good for your health too! That's one reason I like working with them because I like to represent brands only if I feel strongly about them and as you might guess they are one of my favorites.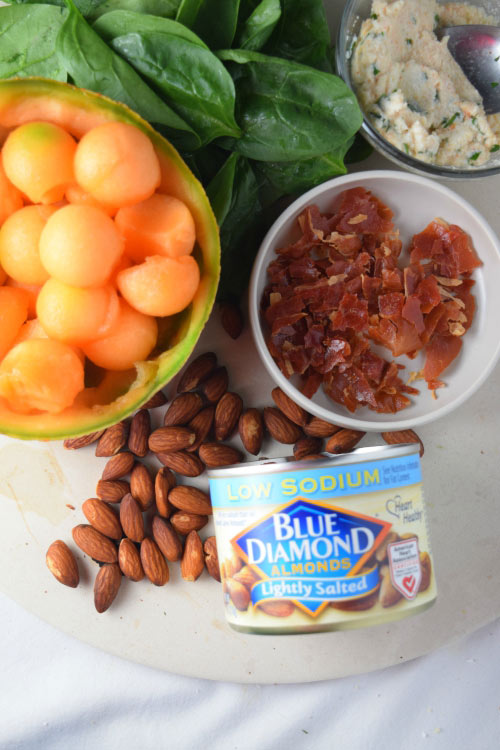 Now on to this DELICIOUS CREAMY salad!! This melon spinach salad has all my favorite summer ingredients and it is perfect for any of your summer adventures! You can pack it for lunch, picnics, outings and what not. I like to mix melon balls, spinach and parsley in one container and keep herbed ricotta, crispy prosciutto chips, lime slices and salt & pepper separate. When you are ready to eat simply assemble everything and add a BIG handful of crunchy lightly salted blue diamond almonds on top or any other favorite almond flavor! Do check out the different flavored almonds they sell! Telling you this is my new favorite best salad! If you don't like/eat meat, simply skip prosciutto chips but seriously where were they all my life??!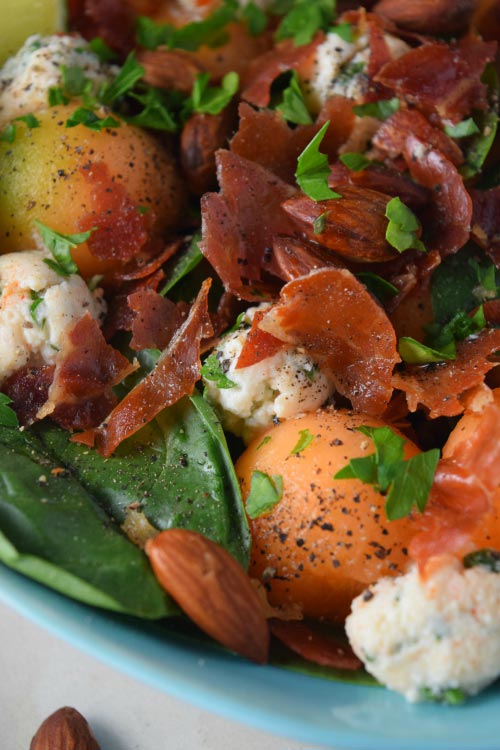 This salad!!
Help in spreading the word!
Follow along for a lot more delicious treats and life happenings on INSTAGRAM || FACEBOOK ||PINTEREST ||TWITTER ||GOOGLE+

Melon Spinach Salad With Prosciutto Chips
Ingredients
1 melon such as cantaloupe, seeds removed and scooped into balls
2 cups fresh baby spinach leaves
½ cup ricotta
1 tbsp finely chopped parsley
1-2 tsp garlic powder
Salt to taste
1 tsp paprika
3-4 thinly sliced prosciutto
Handful of Blue Diamond Lightly Salted Almonds
Salt & Black pepper to taste
Juice of ½-1 lime
Instructions
In a bowl assemble spinach leaves. Top them with chilled melon balls.
In another small bowl, mix ricotta with salt, garlic powder, parsley & paprika and taste and adjust. Add dollops of this herbed ricotta on top of the spinach & melon balls.
For making prosciutto chips, lay them on a parchment paper lined baking sheet without overlapping any prosciutto in a 350F preheated oven for 7-10 mins. Let them cool on a ire rack until they get all crispy. Crush them on top of the salad. Add salt, pepper, good handful of almonds and lime juice. Stir all together and eat immediately!
You can pack it for your summer adventure but make sure to pack herbed ricotta, prosciutto chips, almonds and salt separately. Assemble just before serving!
Notes
Never add salt beforehand in the salad if packing it for later as salt will make the fruits & veggies give out water.
More recipes??
https://www.naivecookcooks.com/baked-skinny-buffalo-chicken-wings/
https://www.naivecookcooks.com/cheesecake-tortilla-french-toast/