Melon Spinach Salad With Prosciutto Chips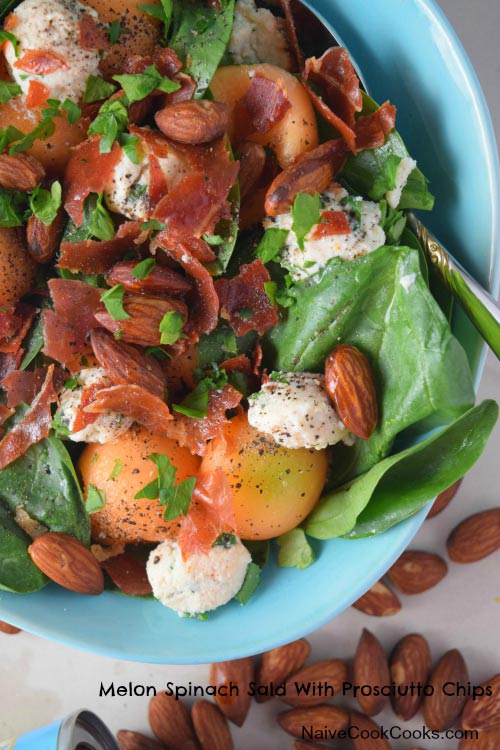 1 melon such as cantaloupe, seeds removed and scooped into balls
2 cups fresh baby spinach leaves
½ cup ricotta
1 tbsp finely chopped parsley
1-2 tsp garlic powder
Salt to taste
1 tsp paprika
3-4 thinly sliced prosciutto
Handful of Blue Diamond Lightly Salted Almonds
Salt & Black pepper to taste
Juice of ½-1 lime
In a bowl assemble spinach leaves. Top them with chilled melon balls.
In another small bowl, mix ricotta with salt, garlic powder, parsley & paprika and taste and adjust. Add dollops of this herbed ricotta on top of the spinach & melon balls.
For making prosciutto chips, lay them on a parchment paper lined baking sheet without overlapping any prosciutto in a 350F preheated oven for 7-10 mins. Let them cool on a ire rack until they get all crispy. Crush them on top of the salad. Add salt, pepper, good handful of almonds and lime juice. Stir all together and eat immediately!
You can pack it for your summer adventure but make sure to pack herbed ricotta, prosciutto chips, almonds and salt separately. Assemble just before serving!
Never add salt beforehand in the salad if packing it for later as salt will make the fruits & veggies give out water.
Recipe by
Naive Cook Cooks
at https://www.naivecookcooks.com/melon-spinach-salad-with-prosciutto-chips/