How to Make Baked Beans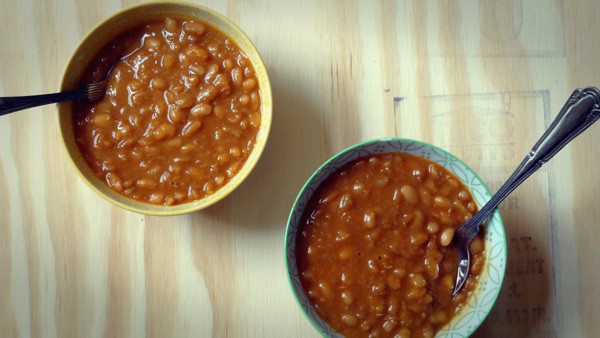 1.5 cups dry navy beans, soaked in water overnight
½ yellow onion, chopped
2 garlic cloves, chopped
4 tbsp ketchup
1 tbsp brown sugar
2 tbsp molasses
Salt to taste
Red chili to taste
1 tsp dijon mustard
3 - 4 cups water
1 tsp olive oil
Pre heat oven to 350F.
Add olive oil in a deep dutch oven pot or any deep pot over medium heat. Add chopped onions and garlic and saute until onions are translucent. Add the pre-soaked beans. Add rest of the ingredients. Mix it all up together. Bring it to a boil.
Transfer it to the oven and let it cook for 1.5 hours covered. Keep stirring after every half hour and add more water if it feels too dry. After 1.5 hours, cook it uncovered for an hour until it becomes thick.