Soft, fluffy homemade marshmallows and an easy fresh strawberry & nutella smore recipe! Perfect summer treat!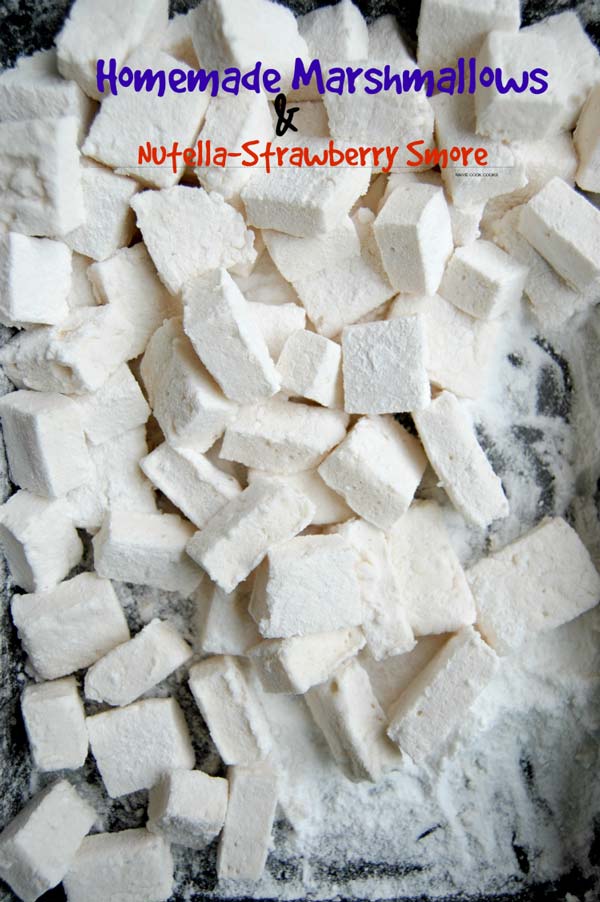 Homemade marshmallows.
Until recently I had no idea that you can make your very own marshmallows at home and even after I found out that there are some crazy people just like me out there who would make marshmallows rather than buy, I had this thought that kept me bugging. I kept thinking that they are extremely hard to get right and I won't lie that this thought crossed my mind even while I was halfway through the marshmallow making process. I told myself, if they turn out not so good, I will go back to them, may be in a month or so when I feel comfortable again handling the gooey mess.
But wrong I was. Not only was it a breeze to make my very own from scratch marshmallows at home but I already have plans of trying different flavored ones next. It requires patience and if you are good at reading the directions well and better at following them, you will end up with soft, fluffy, pillowy marshmallows. I wish I had a big marshmallow pillow.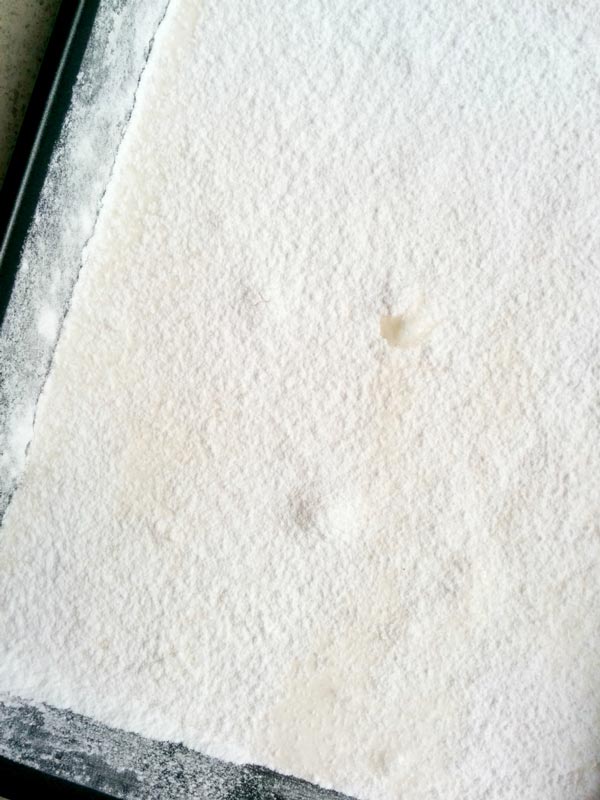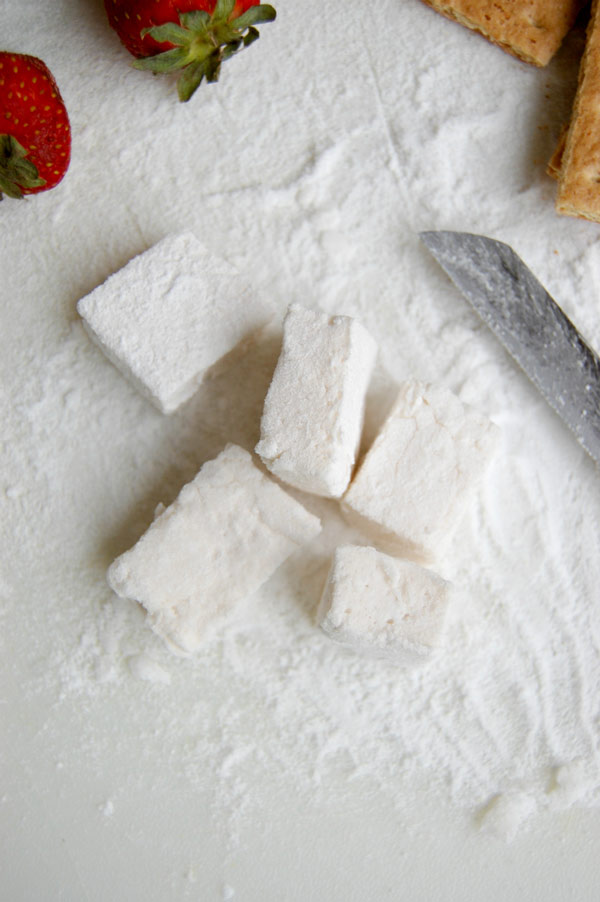 I had initially planned on coating these with loads of chocolate and toasted coconut but that idea got dropped midway when I realised all I wanted to eat was smore. After gulping down few plain classic chocolate smores, I wanted to try something creative.. Something that goes together very well but not often used in a smore. Well, nutella-strawberry are the perfect partners in crime and how can they not taste amazing in smore!
Oh and can you believe that this was my first classy smore?! Well I always had the regular melted chocolate and charred marshmallow stuffed graham crackers but this combination is just beyond imagination.
Crazy, Good!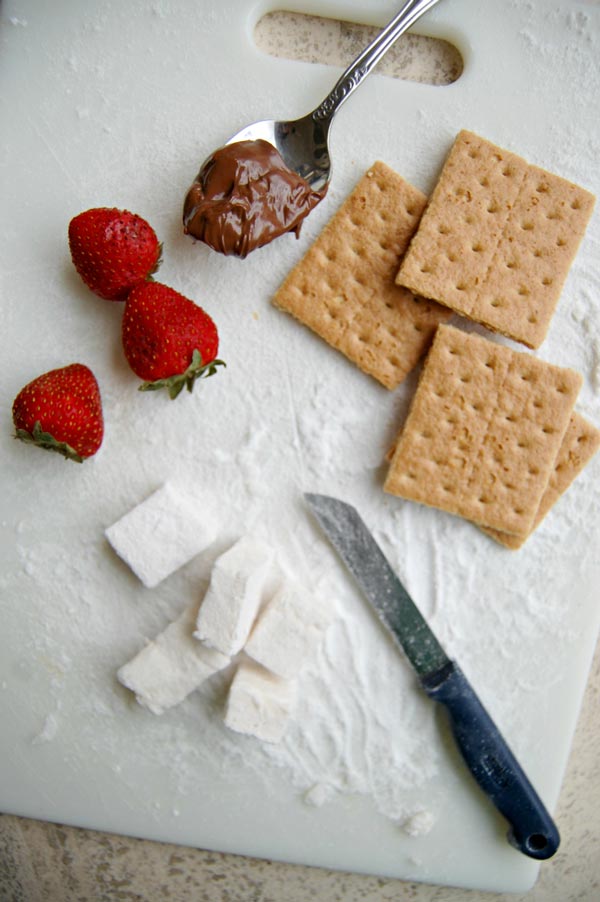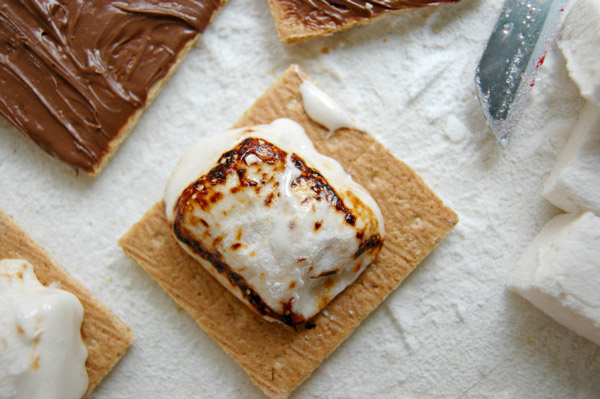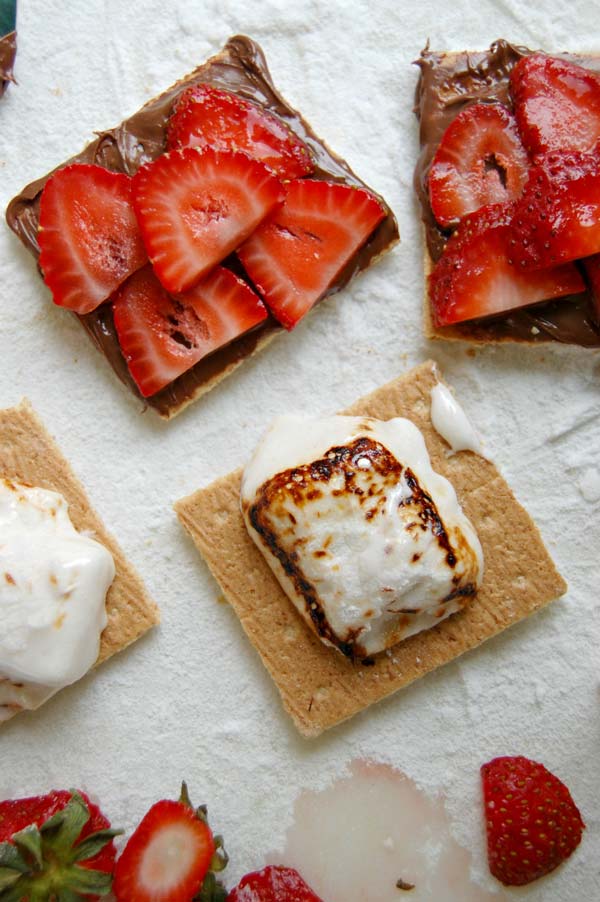 So simple and hey if you are not that crazy like me, you can totally buy marshmallows from store but seriously you need to do this smore combination this weekend! Gooey, sweet and tangy is the best way I can describe what I felt in my  mouth.

Homemade Marshmallows
Ingredients
about 1 cup confectioners sugar
3½ envelopes (2 tablespoons plus 2½ teaspoons) unflavored gelatin
1 cup cold water, divided
2 cups granulated sugar
½ cup light corn syrup
¼ teaspoon salt
2 large egg whites
1 teaspoon vanilla
Instructions
Oil bottom and sides of a 13- by 9- by 2-inch rectangular metal baking pan and dust bottom and sides with some confectioners' sugar.
In bowl of a standing electric mixer or in a large bowl sprinkle gelatin over ½ cup cold water and let stand to soften.
In a deep heavy saucepan cook granulated sugar, corn syrup, cold water, and salt over low heat, stirring with a wooden spoon, until sugar is dissolved. Increase heat to moderate and boil mixture, without stirring, until a candy or digital thermometer registers 240°F., about 12 minutes. Remove pan from heat and pour sugar mixture over gelatin mixture, stirring until gelatin is dissolved.
With standing or a hand-held electric mixer beat mixture on high speed until white, thick, and nearly tripled in volume, about 6 minutes if using standing mixer or about 10 minutes if using hand-held mixer. I used a hand held mixer and it took me good 14 minutes to reach the desired consistency. So don't panic if it takes a longer time, it will eventually reach there.
In a large bowl with cleaned beaters beat whites until they just hold stiff peaks. Beat whites and vanilla into sugar mixture until just combined. Pour mixture into baking pan and sift ¼ cup confectioners sugar evenly over top. Chill marshmallow, uncovered, until firm, at least 3 hours, and up to 1 day.
Run a thin knife around edges of pan and invert pan onto a large cutting board. Lifting up 1 corner of inverted pan, with fingers loosen marshmallow and let drop onto cutting board. With a large knife trim edges of marshmallow and cut marshmallow into roughly 1-inch cubes. Sift remaining confectioners' sugar into a large bowl and add marshmallows in batches, tossing to evenly coat. Marshmallows keep in an airtight container at cool room temperature 1 week.
Nutella-Strawberry Smores
Ingredients
2 graham crackers
1-2 marshmallows
few strawberries, thinly sliced
1 tsp nutella
Instructions
You can easily char the marshmallows by inserting a knife in the center and on slowly moving them on a open flame gas. Once it reaches desired charred stage, turn off the gas and put it on one cracker. On other cracker, smear nutella and add thinly sliced strawberries. Add the cracker with charred marshmallow on top of it. Press them together and eat immediately!