Crispy on the outside and oozing with sweet juice as you bite into, Jalebis are one Indian dessert you can't stop at just one!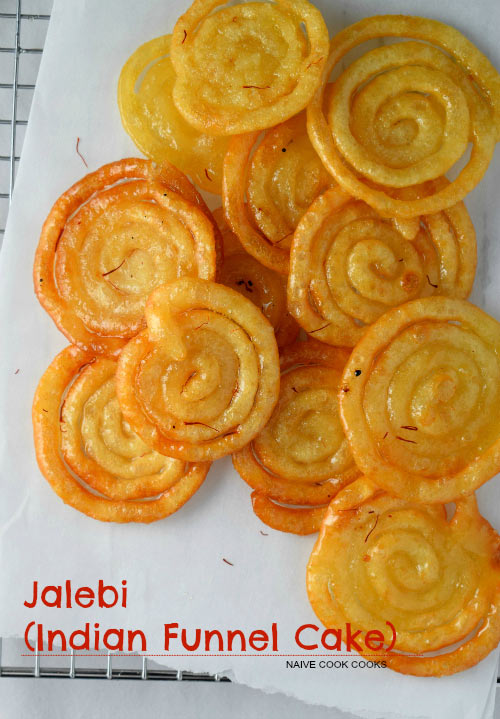 I have memories of eating hot Jalebis fresh for breakfast almost every weekend. Growing up, weekend brunches comprised of warm store bought jalebis as a sweet treat. Jalebis are sort of like funnel cake but these are eggless made with only few basic ingredients such as flour, yogurt, salt and pinch of baking soda.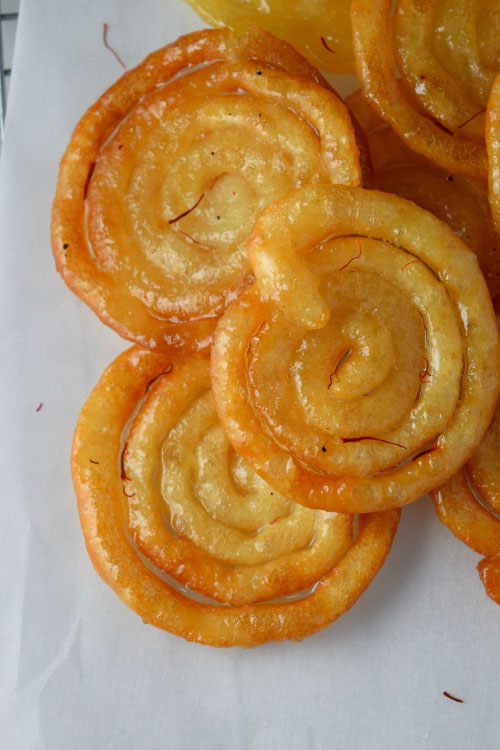 Poured into concentric circles or whichever shape you like, these are fried and then dunked into a delicious sweet syrup spiked with saffron and rose water. Amazingly sweet crunchy and filled with a fragrant syrup these taste equally good both fresh out of the pan and even a day old.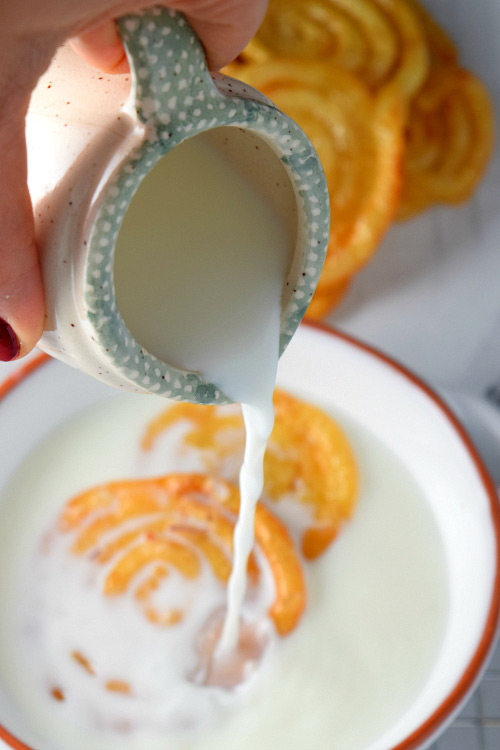 Growing up everytime we would end up with jalebi leftovers which will make up for a quick snack dipped in some warm milk. Ohh I suggest you to try that. It tastes out of this world.
With Holi being a few days away only and my Mom sending me pics of all the delicious foods she has been making for Holi celebration back in India, all I wanted was some fresh hot jalebis. Just the way they used to taste growing up. It's hard to get them fresh here so I decided to give them a try myself. After almost 5 trials I can say I have the perfect jalebi recipe for you, the way it used to taste while growing up in North India. In North India, jalebis are thin and crispy and that's the way I enjoy them.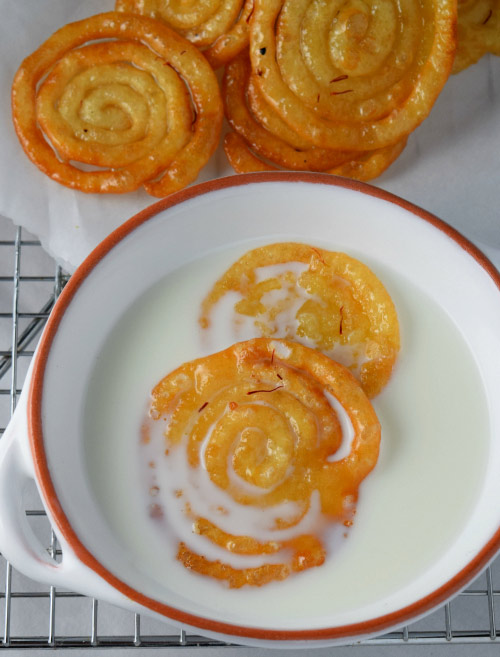 Just a little patience is all you need to make a perfect batch of homemade jalebis!
Jalebi (Indian Funnel Cake)
Crispy on the outside and oozing with sweet juice as you bite into, Jalebis are one Indian dessert you can't stop at just one!
Ingredients
Batter
½ cup all purpose flour
2 tsp besan (gram flour) or corn flour
4 tbsp yogurt (low fat or full fat)
8-9 tbsp water
Pinch of baking soda
Oil for frying such as canola oil, vegetable oil or ghee (I used canola oil)
Sugar Syrup
1 cup water
1 cup granulated sugar
¼ tsp saffron
1 tbsp rose water (optional)
1-2 tsp lime or lemon juice
Instructions
Batter
In a bowl add both flours and stir. In another bowl, add yogurt and water and stir until smooth. Add yogurt-water mix to the flours and keep mixing for good 5-7 minutes until it starts to fall like a ribbon. Basically reaching ribbon consistency simply means that after stirring it for good 5-7 minutes, if you try to make the yogurt fall from a height it should fall into the bowl like a ribbon that is almost continuous without breaking in parts.
Add pinch of baking soda and stir. Keep it aside.
Sugar Syrup
In a deep pot, add all the sugar syrup ingredients and bring it to a boil. Let it simmer for goof 7-10 minutes until starts to get thick. We don't need any particular consistency here. If you take a drop of sugar syrup between your thumb and finger, you will see it stick and on pulling apart it form a single thread. That's what we are looking for.
Keep it warm on low flame and start frying jalebis.
To make jalebis, you need to fry these and to get this shape, the best way is to fill up the batter in a squeeze bottle or zip lock.
You can actually make any shape of your choice and they will still taste the same!
Place oil in a frying pan and slowly heat it up to around 325-350F. Once hot, bring the heat to low-medium for frying. Squeeze the bottle or zip lock whichever you are using with a even pressure into round concentric circles. Fry for 1-2 minutes and then flip and fry the other side until both sides are golden brown. Transfer them to a paper towel.
Add them to the warm sugar syrup. Let them absorb sugar syrup for few seconds and flip. After another few seconds, take them out on a parchment paper lined plate. Enjoy.
More Indian Desserts:
https://www.naivecookcooks.com/mango-rice-pudding/