Healthy Palak Paneer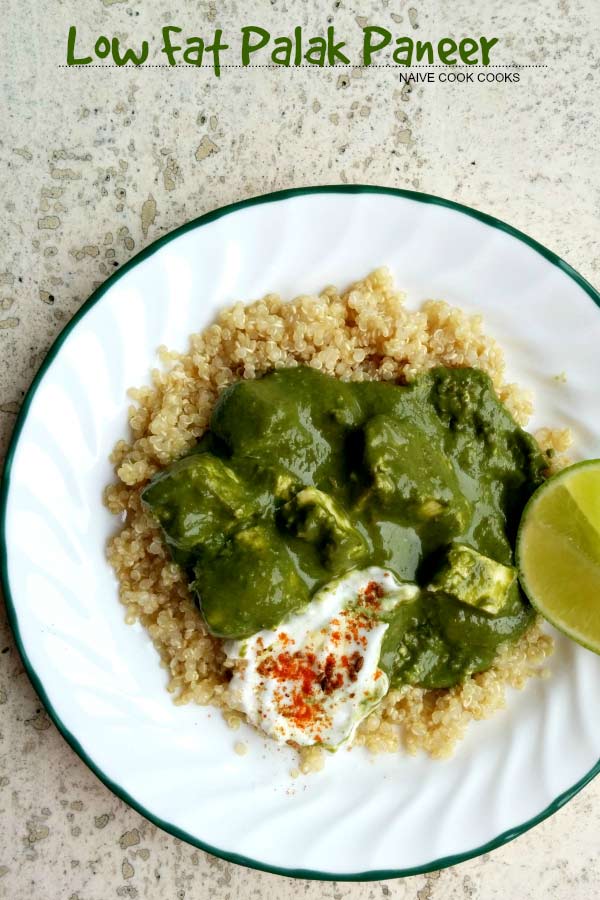 4 cups packed, fresh spinach leaves, washed
2 tsp olive oil or any good cooking oil
4 cloves
1-2 cinnamon stick
2 bay leaf
4 cardamoms, green
½ tsp cumin seeds
4-5 cloves garlic, chopped
1medium size red onion, chopped
½ tsp salt
1 Tbsp ginger-garlic paste
½ tsp turmeric powder
1 large tomato, chopped
1 tsp cumin powder
1 tsp coriander powder
½ tsp red chili powder
½ tsp fenugreek leaves, powder them by crushing in between hands. ( you can omit if you don't have any)
4-5 green chilies, chopped
¼ cup yogurt
2 cups paneer or Indian cheese
Salt to taste
Take a pot filled with water and bring it to boil. Once boiling add spinach leaves. Let them cook for a minute and take them out using a strainer. Add blanched spinach leaves in a blender and blend until smooth paste forms.
Keep aside.
In a pot, add oil.
Once hot, add cloves,cinnamon,bay leaf and cardamoms. Add cumin seeds. Once they stop sputtering, add chopped garlic. Sauté it for few mins until golden and fragrant. Add chopped onions and ½ tsp salt and cook them until they get nicely browned. Salt helps to squeeze out water from onion. Add ginger-garlic paste and sauté for few mins until raw aroma goes away. Add chopped tomatoes and cook until they break down. Add turmeric, cumin,coriander,red chili and fenugreek powder. Add green chilies and salt to taste. Stir to mix all the spices. Add spinach purée and cook for another 5-7 mins to let the flavours develop. Take it off heat. Add yogurt and blend it again if you like a smooth creamy gravy. Return it to the pot and add paneer cubes. Taste and adjust seasoning if needed. Warm just before serving.
Serve with hot naan and rice or quinoa.