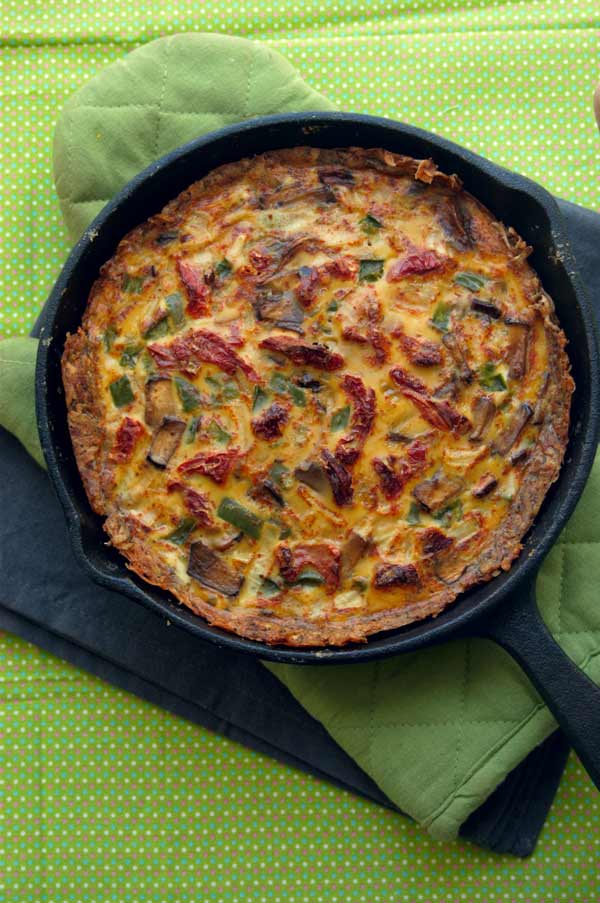 Eggs. Eggs have always been my go to breakfast, lunch as well as dinner item. Days when nothing turns out right, I curl up on the couch with a crispy egg with generous amounts of salt and red chili thrown on top along with a cup of tea in my old chipped mug and a crusty stale loaf of bread. To me it reminds of old days. Old, care free days. Those days where the only thing I had to worry was my grades. The rest used to be taken care of by itself. OR that's what I used to think growing up.
Frittatas, quiches, scrambled eggs, egg curry, I love them all equally.I think it is in my genes. I remember some nights, when my mother used to feel like cooking nothing at all, then she would throw together a lovely meal of skillet frittata with all sorts of vegetables she could lay her hands on. I would be the chopper somedays while my father had the task of keeping a watchful eye till the frittata turned golden and glowed with veggies. I remember waiting anxiously and having my plate ready by my side so I be the first one to pick the best slice of it all.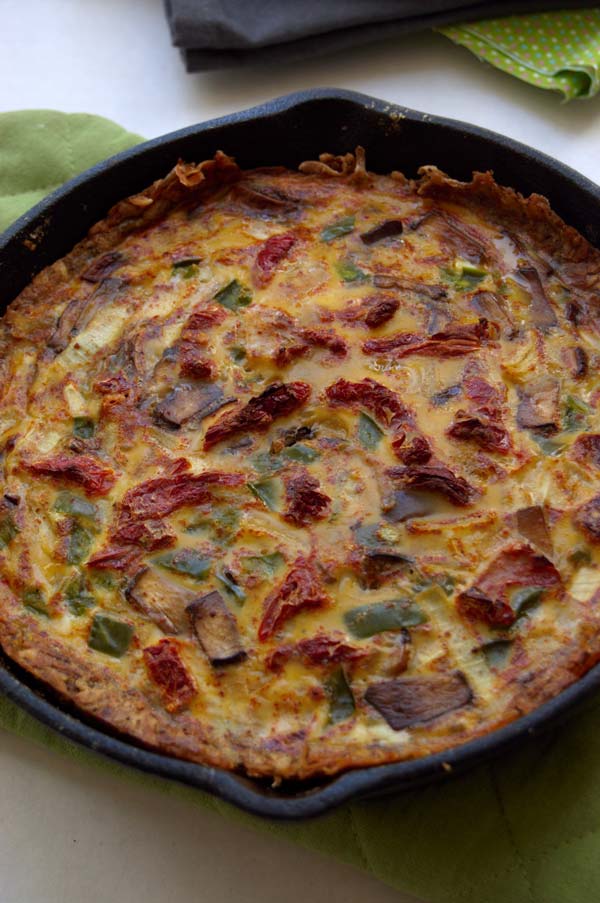 I don't come from a family of picky eaters. We love our food and I remember my mother always stressing on eating healthy, seasonal and fresh foods. I feel that reflects in my cooking style to this day. But there was one thing about which my mother would go beyond the limits. Fried egg. For her there was a thin delicate line from the egg being under done and over done and I remember we having our little disagreements over it more than often. For her a little overdone egg meant a weird burnt smell and which was by no chance edible.
Whenever I make myself eggs, I remember that instance and it fills my heart with fond memories. Last night was no different. As you remember after my recent recipe disasters, I felt we deserved something better and so I baked a quiche.
Healthy crust-less and cheese-less quiche with a twist. Hash brown crust made crisp until golden and crunchy on the stove and then a filling of eggs + vegetables + seasoning thrown on top and baked in the oven to a golden perfection.
I devoured half of it in flat 5 minutes and I suggest you to have it just out of the oven ( but watch, don't burn your mouth). The tang of hot sauce, the crunchiness of potatoes and the soft egg vegetable mix makes it a satisfying meal anytime of the day.
To reheat, warm it in oven for 10-15 mins at 200F.

Hashbrown Crust Quiche
Ingredients
3 medium size russet potatoes or any kind, washed, peeled and shredded (Approximately 3 cups shredded potatoes)
Salt to taste
Black pepper to taste
1 tsp coconut oil or any other cooking oil plus additional for sauteing
2 tsp Hot sauce (optional) (I used tabasco but you can use any kind you prefer)
3 eggs, cage free, organic if possible
⅓ cup bell peppers, chopped
⅓ cup portobello mushrooms, chopped
¾ cups yellow onion, chopped
2 tbsp milk or cream or half and half (I used 2% milk)
Salt to taste
Red chili powder to taste
Few pieces of sun dried tomatoes
Instructions
Pre heat the oven to 325F.
Squeeze shredded potatoes of all the water and pat them dry using a paper towel.Add salt, black pepper and hot sauce. Mix and taste. Adjust the seasonings if needed.
Heat up a skillet. Add ½ tsp coconut oil and coat it evenly. Dump the potatoes and pat them down with your hands. Lower the flame. Using back of spatula, push them hard against the skillet surface so they even out. This will help in even cooking.
Let them cook for 12-15 mins on lowest flame or till bottom gets nice golden brown. Cover the skillet with a big plate and flip the hashbrown on the plate making sure they don't break. Even if they do, don't panic. Coat the skillet with ½ tsp oil again. Add the uncooked side of hashbrown and again press it down against the skillet surface using your hands and back of spatula. Let it cook for another 10-12 mins or till the bottom gets nice golden brown.
Meanwhile, saute the chopped vegetables one by one in another pan for 3-5 mins maximum each except sun dried tomatoes. Take a large bowl. Add eggs , salt, red chili, milk and vegetables. Stir it till it all gets mixed properly.
Now pour the mixture over the cooked hashbrown in the skillet. Slip the skillet in the oven for good 50 mins to an hour. After 50 mins check by inserting a knife at the center. If it come out clean, turn off the oven otherwise let it cook more.
Serve hot or at room temperature.
Notes
Recipe is adapted roughly from BHG.
More Breakfast Savory Recipes: