A quick vegetarian side dish – Gujarati Tindora Shaak (Quick Ivy Gourd Stir Fry) makes for a delicious & healthy side. Pair with some steamed basmati rice & dal for a complete satisfying meal.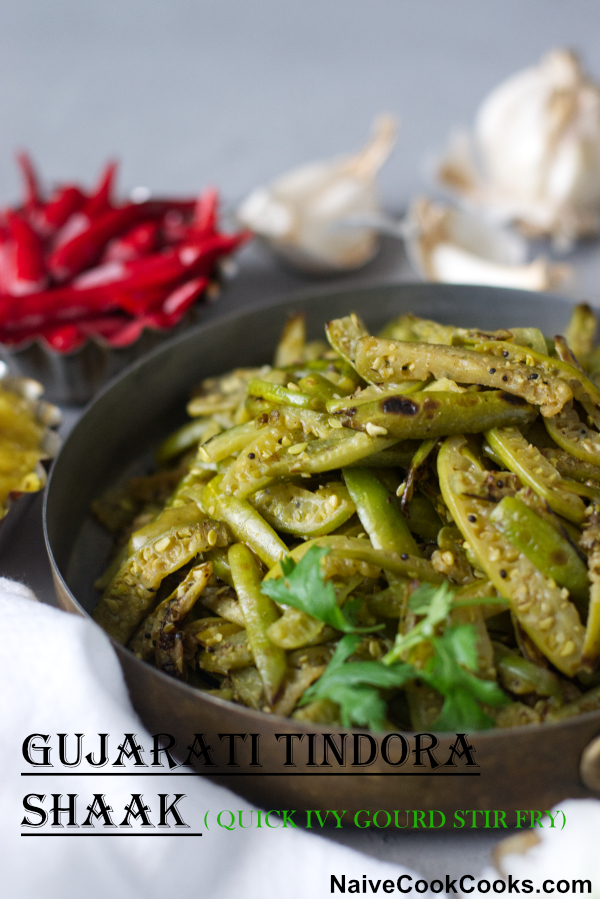 It always amazes me how there is so much variety just among different regions in India. When I started dating Ronak, I came across so much delicious food eaten by his side of the family – one of them being this TINDORA vegetable. I grew up eating something similar called PARVAL which was cooked in a completely different way. 
Tindora is a cross between cucumber and gourd with crunchy texture and slight bitter flavor. I like to cook it the way I learnt from my mom-in-law. The cooking process is super simple , just the cleaning and chopping takes a bit of time.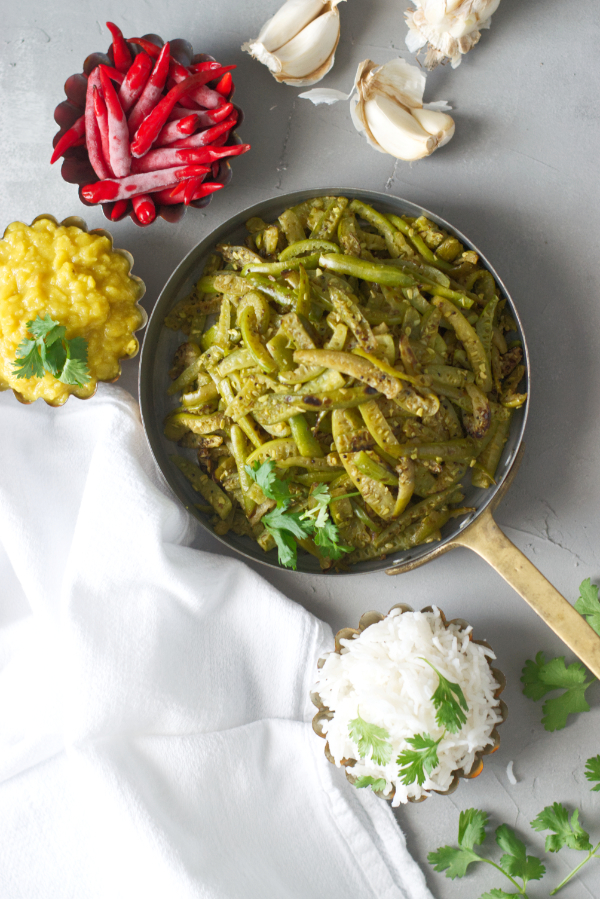 HOW TO CLEAN & CHOP: So the days I have time on hand, I like to clean and then slice them and lay them on a paper towel to dry for a bit. If I am not cooking the same day, I store them in fridge in a bag with lots of paper towels to keep them dry. Then when ready to cook, you will end up using very little oil and they won't stick together at all.
To cut them, first i cut out both the ends and throw those. Then I slice it in half lengthwise and then taking one part at a time, I slice them into 3-4 thin slices lengthwise.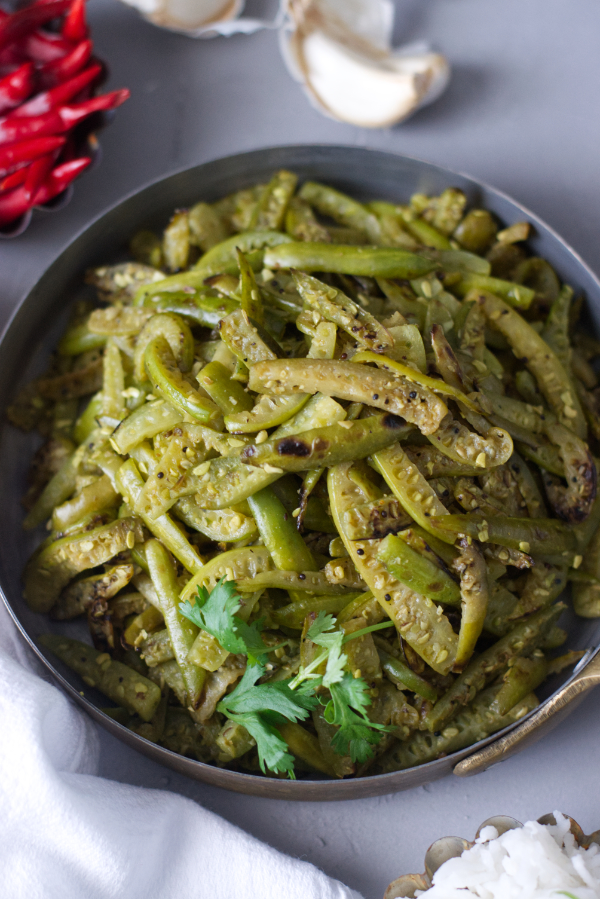 HOW TO SERVE : The traditional way is to serve it along with Kadhi-bhaat which is a meal of Gujarati Kadhi, steamed rice, pigeon peas (arhar/toor dal), chapatis ( roti/rotli) and papad. Some days I get motivated and cook the full spread but days I don't feel like cooking everything, I like to enjoy this along with some rice and dal. Bliss in a bowl.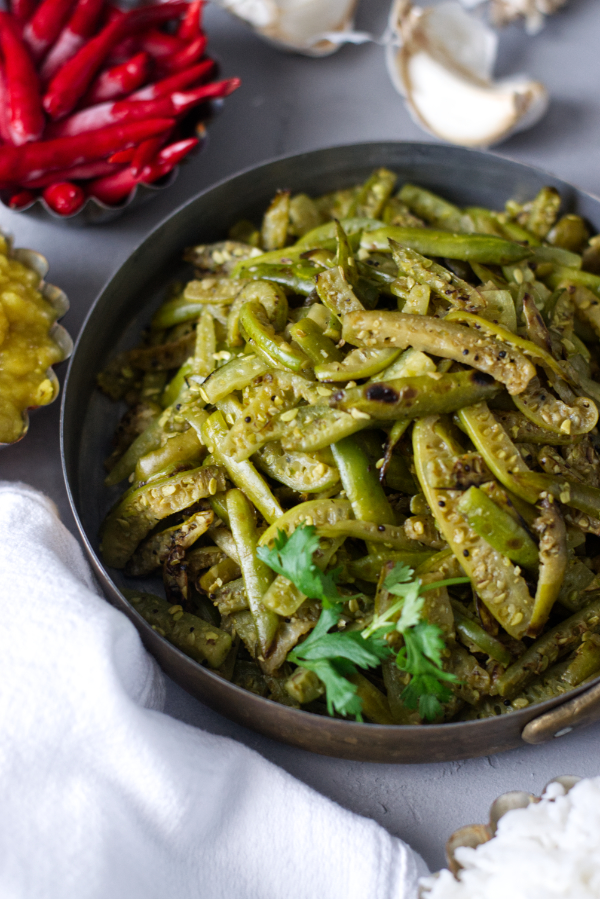 WHERE TO FIND THIS : You can buy TINDORA fresh from any Indian store near you or if you can't get your hands on fresh Tindora, you can even buy it frozen. Stores like Patel Brothers or any local to your city Indian store should carry this vegetable.
So go ahead & give this a try! If you make these or any other recipe from our blog, do tag us by using#naivecookcooks on Instagram.
If  you enjoyed this recipe, don't forget to FOLLOW me on  INSTAGRAM ||FACEBOOK||PINTEREST ||TWITTER ||GOOGLE+ || BLOGLOVIN || YouTube
Gujarati Tindora Shaak ( Quick Ivy Gourd Stir Fry)
Recipe type:
Side Dish, Vegetarian
Ingredients
1 pound (453 gms) Tindora
½ tbsp any good quality cooking oil or ghee
½ tsp rai (mustard seeds)
Pinch hing ( asafoetida)
1 tsp green chili paste or as per taste
2 tsp garlic paste
Salt to taste
Pinch of turmeric powder
2 tsp dhaniya jeeru powder mix ( OR 1.5 tsp dhaniya / coriander powder & ½ tsp cumin/jeera powder)
Instructions
Take a big heavy bottom pan. I love using my Calphalon or Joycooks pans. Will be linking them at the bottom of the post for anyone interested.
Before you are ready to cook, check out my HOW TO CHOP/CLEAN section in the post above to get them prepped up for cooking.
Once you are ready with your chopped tindora, take oil in a pan. Once hot add rai (mustard seeds ) and let them pop. Make sure to cover or the seeds will go everywhere. Once they stop spluterring, add hing ( asafoetida). Add tindora and with gentle hands using a spatula stir them around so they coat the rai flavored oil.
Cover and cook on medium high heat. I would keep checking and stirring them around every few minutes until they are 95% cooked. If your gas is running too high, you can lower it further.
Once they are almost cooked (which you can tell by taking a bite), add salt, green chili paste, garlic paste, turmeric and dhaniya jeeru . Mix mix until all the spices are coated to the tindora. Cover and cook another few minutes so the tindora is fully cooked. Taste and adjust any seasoning or salt if need to.
Serve with rice and dal OR check out my HOW TO SERVE section in the post above.
Notes
Ami says :
I like to make extra and freeze the extra for later. So next time your are eating Indian meal, you can just pull out this shaak/subji, heat it in microwave and serve along with some bread like roti or paratha or with rice & dal.
HERE ARE MY FAVORITE PANS FOR COOKING INDIAN SUBJIS: