Gujarati Tindora Shaak ( Quick Ivy Gourd Stir Fry)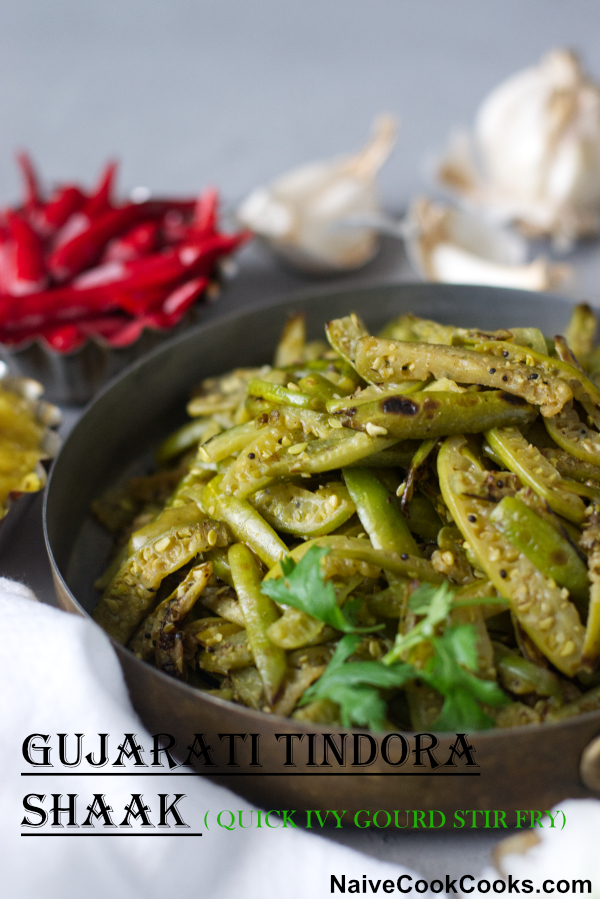 Recipe type:
Side Dish, Vegetarian
1 pound (453 gms) Tindora
½ tbsp any good quality cooking oil or ghee
½ tsp rai (mustard seeds)
Pinch hing ( asafoetida)
1 tsp green chili paste or as per taste
2 tsp garlic paste
Salt to taste
Pinch of turmeric powder
2 tsp dhaniya jeeru powder mix ( OR 1.5 tsp dhaniya / coriander powder & ½ tsp cumin/jeera powder)
Take a big heavy bottom pan. I love using my Calphalon or Joycooks pans. Will be linking them at the bottom of the post for anyone interested.
Before you are ready to cook, check out my HOW TO CHOP/CLEAN section in the post above to get them prepped up for cooking.
Once you are ready with your chopped tindora, take oil in a pan. Once hot add rai (mustard seeds ) and let them pop. Make sure to cover or the seeds will go everywhere. Once they stop spluterring, add hing ( asafoetida). Add tindora and with gentle hands using a spatula stir them around so they coat the rai flavored oil.
Cover and cook on medium high heat. I would keep checking and stirring them around every few minutes until they are 95% cooked. If your gas is running too high, you can lower it further.
Once they are almost cooked (which you can tell by taking a bite), add salt, green chili paste, garlic paste, turmeric and dhaniya jeeru . Mix mix until all the spices are coated to the tindora. Cover and cook another few minutes so the tindora is fully cooked. Taste and adjust any seasoning or salt if need to.
Serve with rice and dal OR check out my HOW TO SERVE section in the post above.
Ami says :
I like to make extra and freeze the extra for later. So next time your are eating Indian meal, you can just pull out this shaak/subji, heat it in microwave and serve along with some bread like roti or paratha or with rice & dal.
Recipe by
Naive Cook Cooks
at https://www.naivecookcooks.com/gujarati-tindora-shaak-quick-ivy-gourd-stir-fry/