One of the simplest yet fanciest looking cheesecake recipe. Brownie Bottom cheesecake with a layer of chewy chocolate packed brownie topped with a creamy cheesecake layer. So good and super simple! A great make ahead dessert.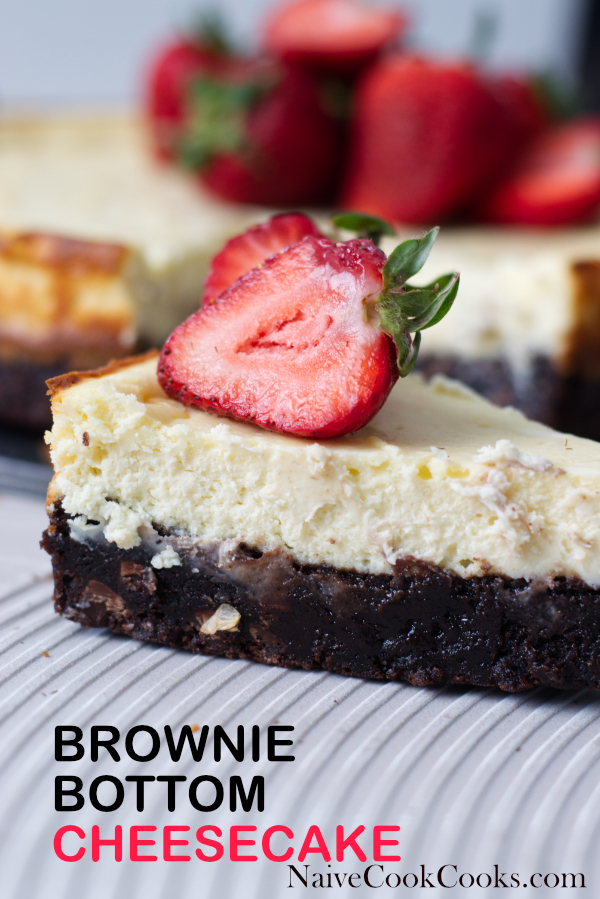 With Mother's day around the corner and this year with this new normal, we are celebrating by staying home. If you are making it for your family and or for the mother in your life, it is a seriously stupidly simple recipe which in case you are baking cheesecake for the time ever, you can still get it right!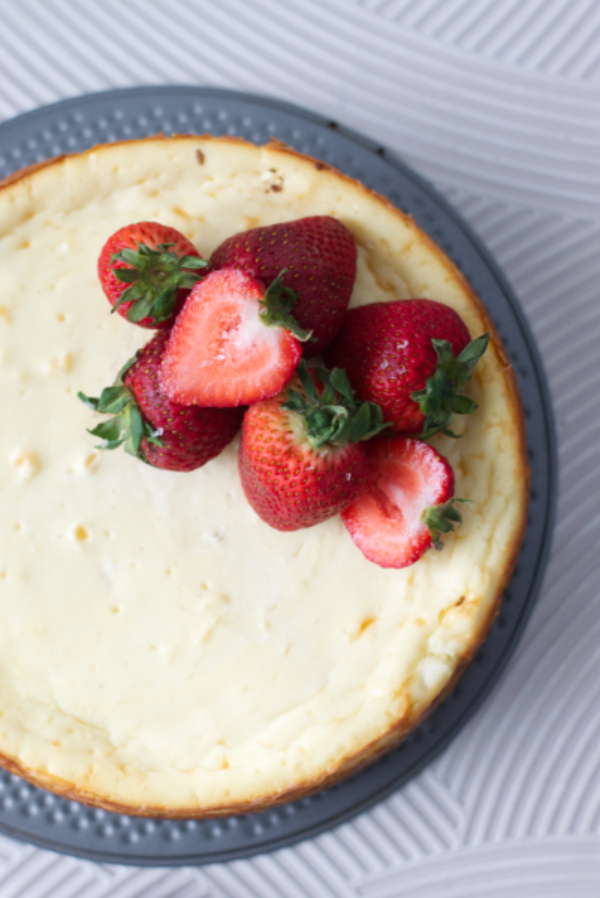 If you are worried about your cheesecake cracking or anything like that, remember you can always cover it with a chocolate ganache or whipped cream! We absolutely love cheesecake around here, even Aria is partial to cheesecake over other desserts. I already have this simple NEW YORK STYLE CHEESECAKE recipe on the blog which is so good.
For this recipe and to keep things simple, I used boxed brownie mix but you can totally go from scratch brownie route! I wanted to keep it simple so you guys are not scared to give this a try and also its first timer friendly!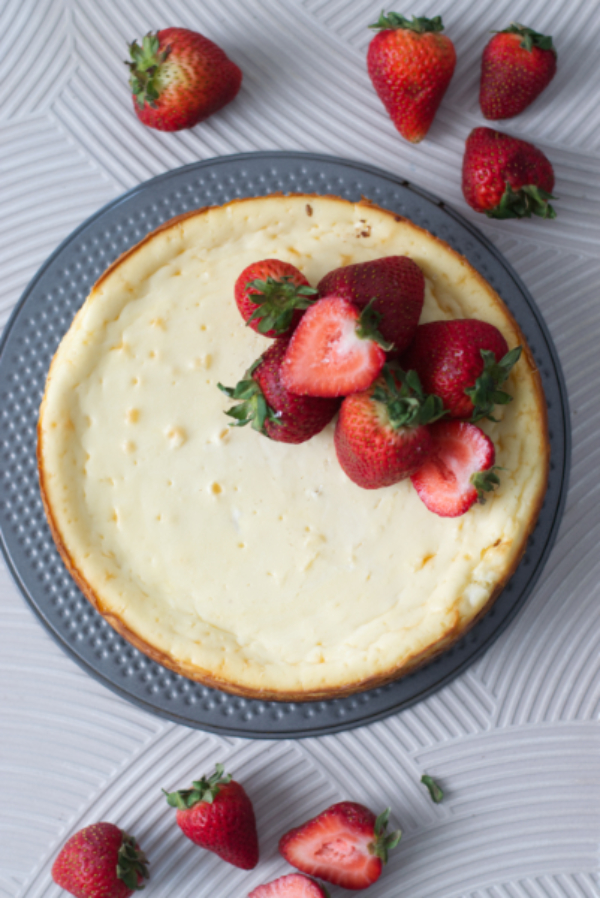 As I was saying this recipe is seriously simple. It has few parts ->
Bake brownie.
While brownie bakes, get cheesecake batter ready.
Pour cheesecake batter over just baked brownies and bake.
Let it cool at room temperature completely.
Tightly cover and store in fridge for atleast 4 hours or overnight.
And the most important step – EAT!!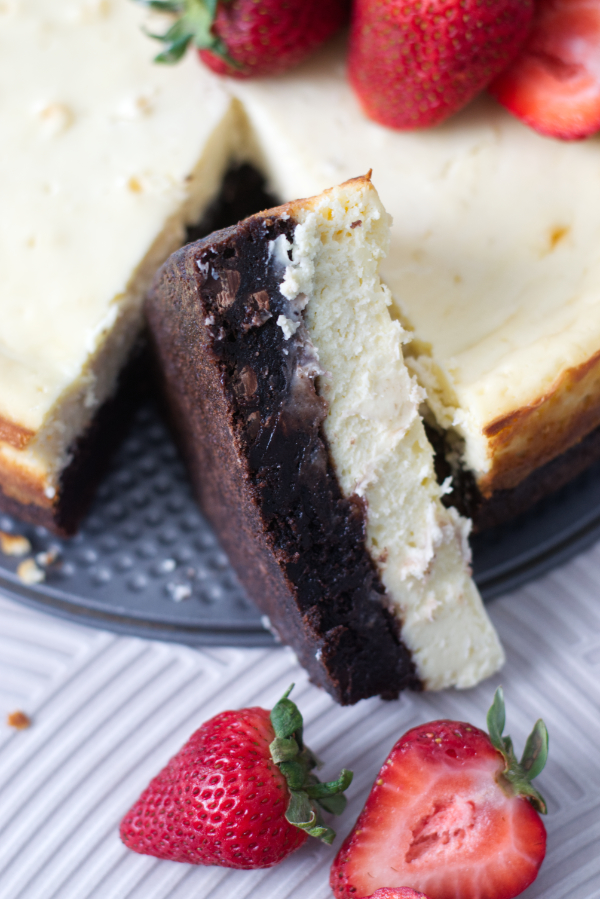 Aria wanted to be a part of this photo shoot so I ended up clicking few pictures of here hugging her cheesecake! I think I am gonna frame this picture of her!! Love her to death 🙂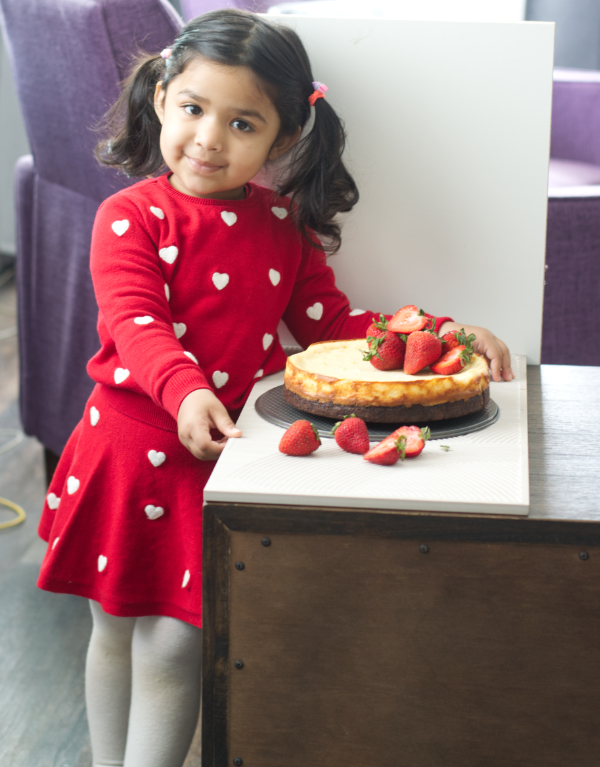 Next time you go grocery shopping, make sure to grab few ingredients which you might not have in your pantry already and then you are ready to impress people!!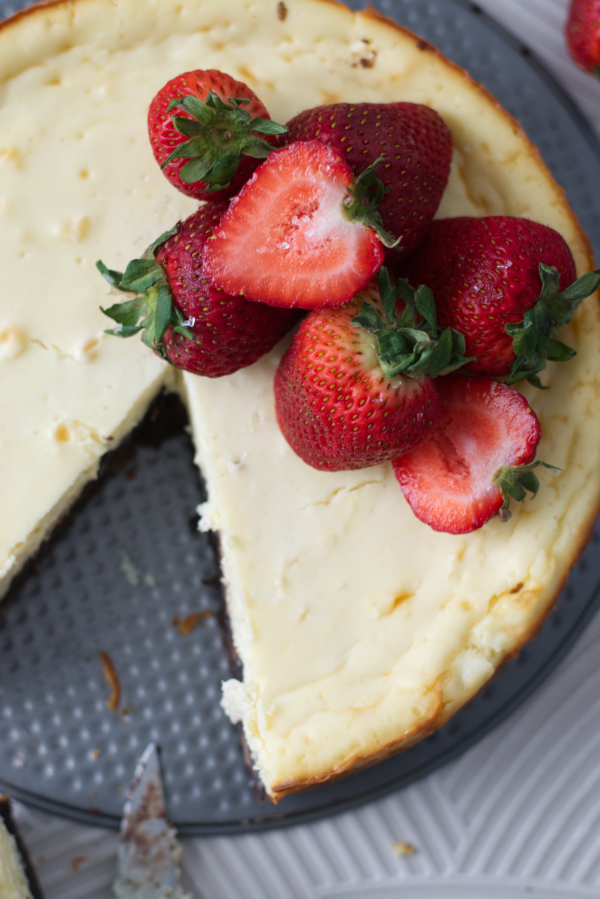 I ended up clicking so many pictures and to my shock liking a lot of them as well (which is sort of rare for me) that it was really hard which ones to share here.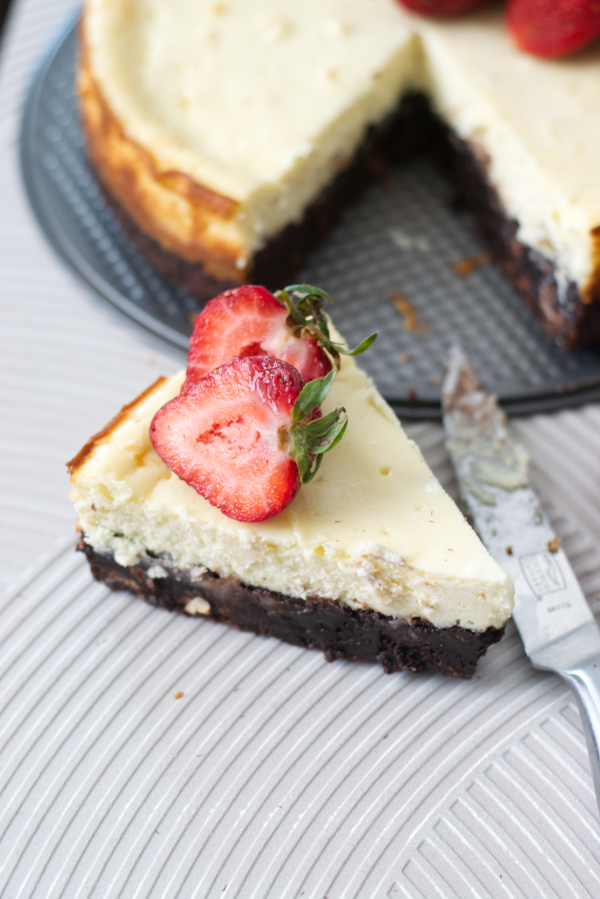 Hope you guys give this recipe a try!
So go ahead and give this a try! If you make these or any other recipe from our blog, do tag us by using#naivecookcooks on social media channels.
If you enjoyed this recipe, don't forget to FOLLOW me on INSTAGRAM||FACEBOOK||PINTEREST||TWITTER ||GOOGLE+ || BLOGLOVIN || YouTube

Brownie Bottom Cheesecake
Ingredients
Brownie layer ->>
1 20 oz box brownie mix ( I had this huge Hershey's triple chocolate brownie mix from Sam's Clubbut you can use any you prefer or make your own)
Cheesecake Layer ->>
Soft Room Temperature cream cheese ( 16 ounce)
Pinch salt
⅔ cup regular white granulated sugar
2 Tbsp full fat sour cream ( If you don't get sour cream where you live, replace with full fat yogurt)
1 tsp lime/lemon juice
1 tsp vanilla extract
1 egg yolk
2 eggs
Instructions
Preheat oven to 325F.
Brownie layer ->>
Follow directions as mentioned on the box of your packaged brownie mix. Or you can make your own brownie batter if you want to.
Pour brownie batter (I used a 20 oz ready made brownie mix packet from Hershey's) into a 9" *3* round cake pan. Make sure you have a deep cake pan. Bake at 325F for 30 minutes.
Cheesecake layer ->>
In a large deep bowl, add soft room temperature cream cheese and using a hand mixer, mix for about 1 minutes until the cream cheese becomes soft and creamy. Add sugar, salt and mix for another 2 minutes.
Now add sour cream,lemon/lime juice, vanilla extract and 1 egg yolk and mix for another 1 minute. Make sure to scrape the sides of the bowl using a spatula so everything is mixed evenly.
Now add 2 eggs and mix for a minute .
Make sure NOT TO OVERMIX.
Now pour this mix into the already baked brownie crust and Bake it for 45 minutes at 325F.
Once completely baked, take it out gently and place the cheesecake over a cooling rack. Let it cool for 3 hours on cooling rack. Run a clean knife around the cheesecake to loosen the sides. Cover it tightly with plastic wrap and chill in fridge for about 4 hours at least or overnight which I prefer.
It can be kept in fridge for upto 2-4 days!
When ready to eat, keep it out at room temperature for about 10-15 mins before serving. Cut into slices using a knife. Make sure to dip your knife in how water after each time you cut and wipe it clean before cutting again as it helps in cutting clean slices.
You can serve with whipped cream, fresh strawberries or chocolate sauce and whipped cream.