Super satisfying and nourishing easy dal makhani for your family! If you love Indian food, this is for you!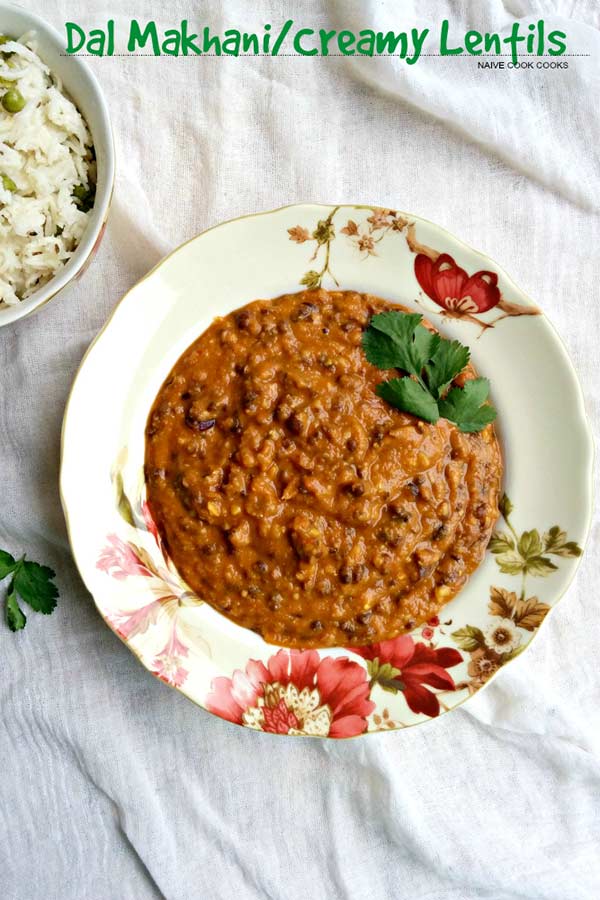 Creamy dreamy black lentils simmered in tomato based gravy. Super low fat and healthy. Served with green peas rice it is a meal fit for the kings & queens! This is the meal you should be making, I mean seriously why not?! Even if you are not into Indian food or if you love Indian food, this is a must try dish. It comes together in around an hour and it is the most satisfying meal I had recently. We like including variety of cuisines in our meals and usually once or twice a week we try to have good flavorful Indian food. But guys, this dish is to die for.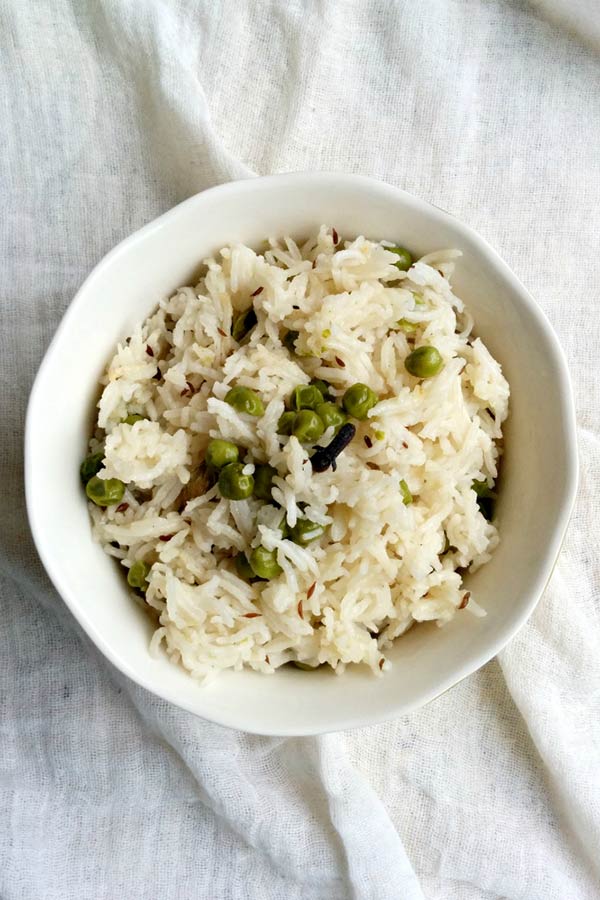 It uses simple ingredients and apart from few spices, I guarantee you must already have most of them in your pantry. So this weekend grab on the remaining ingredients and make a big pot. It freezes beautifully as I did when I made this. Today we are having it again. Just defrost it in refrigerator and serve it along with warm rice or naan or any flatbread. Dinner served and trust me your family will think you brought take out as it tastes so rich and creamy.
I will be travelling starting this weekend and I am both excited and skeptical about this. I mean I am excited to attend a family wedding and meet my extended family but I hate not working and I am grateful to Jerry and you guys that I am in a position where I get to do what I love as my work. I know it never really ends and blogging is hard work. It never ends at 5pm and usually even after devoting almost 15 hours a day, I feel unsatisfied and try to achieve more the next day. But what matters is that I absolutely love what I do and so I am trying to get as much work done as possible before my travel starts. On another note, My mom is visiting from India today and I am excited!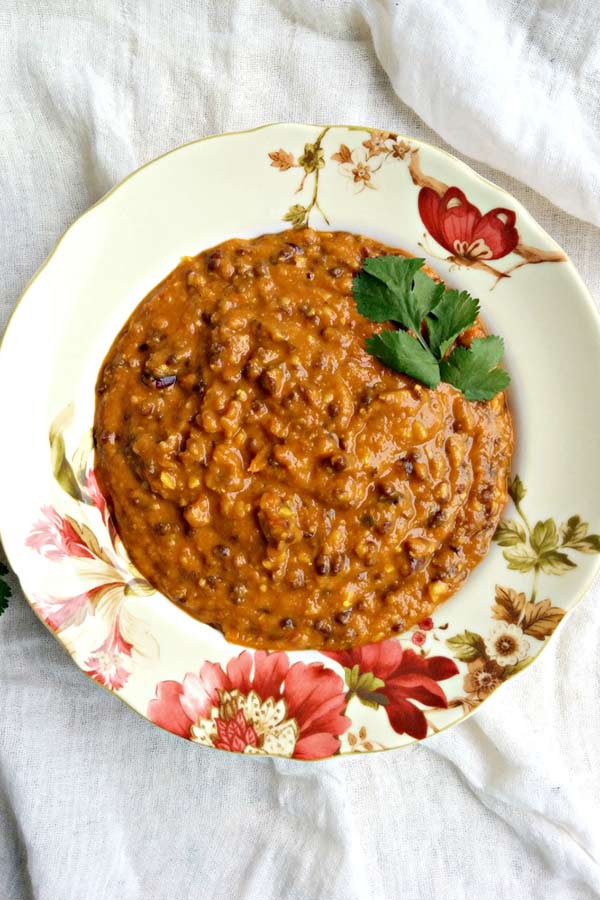 I have a list of dishes I want to learn from her and if you have any requests for any specific Indian food recipe or otherwise, let me know. If possible, I will try to learn it from her or myself and post it here! I am having this for dinner tonight!
Easy Dal Makhani - Creamy Lentils
Super satisfying and nourishing meal for your family! If you love Indian food, this is for you!
Ingredients
Dal Makhani
½ cup urad dal (black gram)
2 Tbsp rajma (Kidney beans)
1 tsp olive oil
½ tsp cumin seeds
1 bay leaf
1 cinnamon stick'
7 cloves
4 green cardamom
1 Tbsp ginger paste
1 Tbsp garlic paste
¼ tsp turmeric
2.5 cups tomato puree (~4 large tomatoes)
½ cup water
1 tsp red chili powder
1 Tbsp coriander powder
Salt to taste
½ Tbsp butter
½ tsp dried fenugreek (Kasuri methi : optional but recommended)
¼ cup heavy cream
Matar Pulao
1 cup white basmati rice
½ cup green matar or green peas (Fresh or frozen, no need to thaw)
1 tsp cumin seeds
1 tsp ghee or olive oil
salt to taste
Instructions
Dal Makhani
Boil urad dal and rajma in a pressure cooker or pot with sufficient amount of water. If it is soaked overnight, it will be done in less time as compared to unsoaked dal. So keep an eye. Let it boil for 15 mins or so and check and add more water if needed. If boiling in pressure cooker, you have to make sure all the steam escapes before you try to open it for checking.
Keep it aside.
In a deep pot, add oil. Once hot add cumin seeds and once they start to sputter, add bay leaf,cinnamon stick,cloves and cardamom. Saute for few seconds and add ginger and garlic paste. Cook it until it becomes aromatic. Add tomato puree along with turmeric and water. Let it simmer for 10-15 minutes until it gets cooked through. Add red chili, coriander powder and salt to taste. Mix and cook it for another minute or so. Add butter and mix. Strain the cooked lentils and save the water. Add this water into the tomato gravy and if you feel you don't have any, add water. Bring it to boil and add dried fenugreek leaves. Crush them in between your palms if they are not fine. Let it simmer on low for good 30-45 minutes. Keep checking and if it starts to get too dry, add water. Taste and adjust seasoning if needed. Add heavy cream, stir and serve.
Matar Pulao
Clean rice under running water by changing water 3-4 times until you see clear water.In a cooker or pot, add oil. Once hot, add cumin seeds. Once they sputter, add green peas. Saute them for few minutes and add rice. Add around 2-2.5 cups water and mix. Cook either in cooker or pot. In cooker you will need 2-3 whistles while in pot cook it covered until it gets soft and cooked through. If you still have water remaining, just strain it.
More Simple Lentil Recipes: 
https://www.naivecookcooks.com/lentil-soup/