Easy Dal Makhani - Creamy Lentils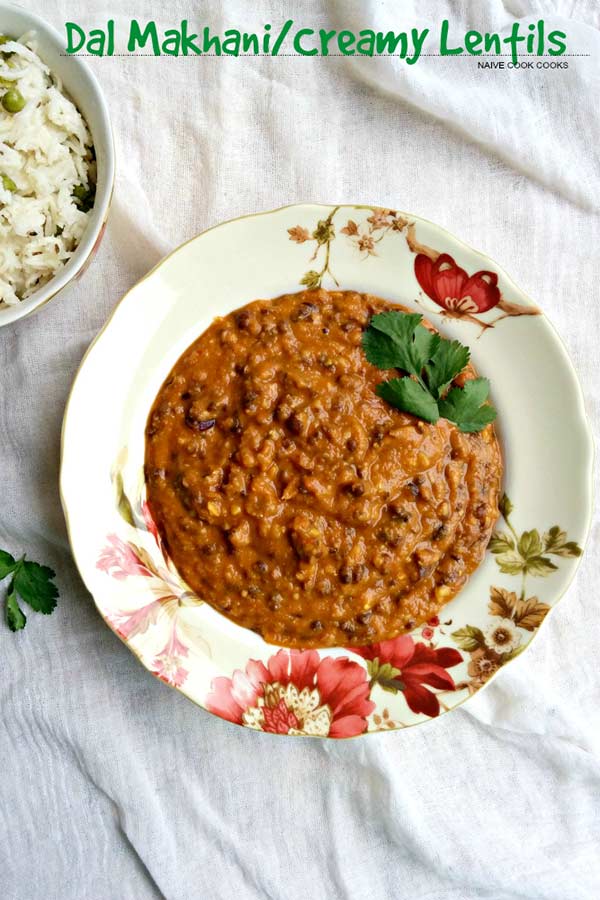 ½ cup urad dal (black gram)
2 Tbsp rajma (Kidney beans)
1 tsp olive oil
½ tsp cumin seeds
1 bay leaf
1 cinnamon stick'
7 cloves
4 green cardamom
1 Tbsp ginger paste
1 Tbsp garlic paste
¼ tsp turmeric
2.5 cups tomato puree (~4 large tomatoes)
½ cup water
1 tsp red chili powder
1 Tbsp coriander powder
Salt to taste
½ Tbsp butter
½ tsp dried fenugreek (Kasuri methi : optional but recommended)
¼ cup heavy cream
1 cup white basmati rice
½ cup green matar or green peas (Fresh or frozen, no need to thaw)
1 tsp cumin seeds
1 tsp ghee or olive oil
salt to taste
Boil urad dal and rajma in a pressure cooker or pot with sufficient amount of water. If it is soaked overnight, it will be done in less time as compared to unsoaked dal. So keep an eye. Let it boil for 15 mins or so and check and add more water if needed. If boiling in pressure cooker, you have to make sure all the steam escapes before you try to open it for checking.
Keep it aside.
In a deep pot, add oil. Once hot add cumin seeds and once they start to sputter, add bay leaf,cinnamon stick,cloves and cardamom. Saute for few seconds and add ginger and garlic paste. Cook it until it becomes aromatic. Add tomato puree along with turmeric and water. Let it simmer for 10-15 minutes until it gets cooked through. Add red chili, coriander powder and salt to taste. Mix and cook it for another minute or so. Add butter and mix. Strain the cooked lentils and save the water. Add this water into the tomato gravy and if you feel you don't have any, add water. Bring it to boil and add dried fenugreek leaves. Crush them in between your palms if they are not fine. Let it simmer on low for good 30-45 minutes. Keep checking and if it starts to get too dry, add water. Taste and adjust seasoning if needed. Add heavy cream, stir and serve.
Clean rice under running water by changing water 3-4 times until you see clear water.In a cooker or pot, add oil. Once hot, add cumin seeds. Once they sputter, add green peas. Saute them for few minutes and add rice. Add around 2-2.5 cups water and mix. Cook either in cooker or pot. In cooker you will need 2-3 whistles while in pot cook it covered until it gets soft and cooked through. If you still have water remaining, just strain it.
Recipe by
Naive Cook Cooks
at https://www.naivecookcooks.com/easy-dal-makhani-creamy-lentils/