Just 4 Ingredients is all you need to make your favorite coffee house kind Easy Caramel Latte at home in no time.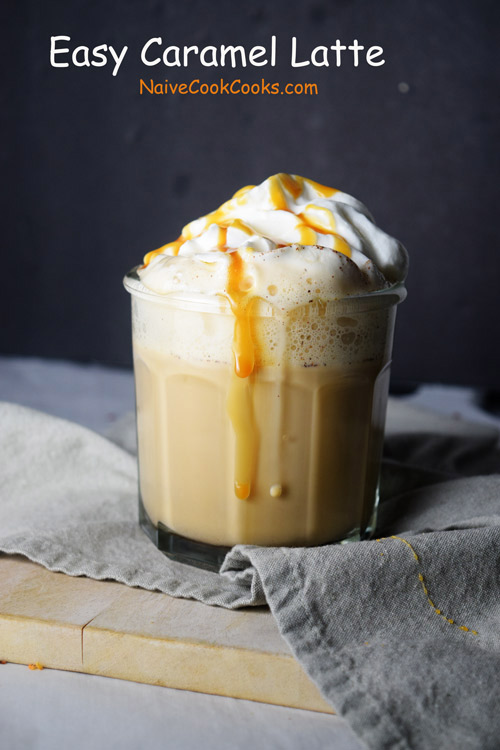 Christmas gone? Well I am still in denial mode because after waiting all year long for Christmas, I still want to keep eating cookies for each meal and since lately sun has been playing hide and seek, all I want is this ->> EASY CARAMEL LATTE! ☕
This year Christmas was different but so much fun. We got to see Christmas in New York and even though it was crazy busy, we had a great time hanging out with family. All day we would go around seeing stuff and at night, back at hotel all of us would spend time playing card games! It felt like I was a child again.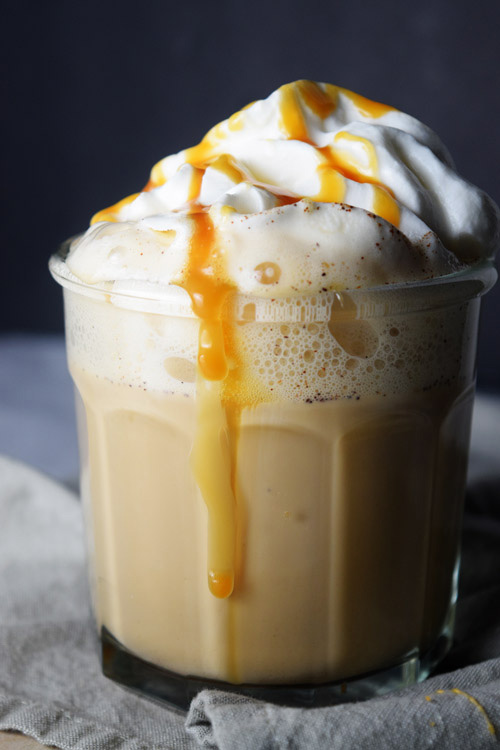 Now let's talk about this caramel latte – >> that whipped cream and dripping caramel wants me to run to the kitchen right now and make a cup of this RIGHT NOW!
Last year I went out of comfort zone and ordered something different. I ordered caramel latte and it was the most delicious drink I had ever tasted. I love anything caramel but I found it little too sweet for my taste. So I decided that I am going to learn how to make it so I can have it my way anytime!
This Caramel latte is even better than the one you get at your favorite coffee house andit takes seriously no time to make and totally customizable ->> want to go skinny? Use skimmed milk looking for creamy goodness? Use Full fat milk or half &half or half cream and half milk combination.
So what are you waiting for? Make this, enjoy last few days before New Year and get good rest!
Follow along for a lot more delicious treats and life happenings on INSTAGRAM || FACEBOOK ||PINTEREST ||TWITTER ||GOOGLE+
Easy Caramel Latte
Ingredients
2 cups milk ( any kind, I used 2% fat)
1 tbsp coffee of your choice mixed in 1 cup hot water (I like my coffee strong but it's totally upto your taste)
¼ cup caramel sauce (You canmakeat home or use store bought) (**I like to taste and add more caramel sauce as per taste)
Sugar as per taste
Whipped cream (optional but delicious)
More caramel sauce for drizzling on top
Instructions
Bring milk to boil. Stir coffee water & caramel sauce until fully incorporated with milk. Taste and sugar as per taste.
At this point, if you have a small milk frother, use that to create foam. Transfer latte to mugs and add whipped cream on top. Drizzle with some caramel sauce and serve immediately!
Notes
Ami says:
You can even add cinnamon to make it cinnamon caramel latte.
If you want a creamier store bought flavor, use full fat milk or half & half.
 More Recipes for Holidays ->>