Quick & easy spring dish with whole wheat noodles, crunchy asparagus and crispy tofu all combined together with a sweet & spicy sauce!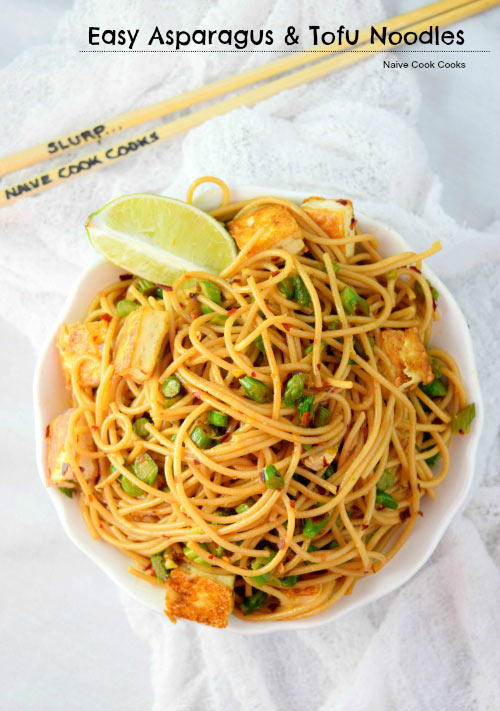 I love noodles. After rice, if there is something I can eat without thinking twice it's noodles. I remember growing up, I would eat them until they lasted *sometimes 3 times in a row* . Whenever my mom would make us noodles (my mom knew better to make loads as she knew that I would be more than willing to finish the leftovers!). That used to be my favorite meal of all time and kind of still is.
The idea for these noodles started from here. I loved that stir fried asparagus so much that since then I have been thinking of ways to incorporate it into a main filling meal. Jerry is not much of an asparagus or should I say fan of veggies, so while he was travelling for work I decided to try using asparagus in a noodle dish just because right now asparagus is on my favorite vegetable list and noodles? Well they are another story!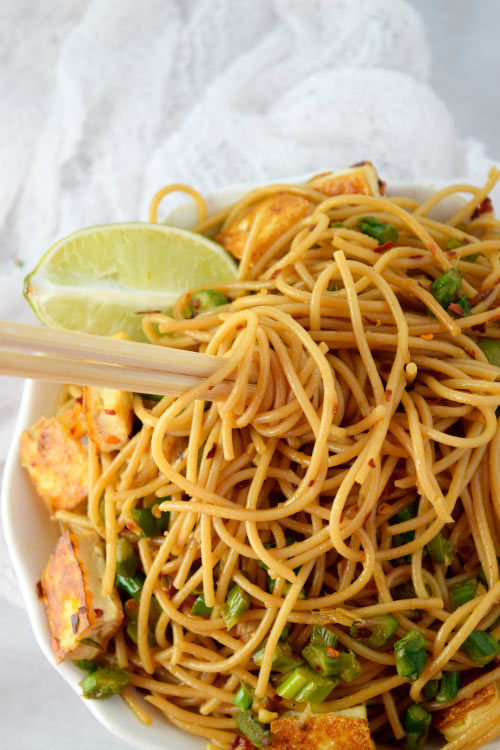 This weeknight meal or anytime meal comes together in under 30 minutes and is so customization. Simply use your choice of veggies and protein or whatever you have on hand. I went with skillet crisped tofu and crunchy asparagus. Match made in heaven!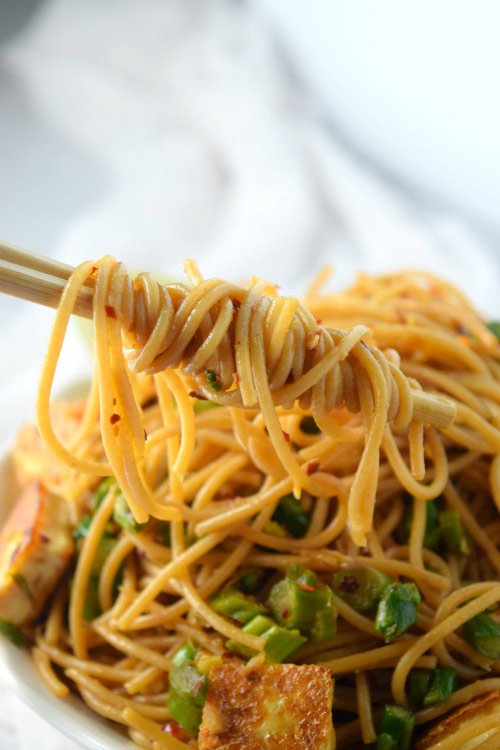 Go dig in these wonderful sweet-spicy-tangy noodles!
Help in spreading the word!
Follow along for lot more delicious treats and life happenings on INSTAGRAM || FACEBOOK || PINTEREST 

Easy Asparagus & Tofu Pasta
Ingredients
5 oz organic firm tofu, chopped
1 tbsp sesame oil
1 tbsp sesame oil
1 tsp red chili flakes or as per taste
1 tbsp ginger paste
2 garlic cloves, minced
10 asparagus thin stalks, chopped fine
4-5 oz whole wheat spaghetti noodles
2-3 tbsp soy sauce
1-2 tbsp honey
1 tbsp rice vinegar
Salt to taste
Red chili flakes
Juice of a lemon
Instructions
Boil noodles as package directions. Strain and add a tinsy bit of sesame oil so they don't stick together. Keep aside.
On a hot skillet, add sesame oil. Lay the tofu pieces there and let them cook on med-high flame. DO NOT TOUCH them for good 7-10 minutes or you will end up breaking tofu. Flip once super crispy and repeat. Once crisped, transfer to a paper towel lined plate and keep aside.
In a hot pan or wok, add sesame oil. To it add ginger paste, garlic paste, red chili flakes. Saute for a minutes and add chopped asparagus. Stir around and cook until you achieve the desired crunchiness. I like mine halfway cooked so I cook asparagus for good 5-7 minutes. Turn off the gas and add cooked noodles, tofu, honey, soy sauce, salt, red chili flakes and rice vinegar. Stir around so it all gets mixed using a pair of tongs. Taste and adjust seasoning as your preference.
Serve warm or cold or room temperature.
Related recipes
:
More PASTA based EASY recipes