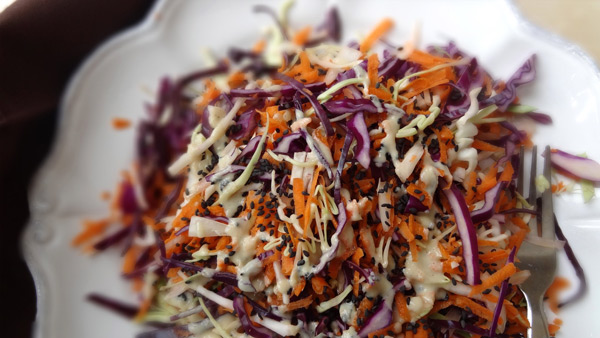 Since last week's recipe, a lot has happened. First me and Jerry, for the first time since we have been together, took a vacation separately. We decided to spend few days with our individual set of friends. I had been particularly excited about this trip as I was about to meet one of my friends with whom I shared a room once. You know roomies?! That bond where you know every slight detail about each other's lives but a bond so unbreakable, so full of trust that you know you can be your true self in front of that person and that person won't let the world know about it.
Such was our relation and it is pretty much to this date. Vacation with girl-friends means lingering over at one particular restaurant for hours, discussing issues about each other's lives, dressing up sometimes for almost no reason and a lot more. As you might remember from the previous post, all we had in our little vacation was lots and lots of food with guilt free over-indulgence.
One thing which I realised after our vacation was that their is one and only one thing very similar in the way men and women take vacations. They all tend to over eat, and eat, lots and lots of rich carb laden comfort food. After we came back home, we both realized that our bodies were in desperate need of something fresh. Something that was miles apart from being cheesy or greasy, more of a detox meal. This salad fitted the role perfectly. A mixture of purple and green cabbage along with carrots and onions. A creamy dressing made with lime, olive oil and tahini.
A very simple salad to put together. The only time consuming part is the chopping part but you can use an attachment for chopping in food processor as well. The vegetables can be chopped well ahead in advance. The only thing you need to put together before lunch or dinner will be dressing which is pretty simple.
Hope this salad makes you feel guilt free after all the indulgences you had on your trip(!).
Detox Slaw
Ingredients
Veggies
1.5 cups purple cabbage, shredded as fine as possible
1.25 cups green cabbage, shredded as fine as possible
1 medium carrot, shredded
⅛ cup yellow onion, chopped
2 tbsp black sesame seeds, toasted
Tahini dressing
1 Tbsp. olive oil
2 Tbsp. lemon juice
½ Tbsp. liquid honey (or agave, maple syrup)
2 tbsp tahini
¼ cup water
Salt to taste (depending on whether or not your tahini is already salted)
Instructions
In a big bowl, mix all the vegetables together.
Mix the dressing ingredients together in another small bowl and stir till you get a uniform paste. Add more water if needed to achieve the desired consistency.
In a hot skillet, add sesame seeds and toast them till they start jumping out of the skillet.
Pour dressing over the vegetables. Garnish with toasted sesame seeds and serve.
More Healthy Recipes: