10 mins hands-on dark chocolate M&M brownies . A box of dark chocolate brownie mix and loads of m&m's guarantee you happy friends and family when short on time.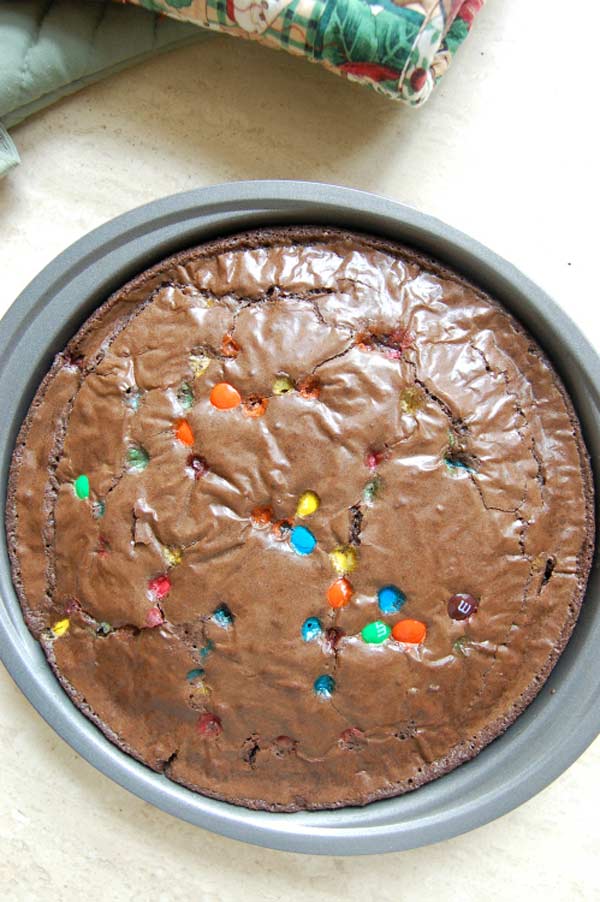 Till date I have not met a single person who hates brownies! I mean who can really say NO to chocolatey, gooey goodness. I always like to under bake mine. I am someone who preaches and likes to make recipes from scratch. But lately I have been receiving emails from busy moms and working women and they have similar problems. One dessert for unplanned get together ?
I brain stormed and finally to me these brownies sounded perfect. A perfect dessert loved by all. You can customize them and in place of m&m's may be add peanut m&m's or pretzel m&m's or more dark chocolate chips. I find this dessert to be the quickest and eating occasionaly box made brownies is not going to kill anyone.
Few points to remember while baking brownies:
1. Cook it little less than the time suggested for a chewy, gooey texture. Nothing worse than a hard brownie.
2. Wait and let it cool down before jumping on it. I took a bite as soon as it came out of the oven and I thought it was super under cooked but few minutes outside, it tasted perfect.
Dark Chocolate M&M Brownies
Ingredients
1 packet of dark chocolate brownie mix
3.5 oz plain m&m's
Instructions
Preheat oven to 350F.
Make the brownie batter according to package instructions. In a oven proof baking pan, spray some oil. Add the prepared brownie mix batter and add ½ of m&m's. Using your fingers push the m&m's inside the batter. Now add the remaining m&m's and let them be on surface. This helps in getting m&m flavour in between the brownie as well as on top.
Bake 26-28 mins. Let it cool and cut in pieces.
More Dessert Recipes:
https://www.naivecookcooks.com/no-bake-oreo-nutella-bars/