No cook creamy oats with strawberry, raspberry, almonds and dark chocolate that takes only 15 minutes of your time and yes, everything is prepped up at night!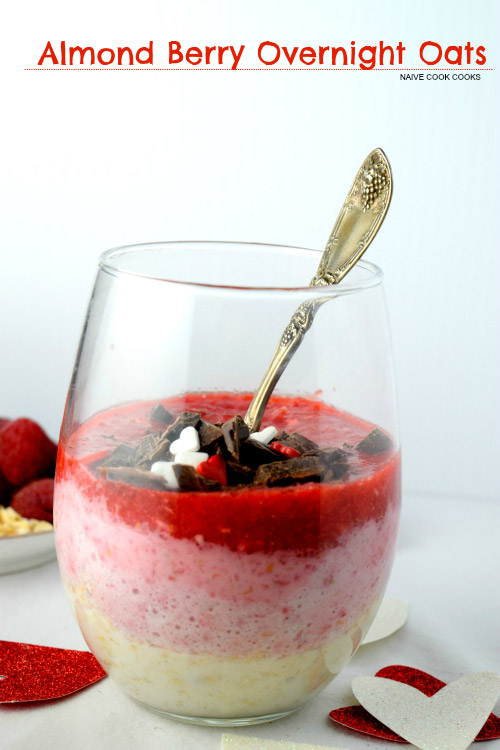 Breakfast!
What are your thoughts about breakfast?
I have noticed two sorts of people when it comes to breakfast time. First kind enjoys their breakfast, they make sure to leave some time for breakfast (even if that means taking out time at the cost of putting on makeup, getting hair done, fidgeting with cloth choices and other endless tasks that always seem more important!) and yes I belong to that category. Second kind never ever eats breakfast at home. They feel like it's not sensible to start pushing food through them first thing in the mornings. Well I respect both kinds, it's a personal preference.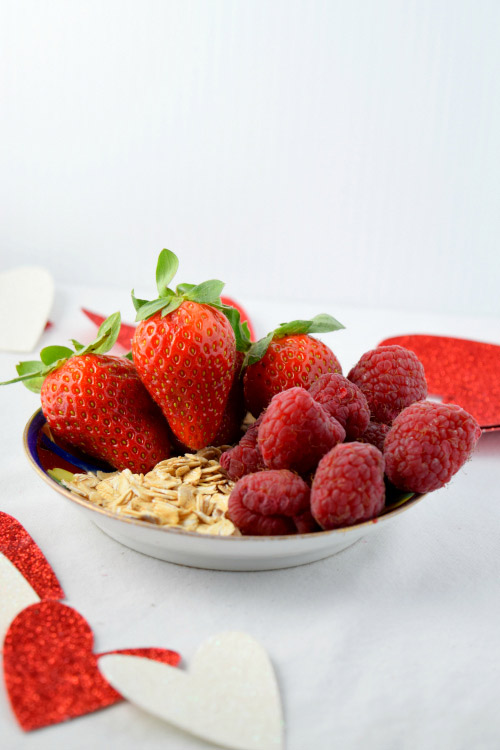 But as you must have guessed, I belong to the first kind. For me, breakfast gives me the fuel to work throughout the day. I can't imagine myself functioning properly without having a decent breakfast. But often due to lack of time, I find myself going through same old toast and egg routine and then there are some days when I just can't take any more eggs.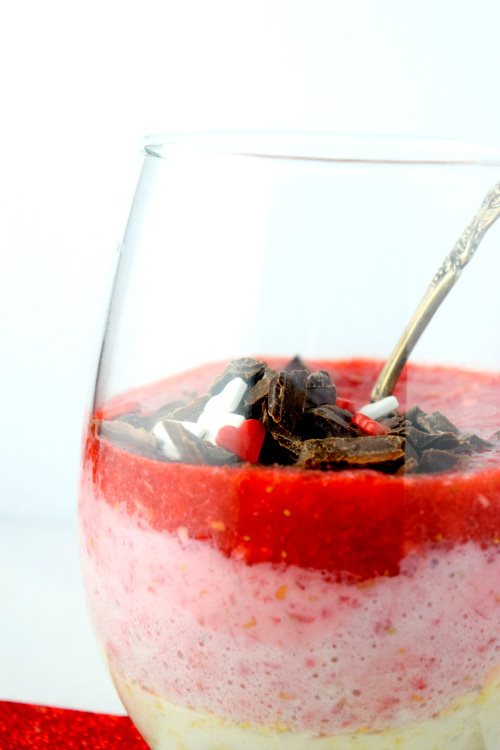 So while I have been noticing all kinds of overnight oats doing the rounds, packed with fruits, nut butters, even savory, I myself never really gave a thought to this concept of overnight oats. But now, I am HOOKED.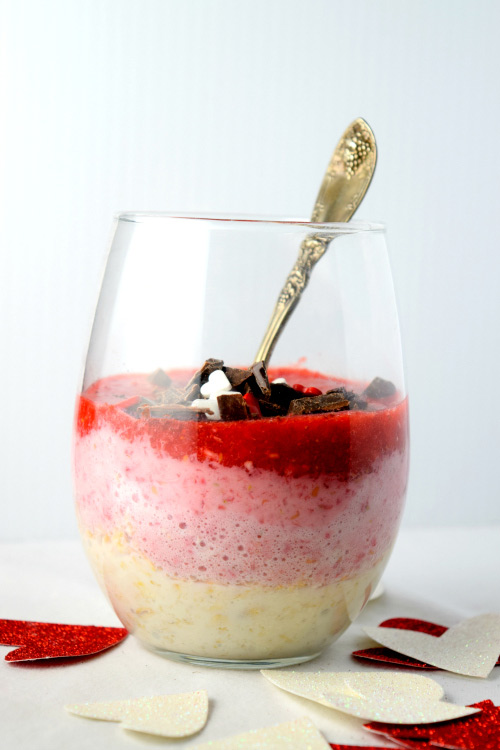 These are so much better than stirring oats in a pot in the wee hours. I never really thought that cold oats might taste good but I was so wrong!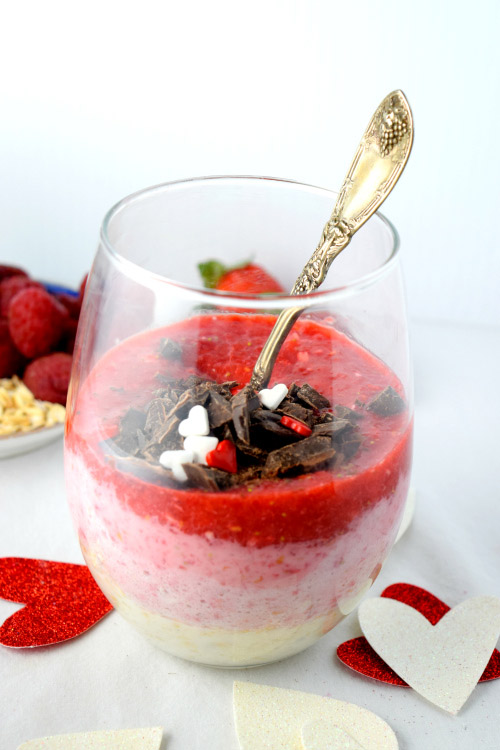 These are like having a treat first thing in the morning. You can seriously go crazy with the type of toppings, flavors, fruits, nut butters, nuts you want to add. Since I already had some berries sitting at home, I decided to use them up and this oat as you can see is just my dream breakfast. And it's the perfect color for valentines day too! I am so making this for our breakfast on v-day as what better than starting the day right with these lovely overnight oats.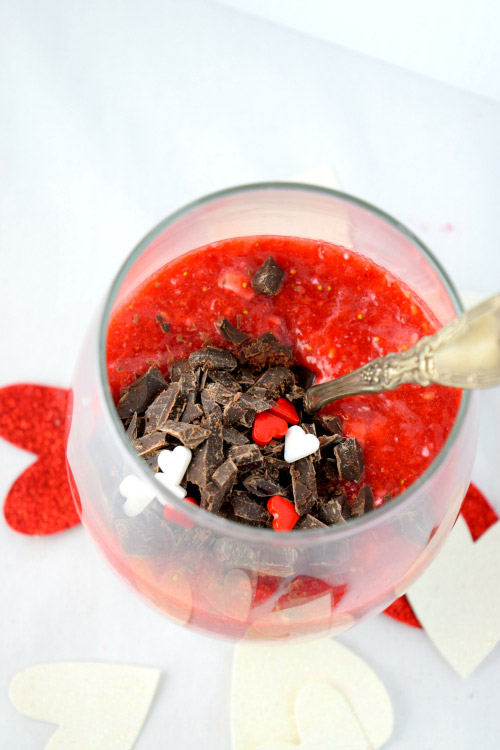 So beautiful!
Almond Berry Overnight Oats
No cook creamy oats with strawberry, raspberry, almonds and dark chocolate that takes only 15 minutes of your time and yes, everything is prepped up at night!
Ingredients
4 tbsp oats (use gluten free if needed)
6 tbsp milk (I used 2% fat but any fat content milk, almond milk or coconut milk can be used)
7-8 fresh strawberries (frozen can be used)
8-10 fresh raspberries (frozen can be used)
2 tbsp thick yogurt or greek yogurt
6-7 almonds
Honey or any other sweetener of choice
1-2 pieces of dark chocolate or your favorite chocolate
Heart shaped sprinkles (optional)
Instructions
In a bowl, add oats, milk and honey. Stir and let them sit overnight in refrigerator covered or uncovered.
In a blender, add 3 strawberries along with raspberries. Blend until almost smooth. Add honey to taste. Mix it to the yogurt in a bowl. This will make your second layer.
Now in the same blender, add remaining strawberries and almonds. Blend and then add honey to taste.This will make your third layer.
Now can make second and third layers in advance at night and keep in refrigerator covered tightly.
Just before serving, Take a glass or bowl. First layer the overnight soaked oats. Second, add the second berry-yogurt puree layer. Third add the berry-almond puree layer.
Garnish with your favorite dark chocolate or any chocolate you fancy.
And since it's february, go ahead and treat yourself with some heart shaped sprinkles too!
More Recipes: