Coconut "Peeps" S'more Creme Brulee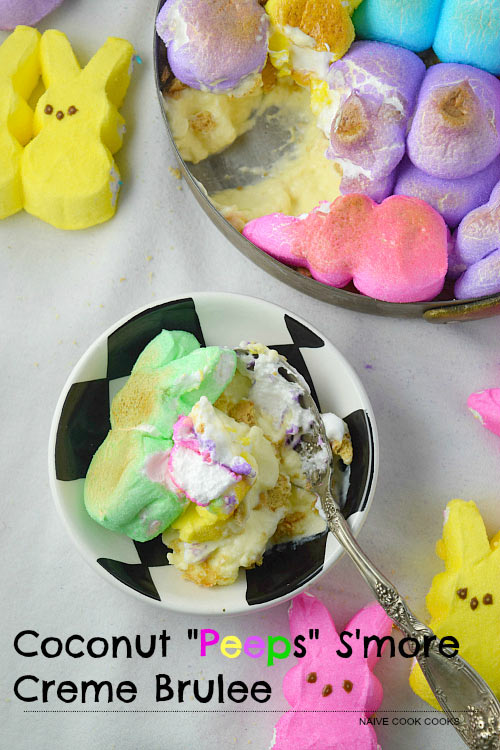 1 cup heavy cream
1 cup coconut milk
4 tbsp shredded coconut
4 egg yolks
4 tbsp sugar
1.5 tsp coconut extract
Crushed graham crackers
Peeps marshmallows
Place heavy cream, coconut milk and shredded coconut in a pot and bring it to a boil on medium-low flame. As soon as it starts to come to boil turn off the gas.
Meanwhile, whisk egg yolks and sugar until pale and it starts to fall like a ribbon around 5-7 mins.
Keep whisking continuously and add the warmed up cream mixture into it slowly. Once all the warm cream mix is incorporated into the egg mix, add coconut extract and whisk to mix.
Preheat oven to 325F and heat some water in a separate pot.
Fill either indivisual ramekins or one big oven safe wide bowl with the creme brulee mix. Place that in another deep oven safe pan and fill the pan halfway with hot water.Cover loosely with aluinium foil.
Place it in the oven and cook for around 28-30 minutes or until the custard is set. You will see the edges set while the center not fully set.
Cool the ramekins on a wire rack and once cooled to room temperature, cover with plastic wrap and chill for few hours or overnight.
Just before serving, cover it with crushed graham crackers and marshmallows. Broil it for around 2-3 minutes ans serve immediately.
You can make the creme brulee ahead of time and just before serving, add graham crackers and marshmallows and broil.
Creme brulee recipe adapted from 5-ingredient-chocolate-creme-brulee.
I was inspired by "howsweeteats.com" chocolate peanut butter peeps recipe and skillet s'more recipe by "Foodnetwork.com"
Recipe by
Naive Cook Cooks
at https://www.naivecookcooks.com/coconut-peeps-smore-creme-brulee/