Learn to make bakery style cinnamon swirl sandwich bread! Sweet cinnamon sugar goodness in every bite!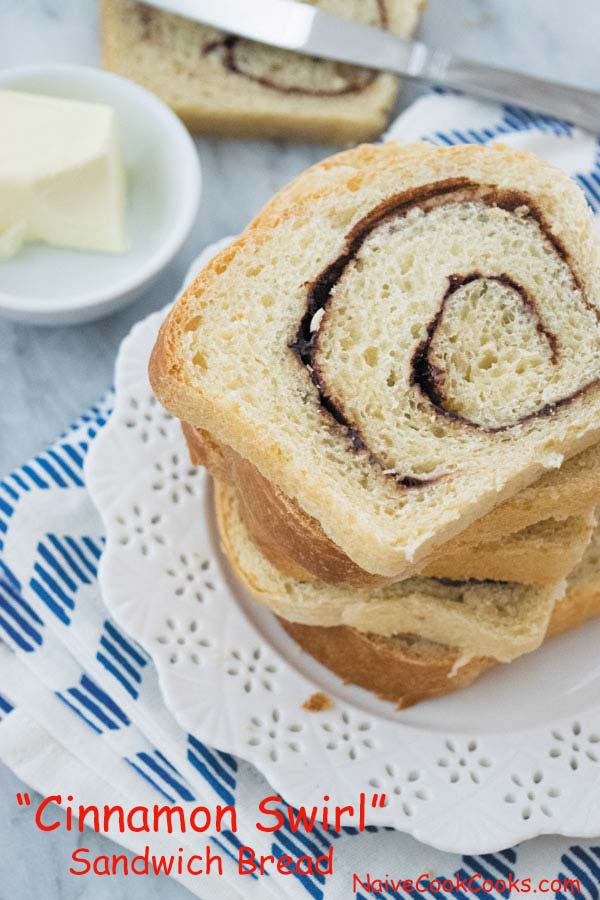 Another bread recipe!! I have been on a baking kick lately and this is another addition to my growing bread recipe collection. Have you checked out our BREAD recipe section on the blog yet? If not then hop on and check it out! I got avocado bread ( my all time favorite!), whole wheat croissants, olive garden copycat breadsticks and so much more.
So lately I was in serious need of a good cookbook. Then I saw lot of my friends raving about THIS book and I immediately knew that I had to get it like asap! So once I received I took few hours off work and went through the book. So so many great recipes and I have always loved Cook's Illustrated books because well they test their recipes way more times than any of us and give detailed explanations. How can you go wrong then?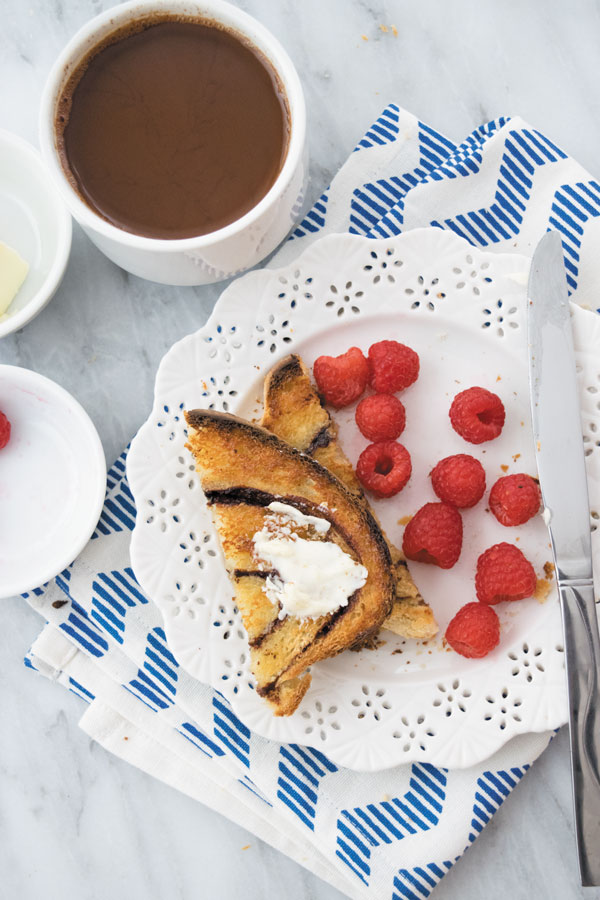 The first recipe I tried from this book was classic American sandwich bread and we enjoyed it so much that we finished it in 2 days! We were eating it for breakfast, lunch and dinner! Since I have the biggest sweet tooth, I decided to try rolling the bread with a thick cinnamon sugar coating and it turned out so good friends! Warm toasted cinnamon swirl sandwich bread slice and then slathered with butter or my favorite – peanut butter!! One slice satisfies you to the core and will keep you going for few hours!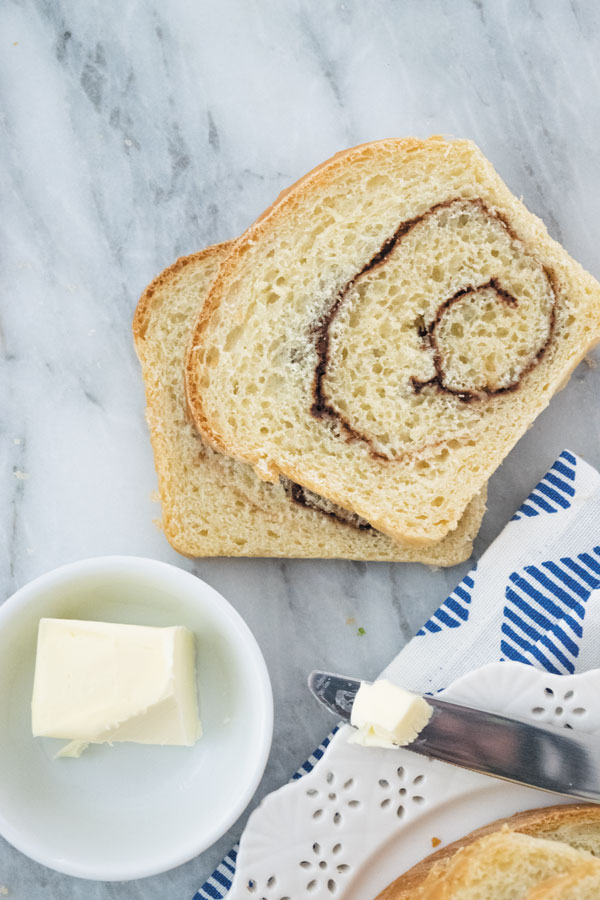 Seriously guys, you have to try out this bread!! It's soft and chewy with the right texture of a classic sandwich bread – just better!
So let's jump on the step by step directions ->>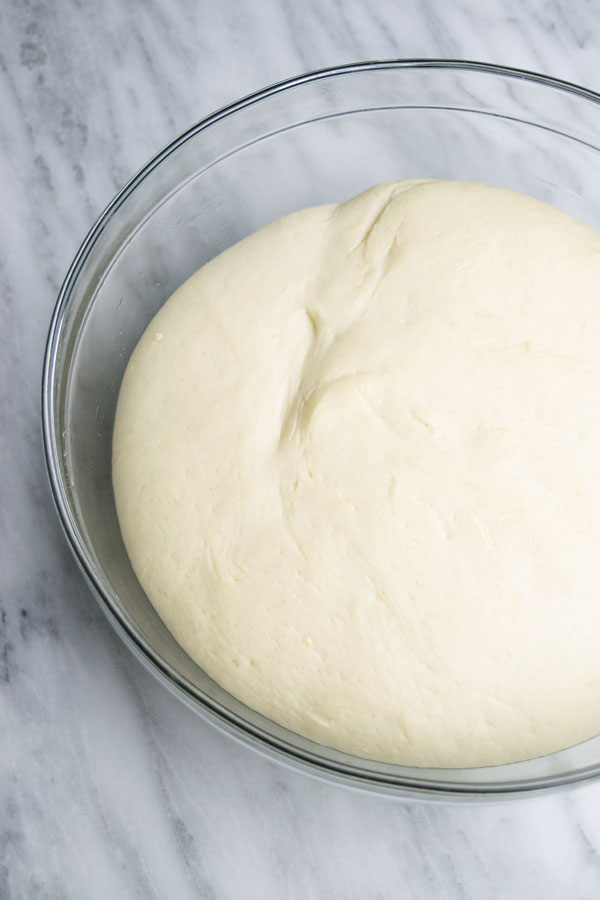 First you make a simple dough an let it rise. It doubles in size as you can see how big this dough became.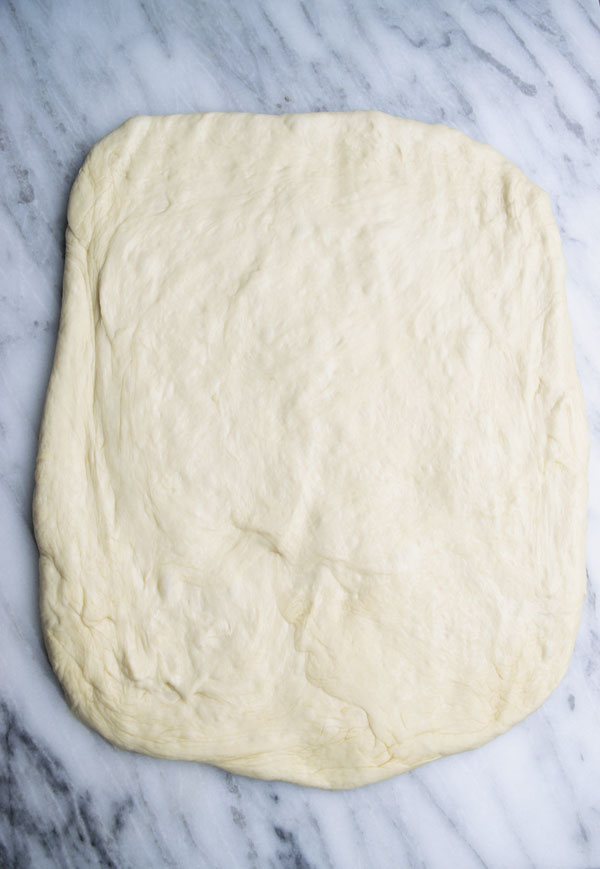 Then the dough is rolled and then a generous amount of butter is slathered on top of the dough.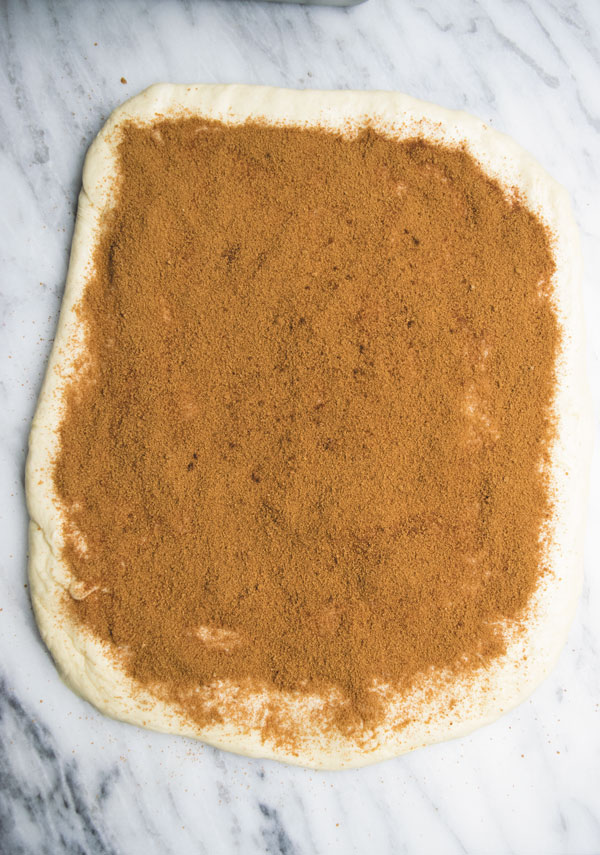 Then comes a generous sprinkling of cinnamon sugar and then dough is rolled into a tight roll.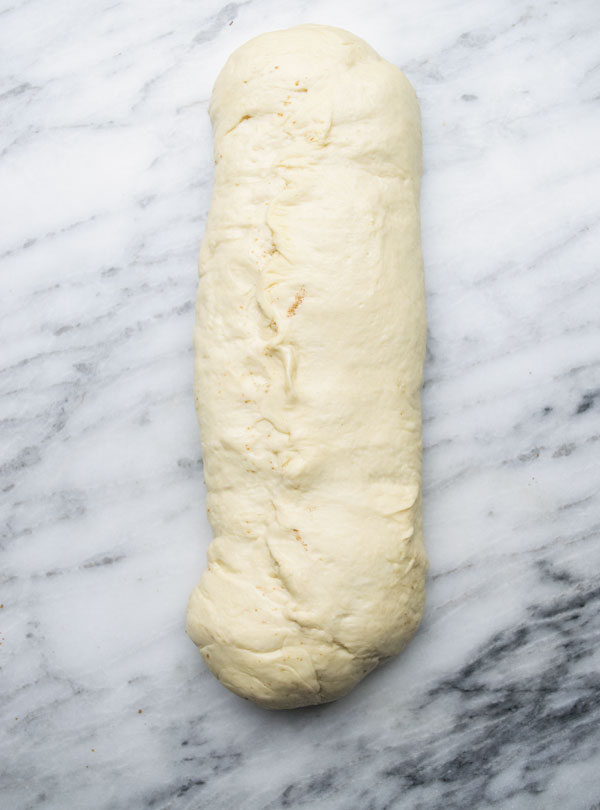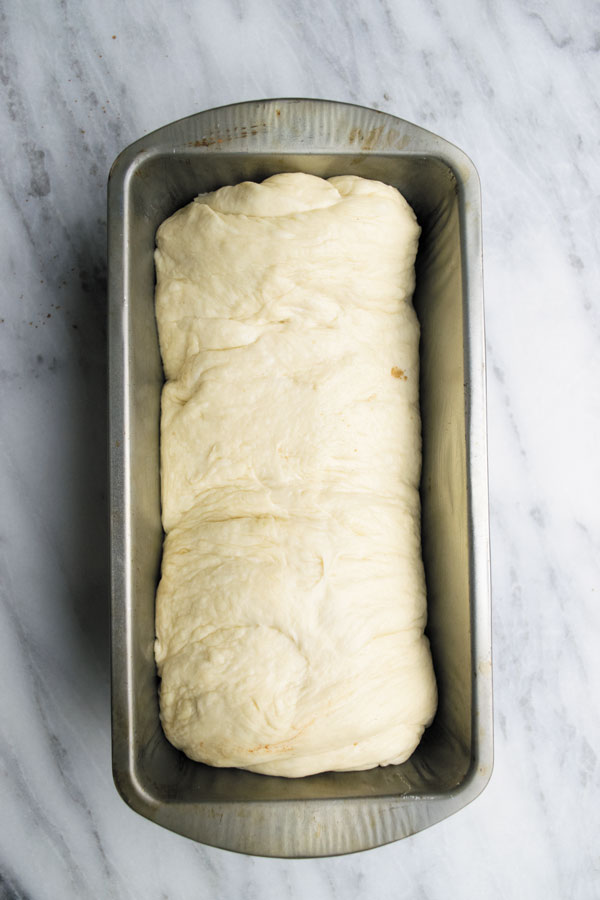 With pinched sides on the bottom side, the dough is transferred to a greased baking pan.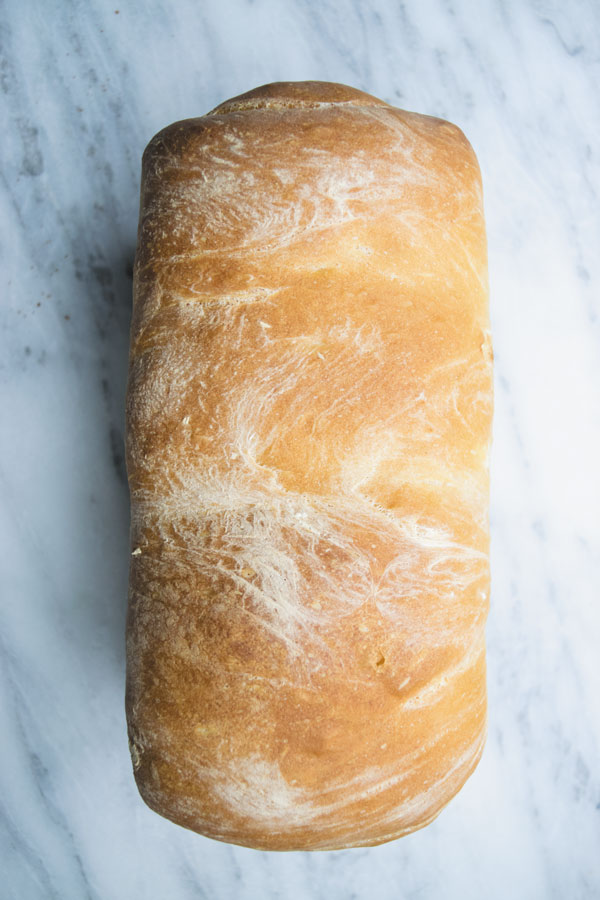 Look at how gorgeous this loaf of bread looks!
Cut it into nice medium thickness slices and once completely cooled, store in airtight container.
If you enjoyed this recipe, don't forget to FOLLOW me on  INSTAGRAM ||FACEBOOK||PINTEREST ||TWITTER ||GOOGLE+ || BLOGLOVIN || YouTube
Cinnamon Swirl Sandwich Bread
Ingredients
Classic Bread:
3¾ cups all purpose flour (18¾ ounces) plus additional for dusting work surface
2 teaspoon salt
1 cup warm milk (about 110 degrees F) (I used skim 2% fat milk but you can use skim or whole milk)
⅓ cup warm water (about 100 degrees F)
2 tbsp melted unsalted butter
3 tbsp honey
2¼ tsp instant yeast
For Cinnamon swirl :
⅓ cup brown sugar
2 tsp cinnamon powder
2 tbsp melted unsalted butter
Instructions
Pre heat oven to 200F. Once heated to 200F, keep it ON for 10 minutes and then turn off the oven.
We are doing this so we can place our dough in warm (turned off) oven to rise.
Meanwhile in the bowl of your stand mixer, add 3½ cups of all purpose flour and salt. Stir.
In a glass/plastic measuring cup or any other large bowl, add warm milk, warm water, honey, melted butter and yeast. Mix it using a spoon and add this mixture to salt and all purpose flour mix little at a time while keeping the stand mixer on. Once all the liquid mix is inside the dry mix, keep kneading using stand mixer at medium speed for 7-10 minutes. In between make sure to scrape dough from the hook of your stand mixer.
Now if the dough looks super sticky and is still sticking to the sides of the wall of bowl, add few tsps of all purpose flour starting with 1 tsp at a time.
Make sure you DO NOT add too much flour or the bread will turn out dense and dry.
Now on a lightly floured surface transfer the dough from the bowl of stand mixer and knead very lightly for a 30 seconds.
Transfer it to a greased glass bowl and roll the dough around the bowl to coat it lightly with oil. Cover tightly with plastic rap and place in the already heated and now turned off oven for 50 minutes.
You will notice that the dough will rise to double of it's size.
Now transfer to dough to a clean surface and using hands press it lightly so you have a 8" by 8" square. Using your hands or brush, spread melted butter all over the surface of the dough. Sprinkle cinnamon and sugar mixture (mix cinnamon powder and sugar in a bowl before hand) generously all over it.
Now starting from the side away from you, roll it into a tight roll towards you. Pinch the open seam side and place with seam side down in an already greased baking pan. I used a 9"*5" loaf pan.
Cover tightly and let it rise for another 30 minutes.
Once 30 minutes are over, heat oven to 350F and make sure you have one oven rack at the bottom and another in the middle.
Place an empty pan at the bottom rack of oven and pre heat your oven.
We are going to fill up this pan with hot water and while baking steam from this water will help in achieving a crisp crust.
So carefully ad 2 cups of hot water in the pan. Now place the uncovered bread loaf pan on to the middle rack and bake for 44-50 minutes. For me my bread was done in 44 minutes.
**If you have a baking thermometer, then at around 42 minutes insert thermometer at an angle from the short end just above the pan rim into the center of the loaf and check the reading. If it reads around 195 degrees F, this means your bread is cooked thoroughly!
Take the bread out and using a knife loosen the sides. Invert it onto a cooling rack and let it cool. Once cool, cut in medium thickness slices.
Store only once completely cooled in an airtight container! If it's really hot where you live, store it in fridge!
I like to eat it toasted with some butter or peanut butter or nutella!
Notes
Bread recipe adapted from
HERE
.
 Some more BREAD RECIPES ->>