Cream cheese, strawberries & chocolate stuffed "tortilla" french toast is perfect for those lazy weekend brunch or perfect when served as a dessert or snack!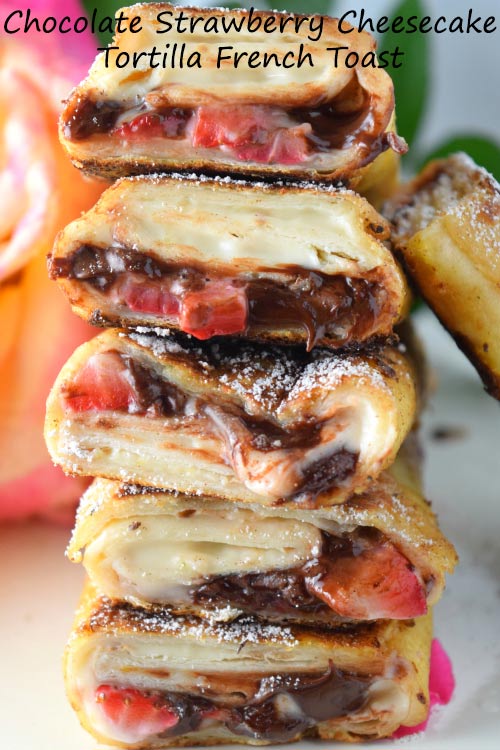 Lets talk about brunch today. These french toasts are the ultimate brunch food you can feed your family and yourself and they look so fancy yet they are so easy to make. Slathered with creamy cream cheese, fresh strawberries, chocolate and then dipped in egg & heavy cream mix, cooked and coated with cinnamon sugar, these are every french toast lovers dream come true.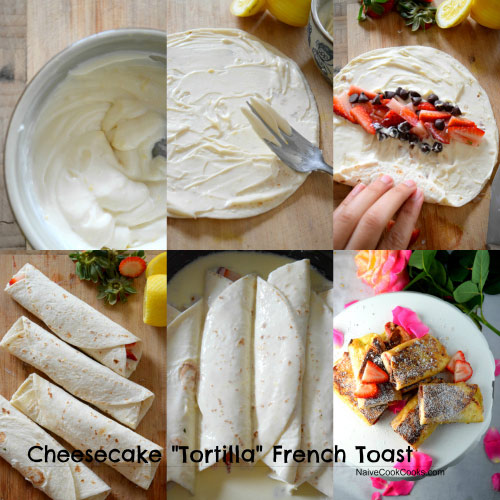 If you are looking for something delicious to make for Mothers day, I suggest you make these. Your mom will love you even more! The best part is that you can get them ready a night before and pop them in the refrigerator. In the morning, all you need is to cook them in little butter and sprinkle cinnamon sugar. If you want go extra fancy, you can serve these with some vanilla scented whipped cream or may be some freshly whipped coconut cream but they are amazing just by themselves.I made them last night for after dinner treat and my sister loved them so much that it ended up being her dinner.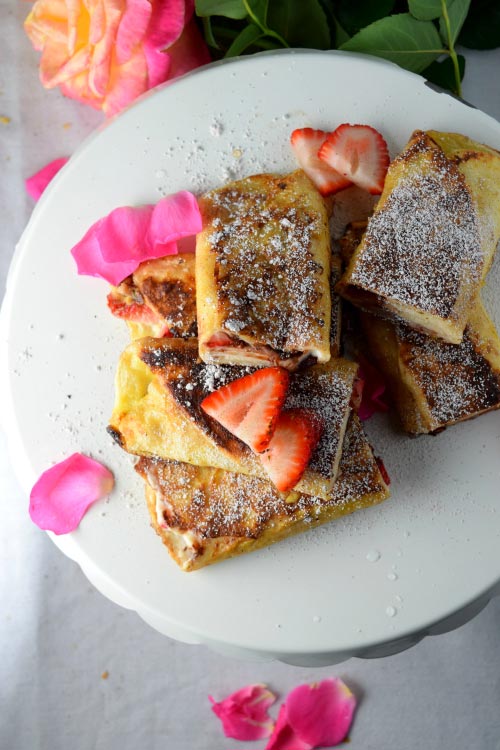 On another note, lately I have been so busy that I have been out of touch of all the latest shows. Did you guys already finished House of cards? I am still only halfway and I think I might find some time to finish it during summer. But I am so excited for Orange is the new black season 3 which comes out in summer! I can watch that show non stop, seriously.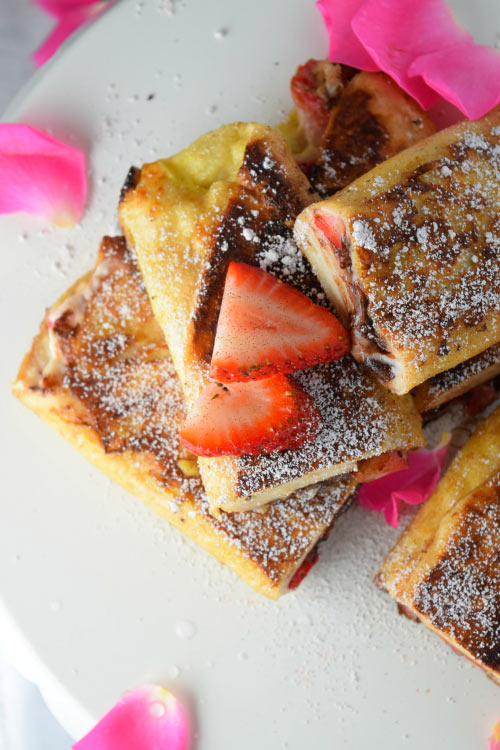 Ohh and did I tell you that I recently realised that every saturday  outside Home depot, there are so many cute little puppies and dogs for adoption and this has been the most important reason why I have been dragging Jerry to Home depot every saturday even though I find that place not at all interesting. I mean I like it when I need something for my work but otherwise it's pretty useless for me but for Jerry it's whole another story. So coming back to puppies, I have been dreaming of owning one someday. Omg so adorable and Jerry keeps telling me that he knows I won't be able to work once I get a puppy. Well because they are so adorable and so cute! I mean gahh, no words!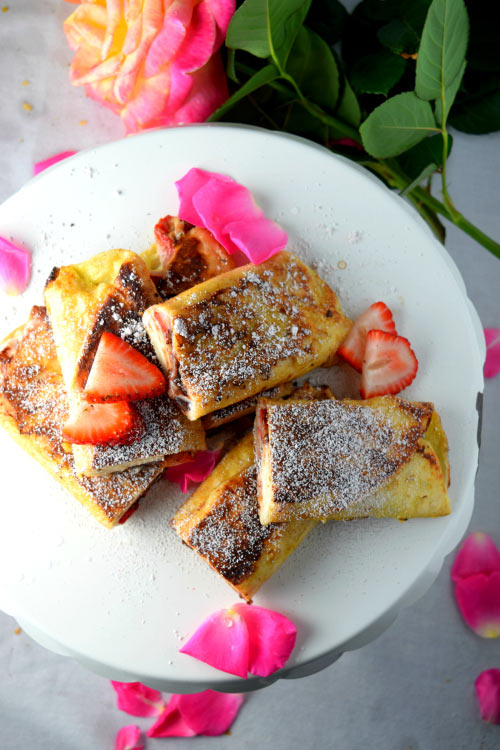 Until I get out of my cute puppy coma, I suggest you give these Tortilla Cheesecake Dessert a try! You will be in love.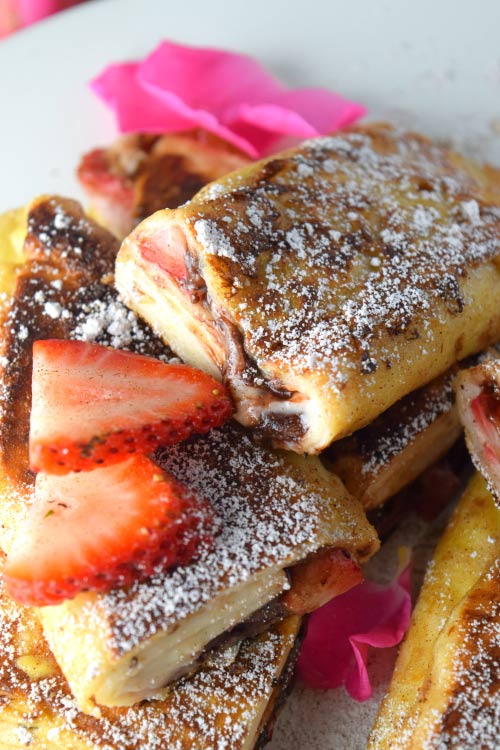 Help in spreading the word!
Follow along for lot more delicious treats and life happenings on INSTAGRAM || FACEBOOK || PINTEREST 

Chocolate Strawberry Cheesecake Tortilla French Toast
Ingredients
4 soft tortillas (I used the fajita size tortillas, 6" size)
4 ounce cream cheese (1/3 less fat and softened at room temperature)
4 tbsp powdered sugar
1 tsp vanilla extract
Zest from 1 lemon
½ tsp lemon juice
Fresh strawberries, thinly sliced
Semi Sweet Chocolate chips, about ½ cup
1 egg
¼ cup heavy cream
1 tsp vanilla extract
Butter for cooking
¼ cup powdered sugar
1 tsp cinnamon powder
Instructions
In a bowl, add cream cheese, sugar, lemon zest, lemon juice and vanilla extract and mix until smooth.
Take one tortilla at a time and smear with ¼th of the cream cheese mix all over it evenly.
Now in the center lay the thinly sliced strawberries and top them with some chocolate chips.
Starting from your side, start rolling it tightly until you roll it all the way. Keep it aside and repeat with the remaining 3 tortillas.
Now in a deep dish, break an egg and add heavy cream and vanilla extract. Mix until smooth and lay the rolled up tortillas in it. If you need to then flip them once or twice so they get coated with the egg mixture. Now if you are going to keep them overnight, cover tightly with plastic wrap and place in the refrigerator. Make sure they are not touching each other or overlapping or they will stick to each other.
When ready to cook, heat some butter in a non stick skillet. Place 1-2 tortillas at time. Cook on medium-low heat until golden brown. Flip and cook on the other side as well.
In a bowl, mix cinnamon and sugar. Coat these cooked french toasts with cinnamon sugar and serve.
Looking for more brunch recipes?