Cheesy Jalapeno & Corn Garlic Bread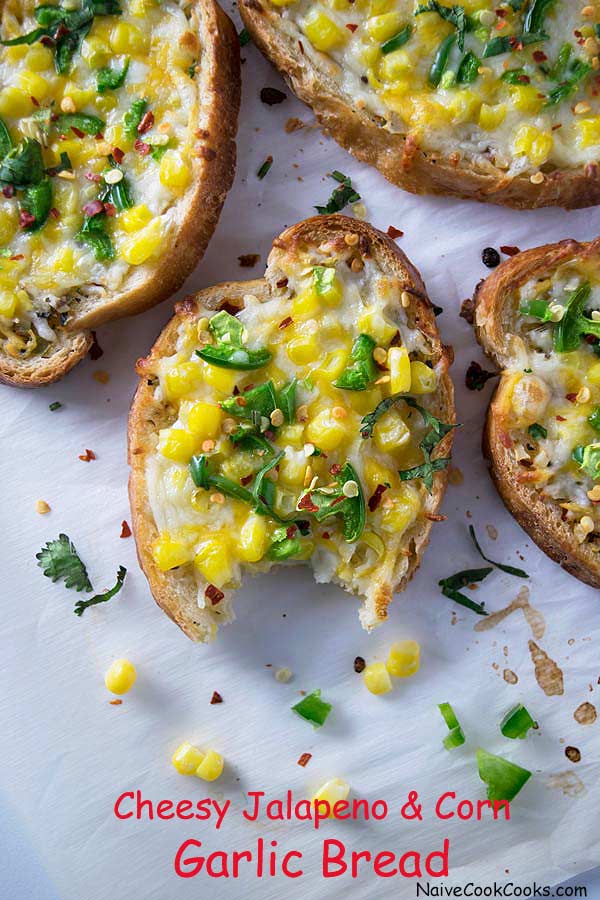 2.5 Tbsp butter
4 Tbsp oil
3-4 fat garlic cloves, chopped fine
Salt t o taste
Pinch of black pepper
1 tsp red chili flakes
Pinch of rosemary
½ tsp basil
½ tsp green chili paste (optional but great if you like spicy)
8-10 French bread slices or your choice of bread
1 cup shredded mozzarella cheese
1 cup shredded cheddar cheese
1 cup frozen or fresh corn, boiled
1 jalapeno, chopped fine
Extra red chili flakes
Pre heat oven to 400F.
In a bowl melt butter. To it add oil, chopped garlic, salt, black pepper, red chili flakes, rosemary, basil, green chili paste and mix. Taste and adjust seasoning if needed.
Now lay bread slices on a parchment paper or aluminium foil lined baking sheet. Spread this mix over each slice. Cover the baking tray with aluminium foil tightly and bake for 8-10 minutes.
Meanwhile chop jalapenos. Put corn in a bowl and add some water so it is covered with water. Boil in microwave for 2-4 minutes until soft. Drain and keep aside.
Once bread is done, take it out of oven and add both cheese, jalapenos and corn on each bread slice. Add some red chili flakes if you want. Bake again uncovered for good 5-7 minutes until cheese is melted.
Enjoy!
Ami says :
1. You can also freeze these. I cook them all the way and then keep them in freezer arranged in a single line on a plate or try for 30-60 minutes until they are cooled completely. Then I wrap them tightly in aluminium foil and plastic wrap and store in freezer! When you need the, just thaw them in fridge for sometime and then bake ion a baking sheet arranged in single layer & covered tightly at 350F until warmed through and cheese is melted. You can even add little bit more cheese before putting in oven!
Recipe by
Naive Cook Cooks
at https://www.naivecookcooks.com/cheesy-jalapeno-corn-garlic-bread/