Delicious healthy NO FUSS pasta in roasted red pepper sauce!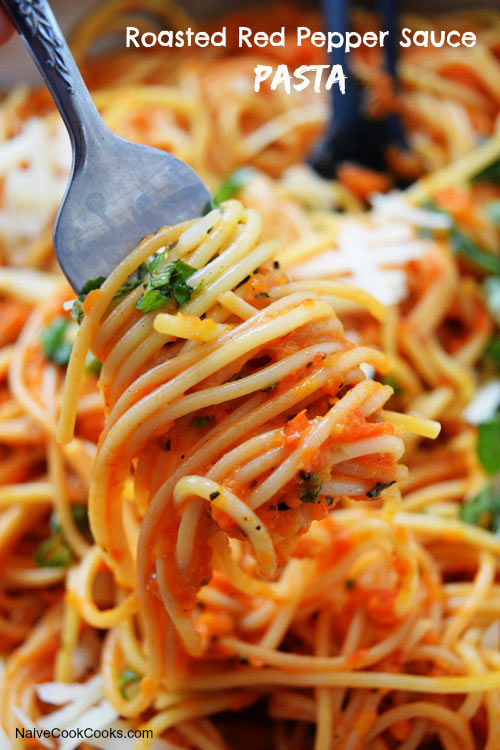 Pasta Lovers – it's your day!!? ?
I love pasta or should I say I love any sort of pasta, be it any shape, length, dimension – my love for pasta is unshakable! I know strong words for a bowl of warm goodness but now until December you will find me buried somewhere in a bowl of pasta.
Like ramen noodles here, Maggi is what us Indians grew up eating. It was favorite snack in the entire world, be it night or day I was always convinced that a bowl of Maggi can do no harm and especially those long study nights in College, this used to be our midnight snack – cheap, extremely delicious and comforting! What more can a student ask for?! We always keep both ramen noodles and maggi at our place because well for nights when a recipe turns horrible, these noodles make us happy ? or if nothing works, then you know pizza delivery for the win!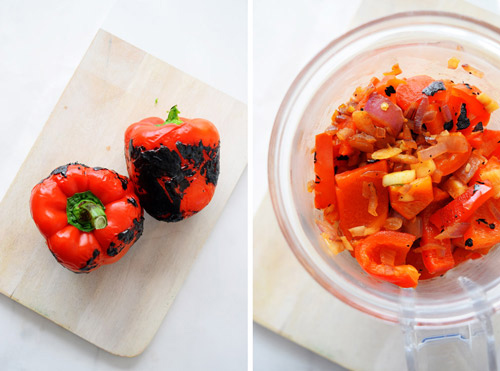 So since you figured by know how much I love pasta, you might have guessed that I always always make EXTRA like a lot extra so I can eat those leftovers for 2-3 meals in a row! Can you relate?! Well to my husband that seems strange as he is not into eating leftovers but when it comes to pasta I am all happy to clean up the leftovers all by myself.
Now on to this PASTA! Ok you might say what's new? I agree you might have already seen gazillion of RED PEPPER SAUCE recipes on the internet but let me tell you that this recipe works. You ask why I say that?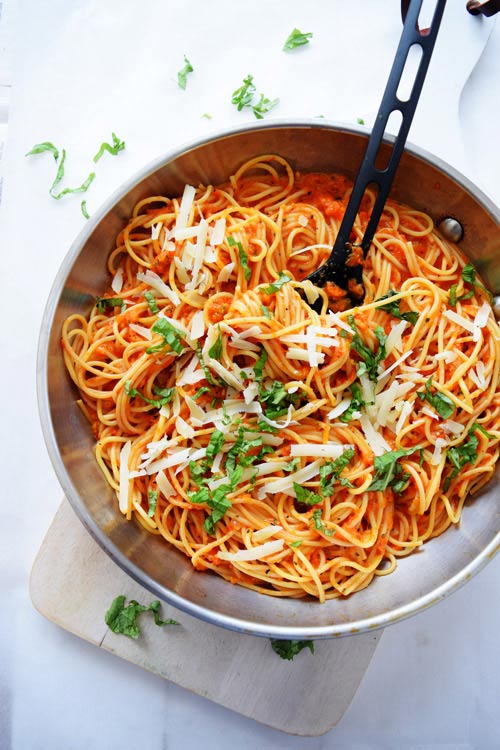 Well for firsts, I tried a bunch of recipes and one thing they all lacked was flavor. It was really bland, sort of sweet which I don't really like in my savory dishes and nothing really seemed to work. So after making this recipe for quite a few times, I think I have it right. It's very simple and uses few specific spices but I STRONGLY suggest you not to skip or substitute those because they are going to make or break this dish!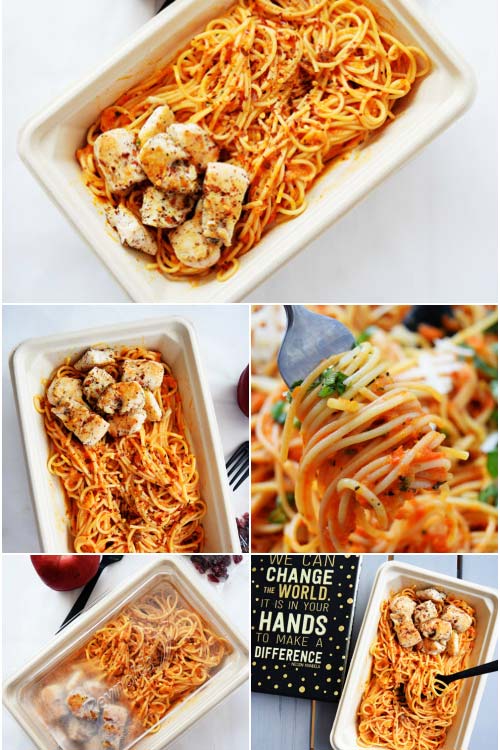 It's a very simple pasta dish and you can most probably make it from start to finish in under an hour. I like to keep it plain without any add-ins and serve it with a big salad. But I had leftovers which I packed in my new find – these Reynolds™ containers. Do you know that Reynolds™ make these containers ( you know like the kind you get in fancy restaurants?!!) with bottom made of fibrous paper like material which is totally safe to heat in microwave! Well at least I had no idea because all my life I have been using those heavy-glass-lunchboxes (I mean why are they so heavy?!). I saw them few days back at Target and I bought one pack to give them a try. Because sometimes when I am travelling and pack something light but I don't always want to carry it in a heavy glass lunchbox. So I packed my leftovers with some grilled chicken, an apple, some dried cranberries & water! That was one good leftover meal!
Follow along for a lot more delicious treats and life happenings on INSTAGRAM || FACEBOOK ||PINTEREST ||TWITTER ||GOOGLE+
Roasted Red Pepper Sauce Pasta
Ingredients
2 red bell peppers
8 oz spaghetti or your choice of pasta shape
1 tsp oil
6 garlic cloves, chopped
½ red onion, chopped
4 oz goat cheese (optional but tastes really good here)(If you are skipping goat cheese, then towards the end add some cream to the sauce!)
Salt to taste
1.5 - 2 cups water
1.5 tsp basil powder
½ - 1 tsp red chili flakes
½ tsp oregano
¼ tsp rosemary
½ tsp black pepper
Additional basil leaves for topping (optional)
Additional parmesan cheese shredded for topping (optional)
Instructions
Boil pasta as per package instructions. Drain a add a tiny bit of oil and stir so it doesn't stick while sitting. Keep aside.
Now roast both the bell peppers either on stove top or in oven. I like to poke few holes in them and roast them directly on the stove top until nicely charred. Keep them in a bowl and cover for 5-10 minutes. This will help in removing the skin. Now peel the skin as much as you can easily, cut them, remove the seeds and chop the roasted peppers.
Now in pan, heat some oil. To it add chopped garlic and onion and saute for few minutes. Add a pinch of salt as well. Add the chopped peppers and saute for another few minutes. Now transfer this mix along with goat cheese, ½ cup water, salt to taste, black pepper to taste to a blender and puree until smooth.
Transfer it back to the pot and cook on low-medium heat. Add the remaining spices and taste and adjust as per your liking. Make sure you salt it nicely as I realised it took quite a bit of salt until I got the right taste.
Once you like the sauce to your taste, add in cooked pasta and stir around. Serve hot with some freshly chopped basil and parmesan.
More Pasta Recipes:
https://www.naivecookcooks.com/apple-cider-mac-cheese-with-tater-tots/