Got No Eggs & No Butter?? Well, Best Simple Chocolate Cake doesn't need any of these ingredients! All you need is "One Bowl " & basic ingredients!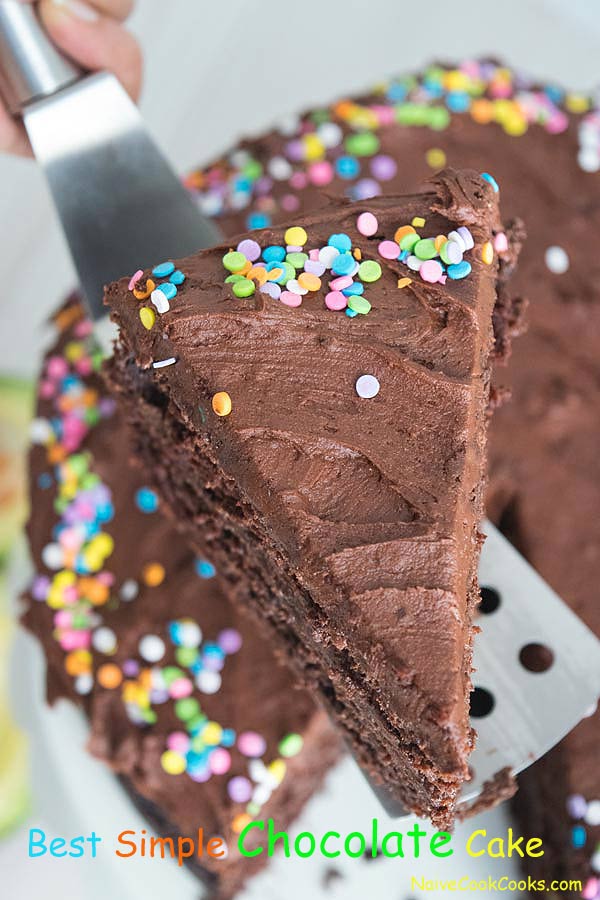 ** I couldn't find my cake spatula & that's why I had to use my regular one lol!
BUT apart from this, THIS cake is seriously The Best Simple Chocolate Cake I have made in a while! Cake itself needs NO Butter, NO Eggs and a secret ingredient (AVOCADOS!!) make it super moist! Avocado haters no worries as you can't even taste avocados inside the cake!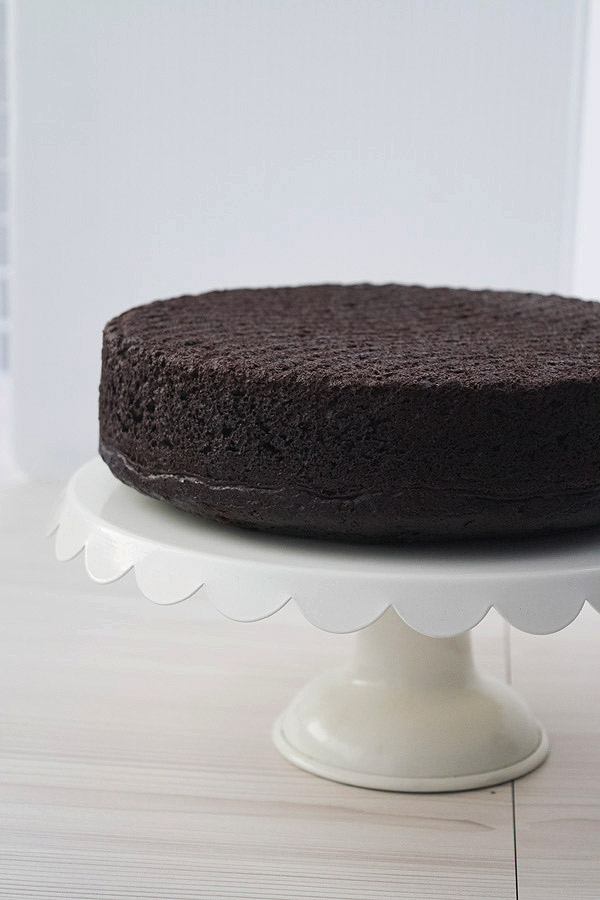 Making cake batter is so much fun. Just One-Bowl and few basic ingredients and in 10 minutes cake batter is ready or if you are fast unlike me, then all you need is 5 minutes! Then oven does the rest of the work!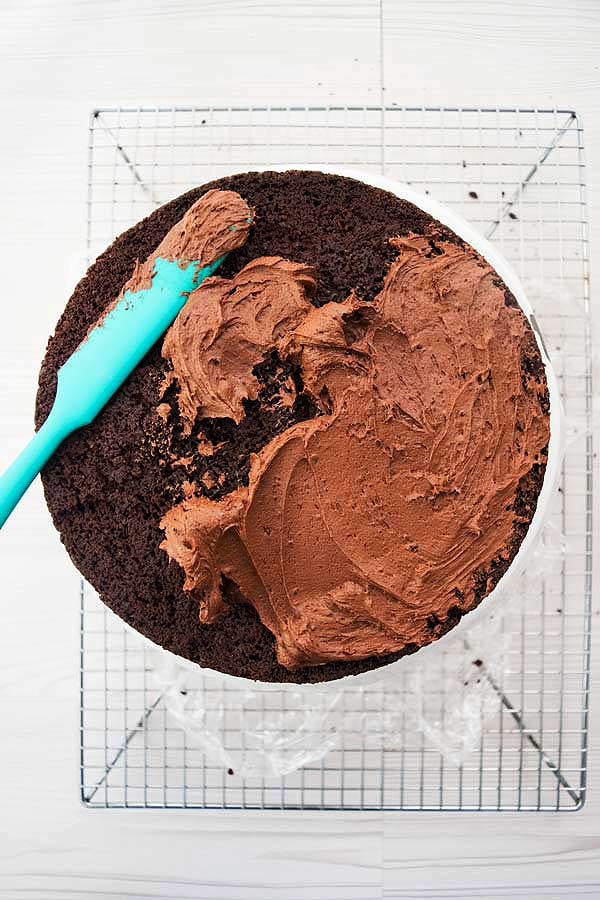 For frosting I decide to go with classic chocolate buttercream but if you don't want butter at all, you can go for chocolate ganache or simple powdered sugar on top. This cake is seriously super moist, intensely rich and if I must say so, even better than the regular cake made with eggs & butter!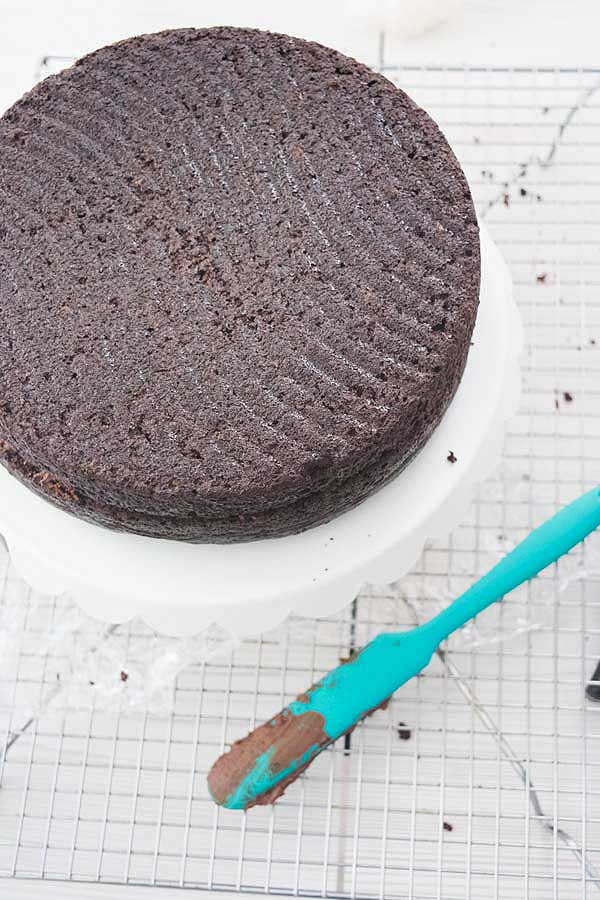 I baked the cake a day ago and then once it cooled completely, I wrapped tightly in plastic wrap and placed it in refrigerator until I was ready to frost it. Chilling the cake also helps in clean cutting and even frosting becomes so much easier!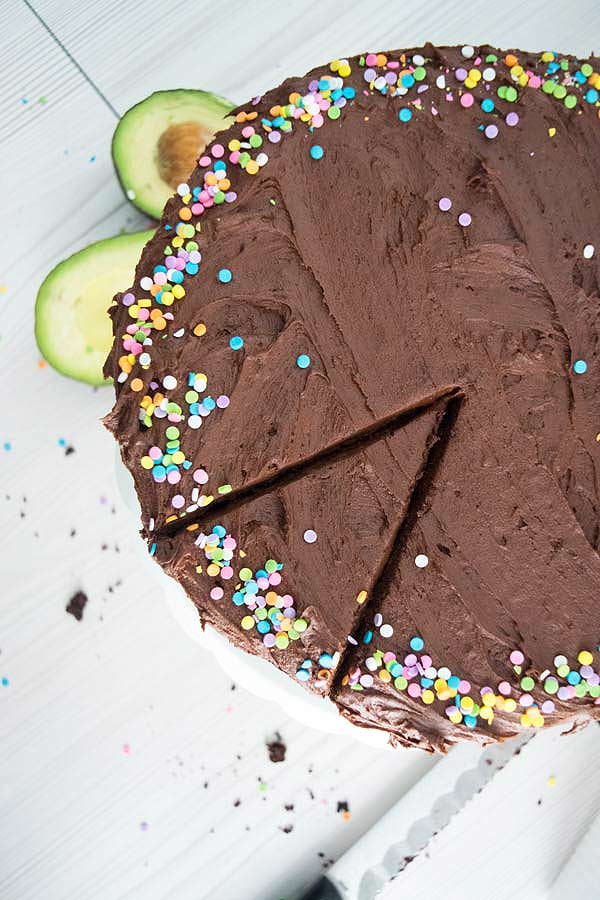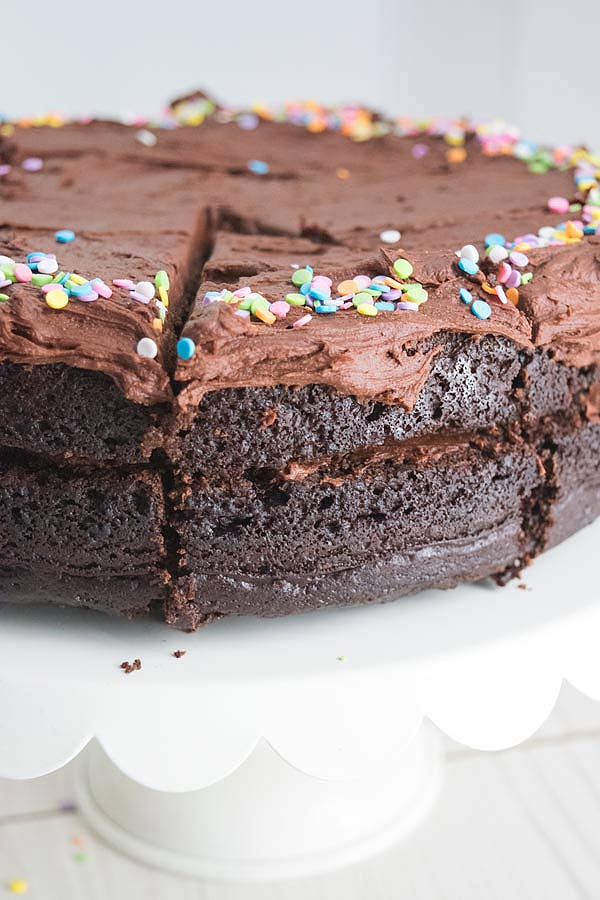 So since we are a day away from weekend, why not surprise your loved ones with this?!!
 Follow along for a lot more delicious treats and life happenings on INSTAGRAM ||FACEBOOK||PINTEREST ||TWITTER ||GOOGLE+ || BLOGLOVIN
Best Simple Chocolate Cake
Ingredients
Chocolate Cake :
3 cups + 2 tbsp All purpose flour
10 Tbsp cocoa powder
1 tsp salt
2.5 tsp baking soda
2.5 tsp baking powder
1.5 cups granulated sugar
6 Tbsp oil
4 Tbsp apple cider vinegar
1 tbsp vanilla extract
1 cup water
1 cup hot water
1 tsp coffee powder
1 medium sized avocado mashed or pureed
Chocolate Buttercream :
½ cup cocoa powder
6-7 tbsp softened room temperature unsalted butter
1 tsp vanilla extract
1 + ⅔ cups powdered sugar
Pinch of salt
2-3 tbsp milk
Instructions
Chocolate Cake:
Pre heat oven to 350F.
Mix coffee in 1 cup hot water and keep aside.
Take a large bowl. Add flour, cocoa, salt, baking soda, baking powder, sugar and stir around. Now add oil, vinegar, vanilla, coffee water, water, coffee powder and mashed or pureed avocado and mix until the batter is smooth and evenly mixed.
Grease a 9" round cake pan generously with butter. Pour the batter inside the cake pan. Place the cake pan over a baking sheet just so in case of any drippings, you don't end up cleaning the oven!
Now bake it for 30-40 minutes until a toothpick comes out clean. I start checkign my cake at around 32 minutes. Mine was done in 34 minutes but it will depend on the kind of oven you own.
Once fully cooked, take it out of the oven and let the cake cool inside the cake pan for 30 minutes. After 30 minutes, gently flip it onto a plate or cooling rack and let it cool completely.
Now wrap it tightly in plastic wrap and place in fridge until you are ready to frost!
Chocolate Buttercream :
Add cocoa and softened butter in bowl and using a stand or hand mixer mix until smooth. Now add the remaining ingredients and mix until a smooth luscious chocolate buttercream is formed. Taste and if you want more sweet, add more powdered sugar.
Once ready to frost your cake, take it out of the fridge. Place it on a sturdy base and using a bread knife or cake knife, cut it from the middle so to have two layers of 9" cake. Now place ⅓ of the frosting on first layer and even it out. Place the second layer on top of it and add the remaining frosting on top layer and smooth it out.
Notes
Ami says:
1. I always flip my cake. I keep the bottom of the cake on top since that part is always super flat and looks perfect after frosting.

 Some more Cake recipes- >>