Best Simple Chocolate Cake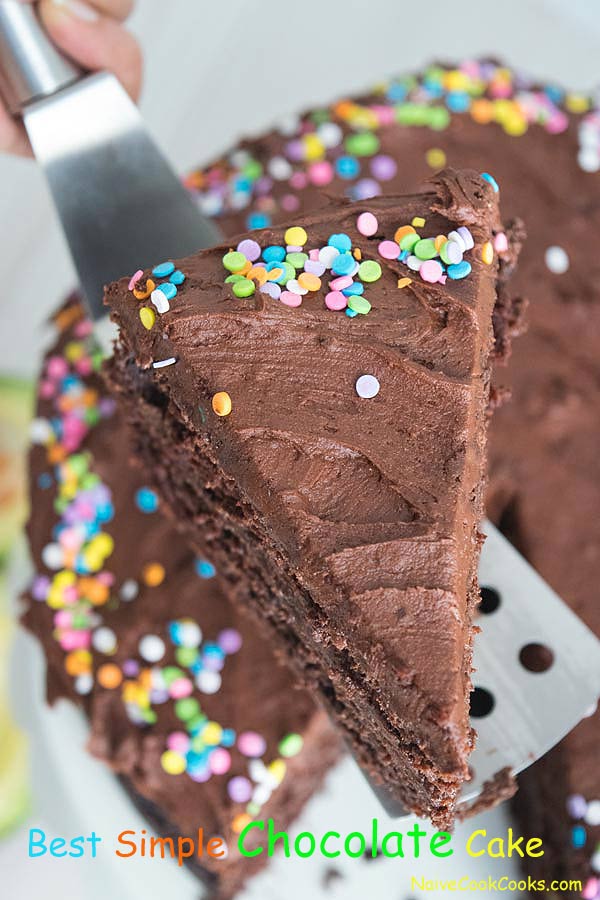 Chocolate Cake :
3 cups + 2 tbsp All purpose flour
10 Tbsp cocoa powder
1 tsp salt
2.5 tsp baking soda
2.5 tsp baking powder
1.5 cups granulated sugar
6 Tbsp oil
4 Tbsp apple cider vinegar
1 tbsp vanilla extract
1 cup water
1 cup hot water
1 tsp coffee powder
1 medium sized avocado mashed or pureed
Chocolate Buttercream :
½ cup cocoa powder
6-7 tbsp softened room temperature unsalted butter
1 tsp vanilla extract
1 + ⅔ cups powdered sugar
Pinch of salt
2-3 tbsp milk
Chocolate Cake:
Pre heat oven to 350F.
Mix coffee in 1 cup hot water and keep aside.
Take a large bowl. Add flour, cocoa, salt, baking soda, baking powder, sugar and stir around. Now add oil, vinegar, vanilla, coffee water, water, coffee powder and mashed or pureed avocado and mix until the batter is smooth and evenly mixed.
Grease a 9" round cake pan generously with butter. Pour the batter inside the cake pan. Place the cake pan over a baking sheet just so in case of any drippings, you don't end up cleaning the oven!
Now bake it for 30-40 minutes until a toothpick comes out clean. I start checkign my cake at around 32 minutes. Mine was done in 34 minutes but it will depend on the kind of oven you own.
Once fully cooked, take it out of the oven and let the cake cool inside the cake pan for 30 minutes. After 30 minutes, gently flip it onto a plate or cooling rack and let it cool completely.
Now wrap it tightly in plastic wrap and place in fridge until you are ready to frost!
Chocolate Buttercream :
Add cocoa and softened butter in bowl and using a stand or hand mixer mix until smooth. Now add the remaining ingredients and mix until a smooth luscious chocolate buttercream is formed. Taste and if you want more sweet, add more powdered sugar.
Once ready to frost your cake, take it out of the fridge. Place it on a sturdy base and using a bread knife or cake knife, cut it from the middle so to have two layers of 9" cake. Now place ⅓ of the frosting on first layer and even it out. Place the second layer on top of it and add the remaining frosting on top layer and smooth it out.
Ami says:
1. I always flip my cake. I keep the bottom of the cake on top since that part is always super flat and looks perfect after frosting.
Recipe by
Naive Cook Cooks
at https://www.naivecookcooks.com/best-simple-chocolate-cake/