3 Cheese Whole Wheat Pizza Bites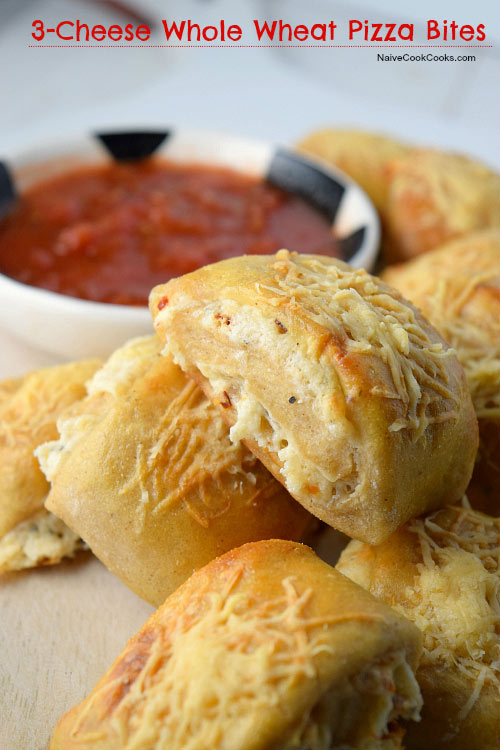 1 pizza dough recipe**
4 oz cream cheese, softened to room temperature (I use low fat)
1 cup shredded asiago chese
¾ cup shredded parmesan cheese plus extra for sprinkling on top
Salt to taste
1 tsp red chili flakes
½ tsp basil powder
¼ tsp rosemary
1 egg for egg wash
**Pizza dough
1 cup whole wheat flour
¾ cup all purpose flour
2.5 tsp instant yeast
salt to taste
1 tsp sugar
½ tbsp olive oil plus extra for greasing the bowl
¾ cup warm water
Make pizza dough by adding all the ingredients in the bowl of your stand mixer and mix until dough comes together or you can mix it with a wooden spoon. Transfer it to a floured surface and knead until soft and supple. Transfer the dough to a greased bowl and cover and let it sit in warm spot for good 2-3 hours or until doubled.
In a bowl, mix all 3 cheeses, salt, basil, chili flakes and rosemary. Taste and adjust seasoning if need to. Now take out the prepared pizza dough. Flour the surface and roll the dough into a 16'*8 " rectangle. Spread the cheese mixture onto the rolled out dough. Now starting from one of the longest side, start rolling it tightly. Once rolled all the way, using a rolling pin flatten it a bit on the top so the cheese doesn't ooze out too much while baking. Cut in desired size. I ended up with around 15 pizza bites.
Pre heat oven to 425F.
Transfer these bites to a greased baking sheet. Break an egg into a bowl and whisk until smooth. Using a pastry brush, brush egg wash over the tops of the pizza bites and sprinkle each bite with some cheese.
Bake for around 15-17 minutes until golden and cheese is all melted and dough is cooked.
Serve with marinara immediately.
You can even make them ahead and warm them in oven or toaster oven before serving.
Recipe by
Naive Cook Cooks
at https://www.naivecookcooks.com/3-cheese-whole-wheat-pizza-bites/