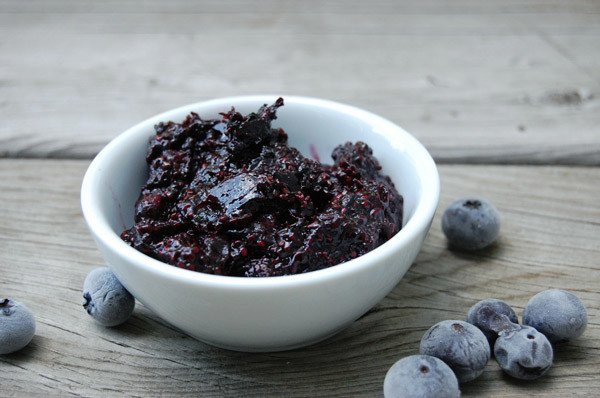 Simplicity is sometimes so relieving. Lately while doing recipe testing, I was trying to go aboard with different never tried or heard of recipes and I was being met with a lot of failure and some success at times. Not to mention, the uncountable load of dishes sitting at kitchen sink. It is in those times, when simple recipes you grew up eating come to the rescue. Jam or preserve is one of the department which is still
untouched. Mainly since I am the only one who enjoys them, if you remember Jerry's dislike for any sort of jams or jellies. I on the other hand go crazy while staring at the vast amount of  jam varieties available in the supermarket these days.
This jam recipe was totally uncalled for. While adding some chia seeds in my smoothie, I started reading the recipes on the back of the plastic bag and I instantly loved the blueberry jam recipe for various reasons. One as I had 4 pounds of blueberries sittng in freezer and two and the most important being that it uses no preservatives and is super healthy and nutritional.
It literaly takes 10-12 mins max to come together and tastes wonderful. It reminds me of homemade jams my mom used to make while we lived in Iran. We had a green apple tree along with cherries and grapes and every year when our trees were loaded, we would go and fill up baskets and help mom to convert them into delicacies.
On health front, do you know how nutritious chia seeds are for your body? Chia seeds  are a major source of fiber almost 28% more than flaxseeds and it puts them in the leading foods category to aid digestion. 3 oz of chia seeds are supposed to have calcium worth of 2 cups of milk and iron worth 4 cups of spinach. Yeah you got it now. So run and get it from your store. You can easily find them at any good departmental store or health food stores. I usually order mine from amazon. [Source livestrong.com]

10 Mins Blueberry Chia Seed Jam
Ingredients
1 cups blueberries, fresh or frozen
2 tbsp maple syrup or agave nectar
1.3 tbsp chia seeds
⅛ tsp pure vanilla extract
Instructions
In a pan, combine blueberries and maple syrup over med-high heat. Cook for around 5 minutes until blueberries are all broken. Add chia seeds and cook for 5 more minutes stirring often until it thicken nicely. Let it cool. Add vanilla and mix. Store in a airtight container. It stays good refrigerated for upto 7 days.
You can double or triple the recipe easily. Just remember the time to cook will change slightly.
Have fun.
More Breakfast Recipes: